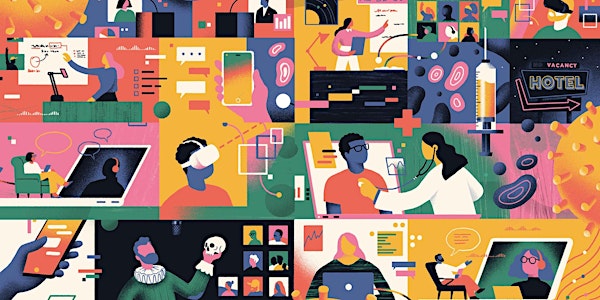 Pandemic Aftershocks: Managing the Personal and Professional Impacts
Receive a FREE CEU Credit! Join Aware Recovery Care and Sarah Allen Benton, AADC, LPC, LMHC for this presentation! Register Now!
About this event
This virtual presentation will examine the impact that the Pandemic has had on mental healthcare professionals personally and professionally. There has been an increase in the need for mental health and substance use disorder services, which has increased both workload, virtual work, and case acuity. Therefore, mental healthcare professionals are experiencing their own personal stressors while also absorbing an increase in professional stress, leading to higher rates of burnout and compassion fatigue. It is imperative that mental healthcare professionals are engaging in a greater amount of self-care, job shaping, and healthy coping strategies.
Objectives:
Attendees will learn the "downstream" pandemic impact on various life domains.
Attendees will increase awareness of personal and professional stressors.
Attendees will understand the challenges that mental healthcare professionals have experienced.
Attendees will explore maladaptive coping strategies that may have been exacerbated.
Attendees will learn relevant positive coping strategies for mental healthcare professionals.
Attendees will be taught strategies to increase career longevity.
Attendees will explore positive changes that could be made personally and professionally.
CEU credits are available for psychologists*, therapists*, counselors*, and social workers*. Please email Kayla Reiter at kreiter@awarerecoverycare.com for additional continuing education details.
Presented by: Sarah Allen Benton, LPC, LMHC, AADC
Sarah Allen Benton is the Co-Owner of Benton Behavioral Health Consulting, LLC specializing in clinical and business support services. She is a Clinical Consultant for The Strathmore House, a transitional sober living in Boston, MA and for Aware Recovery Care (In-Home Addiction Treatment program), where she was the former Director of Clinical Services in North Haven, CT. Previously, she was a therapist and Group Leader at Insight Counseling in Ridgefield, CT, and as a Primary Therapist at Turnbridge (formerly Turning Point) addiction treatment in New Haven, CT. Sarah previously worked as a therapist at McLean Hospital in Belmont, MA at McLean Brook dual diagnosis transitional treatment program, McLean Klarman Center for eating disorder treatment, and the McLean Obsessive-Compulsive Disorder Institute.
Sarah is the author of the book "Understanding the High-Functioning Alcoholic" and has been featured in the New York Times, on The Oprah Winfrey Show, The Today Show, CBS Early Show, SiriusXM, NPR and writes a blog on Psychology Today.com.