Experience a new form of wellness event held safely at venues around Seattle. Clear stress, refresh your mind, spark your creativity
About this event
6/24 PANDAMNIT!
Comedic Stories About Lockdown Life
---------------------------------------------------
Seattle Wellness Events - Safe, distanced, very small music, arts & community experiences
See COVID Safety Info at the bottom of this page under Abbey Arts Presents
Thanks for helping keep our community safe!
---------------------------------------------------
About the show:
"Lockdown life. We've all experienced a huge range of emotions during the pandemic, and we've had to process tough things in isolation or over the dreaded Zoom. Now that we can get together in person, let's talk about it!
The evening will feature local storytellers sharing a six minute life story from the pandemic. We'll be sharing our grief, weird observations, and quirks of the past absurd year—and recognizing that laughter is a cathartic way to heal and keep moving forward."
Hosted by Bill Bernat and Emily Pitts, the show features local storytellers:
Sasha Im
Emmett Montgomery
Rachel Van't Land
Kent Whipple
and more!
Audience members will have the opportunity to "throw their name in the hat!" to tell a story too!
Venue Preview: https://www.instagram.com/seattlewellnessevents/
@ Ballard Homestead, 6541 Jones Ave NW, Seattle
8:00p show, 7:30p doors
early show may be added based on demand
All ages
PG-13- some content may not be suitable for young audiences
All attendees will be asked to offer Focus Group feedback after the show or via email.
--------------------------------------------------------------------------
ABOUT SEATTLE WELLNESS EVENTS:
Creative Spark (Experiences & Classes to boost creativity) brings you all new events adapted to historic spaces, and presented with all public health safety in mind.
Bring your pod and experience a new form of event held safely at various venues around Seattle. Clear stress, refresh your mind, spark your creativity with live music, multi-arts, yoga, sound baths, creativity classes, and more.
Small groups will be distanced in a large space with many large windows open and all Public Health & safety guidelines followed.
Bring your quiet picnics and enjoy the show! Some snacks/nonalcoholic beverages may be available for purchase at the venues, but no other food or bar service at these shows, audience is welcome to bring quiet picnics.
Audience size will be in the 40 person range to start (below 25% capacity), in large spaces rated for 180-260 people normally. Various creative activities will be included in the lobby. Some shows may be hosted outdoors when noted and weather permitting.
Pods will be spaced out in chairs & benches.
Please check your ticket for your seating.
More info via www.instagram.com/seattlewellnessevents
--------------------------------------------------------------------------
EVENT & VENUE INFO:
Please refrain from talking or texting during the show.
Please enter quietly if the show has already begun.
Please leave quietly, it's a very quiet neighborhood.
For ADA information at Ballard Homestead, please see www.ballardhomestead.org/rent or email arts(at)fremontabbey.org
--------------------------------------------------------------------------
ABOUT ABBEY ARTS, SEATTLE:
NONPROFIT 501C3, NON-RELIGIOUS, EST. 2005
Presenting welcoming music, arts & cultural experiences for people of all ages & incomes.
Home Venue: Fremont Abbey, 4272 Fremont Ave North, Seattle, WA 98103 / 206-414-8325 Ballard Homestead: 6541 Jones Ave NW, Seattle | + UHeights Auditorium, St Mark's Cathedral, & more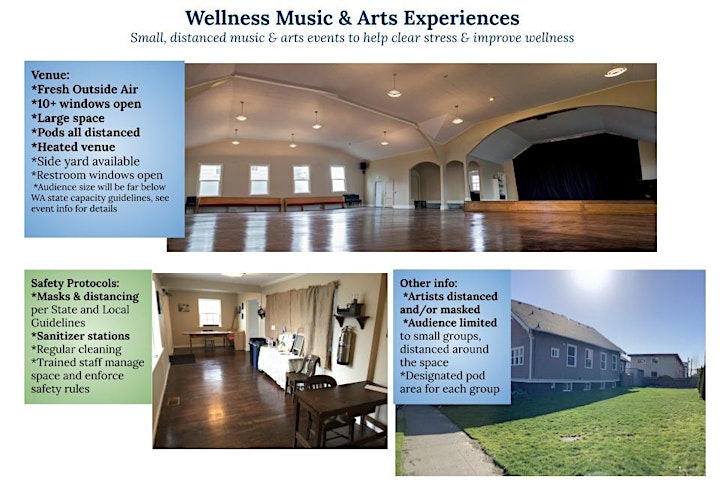 Organizer of PANDAMNIT! Comedic Stories about Lockdown Life (IN-PERSON, DISTANCED)
COVID Safety Info:
All state and local health guidelines must be followed
12+ windows open and lots of fresh air flowing
Musicians & attendees must pre-screen and be free of any symptoms
Masks are required for any indoor locations except when eating/drinking
Safe distance of 6 feet or more required for all participants/pods
Musicians will distance further when singing
Individual events may have additional safety measures in place
-----------------------
ABBEY ARTS, SEATTLE:
NONPROFIT 501C3, NON-RELIGIOUS, EST. 2005
Fremont Abbey | Ballard Homestead | St Mark's Capitol Hill | The Auditorium @ UHeights |  & more
Independent nonprofit, non-religious, all ages/incomes. 
Low Fee Tickets! No hidden high fees like Ticktmstr. :-)
  (Note: Comedy shows may have different ticketing fees)
[ Click here to subscribe to our optional text messages. ]
[The views and opinions expressed at events are those of the artists and performers and do not necessarily reflect Abbey Arts. About Page | Respect Policy.]
Refunds may be available per event settings.
No refunds due to support act changes.
Tickets for rental events may be via their website.