Description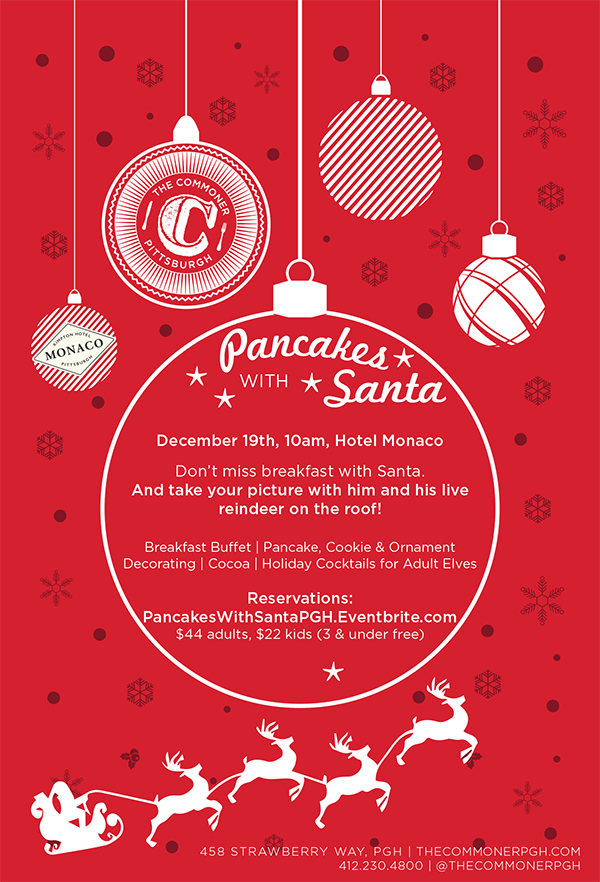 Pancakes with Santa Menu
​Create Your Own Pancake Masterpiece
Buttermilk, Chocolate Chip, & Blueberry Pancakes
Served with an array of unique toppings:
Bananas "Foster Style", Berry Compote, Sprinkles, Chocolate Chips, Shaved Coconut, Crushed Oreos, Organic Honey, Roasted Pecans, Apple Marmalade, Marshmallows, Warm Caramel Sauce, Hot Fudge, Local Maple Syrup, Cinnamon Whipped Cream, Nutella, Pumpkin Spiced Fluff
Chef's Breakfast Specialties
Three Meat Hash
chorizo, pork belly , short rib, pearl onion, jalepenos, roasted potatoes, confit tomatoes
Biscuits & Gravy
rosemary biscuits, sage sausage gravy
Seared Pierogies
caramelized onions, brown butter, herbs
Scrambled Eggs
Apple Wood Smoked Bacon
Herb Roasted Breakfast Potatoes
From the Pantry
Seasonal Fruit
Mixed Berries
Assorted Croissants, Muffins, & Danish
Holiday Jams & Butter
Individual Greek Yogurt Parfaits
Santa's Little Helpers Cookie Table
Assorted Holiday Cookies
Seasonal Cookie decorations
Decorate your own holiday sugar or gingerbread cookies with a selection of icings and toppings. Eat it now or take it home to leave out for Santa!
Winter Wonderland Cocoa & Cider Bar
Spiced Hot Chocolate
White Hot Cocoa
Warm Apple Cider
Top your hot beverage off with: whipped cream, pumpkin spiced syrup, agave syrup, vanilla syrup, shaved dark chocolate chips, shaved milk chocolate, shaved white chocolate, marshmallows, cinnamon sticks, crushed peppermint, dulce de leche
"Spike it" Options for Cocoa: Baileys Irish Cream, Tia Maria, Grand Marnier, Frangelico, Chambord
Full Bar available as well featuring Holiday Inspired Cocktails.