Panama - New Year's 2015

Saturday, December 26, 2015 at 11:00 AM

-

Sunday, January 3, 2016 at 3:00 PM
Event Details
Highlights:
Surfing, Swimming, Snorkeling, Diving, Sea Kayaking, Hiking, or just chilling out..
---
Recommended arrival: Saturday, December 26 - New York/ JFK to Panama City/ PTY
(Possibly taking an afternoon or night flight on Friday, December 25)
Return Sunday, January 3 - Panama City to NYC/ JFK
(It is also possible to depart Panama on Saturday, January 2 any time during the day or evening)
Pricing:  
$1,095 - Early Bird Special - make deposit by Wednesday, September 30
$1,195 - Make deposit by Wednesday, October 21
$1,295 - Make deposit by Wednesday, November 11
$1,395 - Regular Price after November 11
- Only a $200 deposit needed to hold your spot

Included:
Private van/ group transportation
All entrance fees for the activities as specified per itinerary.
Accommodations:  All excellent 3+ Star Hotels

Rooming:
Double occupancy will be the norm; however, there will be some triple possible during the beach stays

Not Included:
Meals, drinks, and personal spending; To budget, most lunches are $10 and most dinners will be $20+
Tipping, about $55 per person for the entire week for the guides and support staff
Airport departure tax ($26+), if applicable
Activities not included in base price / Optional activities:
Diving / Diving Certification: starting around $95 per immersion
Surfing Lessons: starting at $35 a lesson
ATV's, Motorbike, Scooter rentals (ca. $50 / 2 hours)...
Sea Kayaking to Bastimentos Island, Sport Fishing, Horseback and more...

Questions / RSVP: igorbass@dynamicoutdoors.com

Detailed High Adventure Itinerary:
Saturday, Dec 26 - Day 1 - Panama City
Overnight or early morning departure from New York/ JFK to arrive in Panama City on Saturday, December 26.
Hotel transfer and check-in upon arrival. After lunch, we'll start to explore the city:
The most cosmopolitan capital in Central America, Panama City is both a vibrant metropolis and gateway to tropical escapes. Many worlds coexist here. Welcoming both east and west, Panama is a regional hub of trade and immigration. The resulting cultural cocktail forges a refreshing 'anything goes' attitude, more dynamic and fluid than its neighbors. A center of international banking and trade, the sultry skyline of shimmering glass and steel towers is reminiscent of Miami. In contrast, the peninsula of Casco Viejo has become a thriving colonial neighborhood where cobblestones link boutique hotels with underground bars and crumbled ruins with pirate lore. Our first night we'll spend at the Panama Zen; centrally located, this 4-star hotel features an infinity pool and a roof top terrace and bar.

Sunday, Dec 27 - Day 2 - Panama City to Santa Catalina
After breakfast, we will transfer to the Golf of Chiriqui on the Pacific Coast and get a first glimpse of real life Panama in the laid-back fishing village of Santa Catalina.  The secret about one of Central America's top surf spots is out. With a number of beach breaks, the right and left breaks of Santa Carolina are comparable to Oahu's Sunset Beach on a good day.  Many of the local fishers know a variety of superb snorkeling and spear-fishing spots, giving us the opportunity to explore the coastline.  Many residents also lead horseback-riding tours through the nearby forests.  Surfind is the most famous and favorite activity in the area and therefore lessons by one of the local outfitters will be an option.  Diving tours and courses are also available.
End of day, suggested group dinner and overnight Santa Catalina Lodge

Monday, Dec 28 - Day 3 - Santa Catalina - Isla Coiba - Boquete
Santa Catalina is an excellent staging port for an optional expedition to La Isla de Coiba National Park:
With the exception of the Galápagos and Isla de Coco, few destinations off the Pacific coast of the Americas are as exotic as this national park centered on the 503-sq-km Isla de Coiba. Although just 14 miles offshore in the Golf of Chiriquí, Coiba is a veritable lost world of pristine ecosystems and unique fauna.  Left alone for the past century due to its status as a notorious penal colony, Coiba offers intrepid travelers the chance to hike through primary rainforest, snorkel and dive in a marine park with increasingly rare wildlife. Read more:
Alternate, land locked option, a visit to the Pargue Nacional Cerro Hoya:  On the southwestern side of the Península de Azuero, this 326-sq-km park protects the headwaters of the Ríos Tonosí, Portobelo and Pavo, as well as 30 endemic plant species, and rare fauna including the elusive carato parakeet. The national park also contains some of the last remaining rainforest on this rather large peninsula.
Upon returning from the expeditions, we will head Northwest and transfer into the highlands of Boquete.
Time permitting, we will make a stop at one of the powdery white-sand beaches of Golf of Chiriqui.
Suggested group dinner in David, Panama's second largest city, and overnight at Boquete Mountain Lodge

Tuesday, Dec 29 - Day 4 - Boquete and Volcan Baru
Boquete and the Chiriqui Province claim to have it all:  Panama's tallest mountains, longest rivers and most fertile valleys are here. The province is also home to spectacular highland rainforests and the country's most productive agricultural and cattle-ranching regions.  The Napa Valley of coffee, the mountain town of Boquete is known throughout Panama for its cool, fresh climate and pristine natural setting. Flowers, coffee, vegetables and citrus fruits flourish in Boquete's rich soil, and the friendliness of the locals seems to rub off on everyone who passes through.  This town is one of the country's top destinations for outdoor lovers. It's a hub to hike, climb, raft, visit coffee farms, soak in hot springs, study Spanish or go on a canopy tour.


After breakfast, we will have two main options to choose from:
Option 1 - Hike Volcan Baru: A full day expedition, the 3,478m/ 11,477 feet summit is the highest point in Panama, and on a clear day affords views of both the Pacific and Caribbean coasts!
Option 2 - Coffee Tour: Including transportation to the coffee farm, presentation on the history of coffee in Boquete, a tour of a roasting facility and a tasting session, of course (RSVP required).
Further optional activities including white water rafting, birding tours, canopy tours, and/ or jeep mountain safaris round up the Boquete outdoor adventure offerings. 
End of day, suggested group dinner and overnight Boquete Mountain Lodge


Wednesday, Dec 30 - Day 5 - Boquete to Bocas Del Toro
After breakfast, we'll transfer to Bocas del Toro on Isla Colon.
After hotel check-in, open day to explore on your own.  This colorful and utterly Caribbean town of clapboard houses was built by the United Fruit Company in the early 20th century. Today, Bocas is a relaxed community of West Indians, Latinos and resident gringos, with a friendly atmosphere that easily rubs off on visitors. In fact, travelers to this island town have a reputation for canceling future plans – it's an easy place to get stuck and an even easier place to linger.  Bocas serves as a convenient base for exploring the archipelago as taxis marinos (water taxis) ply the waters, and can whisk you away to remote beaches and snorkeling sites for a few dollars. However, as most travelers learn after spending their first few days idly wandering the streets, the allure of Bocas is simply slowing down and soaking up the Caribbean vibes.
A multitude of optional activities await: Diving, catamaran sailing, beach front yoga, and/ or rent a scooter or bike and explore La Isla Colon.  
End of day, suggested group dinner and overnight Hostal Bocas


Thursday, Dec 31 - Day 6 - Happy New Year!
After breakfast, we'll have the entire day open to explore Isla Colon and/ or visit one of the other islands and beaches. The most beautiful beach on Isla Bastimentos is Wizard Beach (also known as Playa Primera). Awash in powder-yellow sand and backed by thick vine-strewn jungle, Wizard Beach is connected to Old Bank via a wilderness path.  Boca del Drago is one of the best beaches on the island. Though the surf can be rough at times, it is probably the happy medium in terms of its prettiness and the calmness of the water. Just offshore from the beach is a patchy coral-and-sand sea bottom that offers good snorkeling when the sea is calm and the water clear.  
Many bars and clubs, some waterfront and some on the water, lend themselves to a jolly good time out on the town.  End of day, group dinner and New Year's Eve Celebration
Overnight Hostal Bocas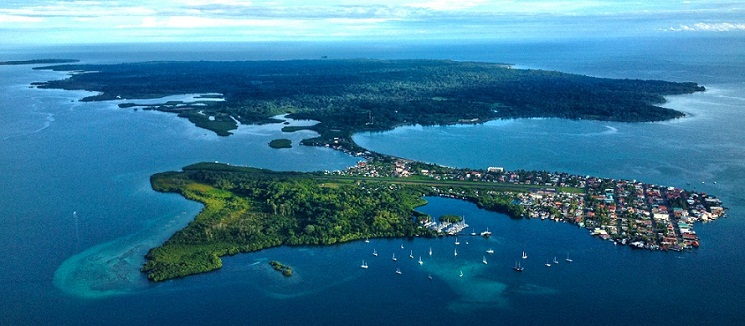 Friday, Jan 1 - Day 7 - Bocas Del Toro - Panama City
After brunch, we'll start our transfer back to the mainland and in direction of Panama City.
Time permitting, we will make a stop at one of the powdery white-sand beaches of Golf of Chiriqui and/ or one of the famous beaches of Punta Chame, the "Hamptons" and go-to play ground of young Panama City weekenders.  Plenty of optional activities are offered; however, the real draw may be the circus of adrenaline activating activities, such as a skate park, mountain and motorbike courses, wakeboarding and kitesurfing (lessons available). Tamer offerings include volleyball and soccer areas as well as a stunning pool replete with island.  Alternative, head straight for the city and pay a visit to Casco Viejo, the old town is gradually being gentrified, and the buildings that have already been restored give a sense of how magnificent the area must have looked in past years. Recognition of these efforts by the international community resulted in the area being declared a UNESCO World Heritage Site in 2003. However, part of the allure of strolling along Casco Viejo's cobbled streets is the dilapidated charm of the crumbling buildings, abandoned houses and boarded-up ruins.
End of day, hotel check-in, suggested group dinner, and overnight back at Panama Zen Hotel

Saturday, Jan 2 - Day 8 - The Panama Canal
After breakfast, we head for The Canal and drive along this engineering marvel, already a multi-billion dollar commercial behemoth, which by 2016, in an ambitious project, will make it even bigger. The Panama Canal, which joins the Atlantic to the Pacific, is certainly Panama's greatest claim to fame. Moving mountains and carving through dense jungle, the creation of the canal in 1914 literally reshaped the natural landscape of this sliver of Central America. Less well known is that there's a greener side to the canal, teaming with tropical wildlife, living indigenous cultures and outdoor adventure opportunities – all just a short hop from the capital, Panama City.  Near the mouth of the canal, the Miraflores Locks Visitor Center makes an excellent jumping off point for exploration. Begin by visiting the locks museum, which chronicles the story of the canal, from the failed French attempt that cost 22,000 workers their lives to the hard-won American success and the handover to Panama in 1999. In the same complex, the open-air observation deck offers prime views of 1000ft ocean liners transiting the locks.  Optional boat trips onto the canal are also possible.
End of day, suggested group dinner and overnight at Panama Zen Hotel

Sunday, Jan 3 - Day 9
After breakfast, depending on your flight's departure time, half day to explore Panama City.
Get an early start on your day to get a final glimpse of the city with a suggested visit to the Museo de Arte Contemporaneo or the Parque Natural Metropolitano.  Otherwise, check out the Iglesia de San Jose, which houses the golden altar, the only item salvaged after Captain Morgan's raid of Panama City in 1671.  Alternatively, explore the Plaza de Francia, located at the tip of the southern point of Casco Viejo, this beautiful plaza pays homage to the French role in the construction of the canal. Its large stone tablets and statues are dedicated to the memory of the workers who died trying to create the canal.
Van transfer or taxi (depending on flight time) to the airport to catch our flights back to New York
Questions / RSVP: igorbass@dynamicoutdoors.com
---
Supplemental Info:
Recommended flights: NYC/ Panama City: Copa Air overnight flight December 25/26 and returning on Jan 3rd
Cancellation Policy:
If you cancel more than 60 days before the date of travel, you would receive a refund minus $200
If you cancel less than 60 days before the date of travel, you would receive 75% refund
If you cancel less than 45 days before the date of travel, you would receive 50% refund
If you cancel less than 30 days before the date of travel, you would receive 25% refund
If you cancel less than 15 days before the date of travel, there won't be a refund possible unless we find replacement for you !
We always recommend to purchase travel insurance - we suggest: www.travelex.com
When
Saturday, December 26, 2015 at 11:00 AM

-

Sunday, January 3, 2016 at 3:00 PM
Add to my calendar
Organizer
Dynamic Outdoors
We are an energetic and friendly club dedicated to offering the best outdoor adventures. All of our events are designed to ensure that everyone is involved and has a great time. Whether it is hiking in a lush forest, canoeing down a crystal clear river or galloping on horseback along the sandy beaches, we offer a personalized approach so that you gain the most out of each trip. Our goal is to provide a simple, convenient way to escape the concrete jungle for a day of fresh air, fantastic views and memorable interaction with other like minded individuals who share a passion for the outdoors.