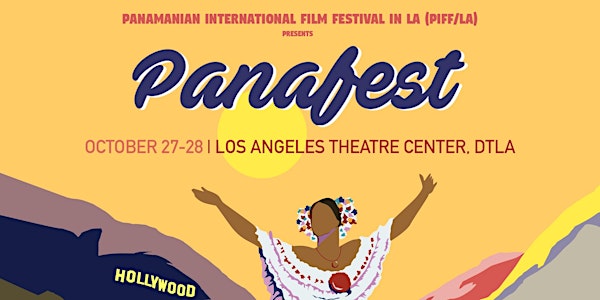 PANAFEST - A two day film festival celebrating Latino culture
When and where
Location
The Los Angeles Theatre Center 514 South Spring Street Los Angeles, CA 90013
Description
4th PANAFEST by the Panamanian International Film Festival in Los Angeles (PIFF/LA)
PANAFEST is a Celebration of Latino Film and Culture! PANAFEST will be featuring screenings of shorts, documentaries, and feature films both from Panama and Latin American/U.S. Latino filmmakers, along with panel discussions, music and food. In its 4th edition, PANAFEST will also screen 360 VR short films!
Get an All-Weekend or All-Day Pass or choose from Eight Blocks of films from Panama, Spain, Peru, Chile, Argentina, Venezuela, Mexico, Colombia, the U.S. and more!
IMPORTANT: When purchasing tickets please specify the Block or Blocks you want to attend. All-day passes will grant you access to all Blocks and activities throughout the day.

---
PANAFEST by PIFF/LA SCHEDULE
OCTOBER 27, 2018
INDUSTRY PROGRAM
12:30 pm – 2:00 pm: SAG-AFTRA CONTRACT WORKSHOP. Lunch included. (Free entry! Please, RSVP)
Panelists: Tim Kuhl, Lilliana Barzaga.
2:00 pm – 3:00 pm: OVERCOMING THE CHALLENGES OF THE INDEPENDENT FILMMAKER. Presented by NALIP. (Free entry! Please, RSVP)
Panelists: Shahrook Oomer, "J. R." Marquez, Javier Chapa, Christopher Broughton, Charo Toledo
OCTOBER 28, 2018
3:00 pm – 4:00 pm: WOMEN IN FILM. Presented by Film Gals. (Free entry! Please, RSVP)
Moderator: LaShawn (co-founder of Revry TV)
Panelists: Brenda Alvarado, Anisha Acharya, Megan Gaspar, Giselle Murillo
FILM PROGRAM
3:00 pm
RELATIONSHIPS & COMIC (BLOCK 1: SHORT FILMS)
Night and Fun directed by Delfina Kroeck (Panama)
Meeting Brown directed by Ana Lydia Monaco (USA)
Ultimo Supper directed by Eddie Zapata (USA)
Brillas (Shine) directed by Juan Daniel Pinzón (Panama)
Pura Pantalla directed by Javier Farías (Venezuela)
Virgencita directed by Giselle Bonilla (USA)
Tortoise directed by Stephen Cervantes (USA)


4:30 pm
DOCUMENTARY SHORTS (BLOCK 2: SHORT FILMS)
YumYum Chicle Tree directed by Art Bonilla (USA)
Lines of Communication directed by Elizabeth Lyle, Kimberly Lyle (Panama)
La Mola de Lucía directed by Ana Elena Tejera (Panama)
Pasajeros en Tránsito (Passengers in Transit) directed by Luis Romero (Panama)
Aurora directed by Laura García (Mexico)
ALTERIDAD + (HINTERLANDS) directed by Martín Proaño and Ginés Sánchez Arias (Panama)


6:00 pm
RELATIONSHIPS & DRAMA (BLOCK 3: SHORT FILMS)
Retiro (Central Station) directed by Alejandro Juan Sorin, Miguel Dianda, Nicolás Ferrando (Argentina)
Together Again directed by Antonio Darwiche (USA)
Desde el Principio directed by Miguel Soliman (USA)
Mi Amor directed by Yeniffer Behrens (USA)
From Now On directed by Ivonne Coll (USA)
Familia? directed by Marlene Forte and Kase Pena (USA)
Marisol directed by Juan Escobedo (USA)


8:00 pm
BLOCK 4: FEATURE FILM
El Contratista directed by José Angel Henrickson (USA/Mexico)
---
OCTOBER 28, 2018
3:00 pm
FANTASY & ANIMATION (BLOCK 5: SHORT FILMS)
Silencio Siesta (Nap Silence) directed by Lucas Saporosi and Luz Marquez (Argentina)
Sandman directed by Natalia Hermida (USA)
Mientras Duermes (While You're Sleeping) directed by Morella Moret (Peru)
Del Mar y la Luna (From the Sea to the Moon) directed by Ramiro Maldini (Argentina)
Gamberger directed by Natalia Hermida (USA)
Viajero Casero (The Homesick Traveler) directed by Christian Bradford Alvarez (Panama)
ONE directed by Carlos Carrasco (USA)
4:30 pm
IMMIGRATION STORIES (BLOCK 6: SHORT FILMS)
Pasajeros en Trance (Transient Passengers) directed by Natalia Hermida (USA)
To Infinity directed by Gabriel Savodivker (USA)
Uno directed by Javier Marco (Spain)
I.C.E. Cream directed by Aditya Patwardhan (USA/Panama)
American Nightmare directed by Jesus Nebot (USA)
6:00 pm
DRAMA (BLOCK 7: SHORT FILMS)
Las Hormigas (The Antz) directed by Mariana Wainstein (Argentina)
Entropia directed by Rodrigo Quintero Arauz (Panama)
Fuera de Control (Out of Control) directed by Reynaldo Quijada (Panama)
Blood Stains directed by Blake Vaz (USA)
Exit directed by Haslam Ortega (Panama)
Terapia (Therapy) directed by Jhonatan Tabares (USA)
8:00 pm
BLOCK 8: FEATURE FILM
Una Noche de Calypso (A Night of Calypso) directed by Fernando Muñoz (Panama)
---
Event organized by the Panamanian International Film Festival in Los Angeles. Thanks to our partners NFMLA, Los Cortos, Material Extra. Learn more at piffla.com
This activity is supported in part by the California Arts Council, a state agency. Learn more at arts.ca.gov