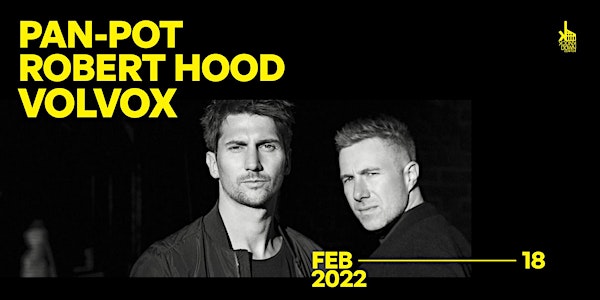 Pan-Pot / Robert Hood / Volvox
Performers
Pan-Pot, Robert Hood, Volvox
Location
Knockdown Center
52-19 Flushing Ave
Queens, NY 11378
German techno duo Pan-Pot return to Knockdown Center alongside legendary Detroit techno innovator Robert Hood and New York's own Volvox.
About this event
❑ Doors at 10pm
❑ 21+
▁ ▁ ▁ ▁ ▁ ▁ ▁ ▁ ▁ ▁ ▁ ▁ ▁
Pan-Pot are a German minimal techno duo associated with Mobilee Records who made their acclaimed album debut in 2007 with Pan-O-Rama. Based in Berlin, Germany, the duo is comprised of Tassilo Ippenberger (from Chiemsee, Bavaria) and Thomas Benedix (from Templin, Brandenburg), who met as students at the SAE Institute.
Robert Hood is often regarded as the founder of minimal techno. The Detroit native makes stripped-down tracks with an emphasis on soul and experimentation rather than flash and popularity. Hood was a founding member of the Underground Resistance label, whose influential releases throughout the first half of the '90s helped change the face of modern Detroit techno and sparked a creative renaissance.
Volvox remains one of the most powerful and distinct of the new generation of DJs to emerge from Brooklyn's recent explosion of club music. She made her reputation at her Bossa Nova residency Jack Dept. and as one of Discwoman's first breakout artists. Volvox's sets slam with a darkly intoxicating playfulness. Her dirty, acid-drenched sets notoriously steal the show.
▁ ▁ ▁ ▁ ▁ ▁ ▁ ▁ ▁ ▁ ▁ ▁ ▁
Proof of Vaccination Required
New York City law requires all attendees of indoor events to present proof of at least one dose of a WHO approved COVID-19 vaccine. Approved methods of providing vaccination proof per New York City guidance include New York State's Excelsior Pass app, New York City's COVID Safe app, or a CDC paper vaccination card. By New York City law, proof of a negative COVID-19 test result is not accepted as a method of entry.