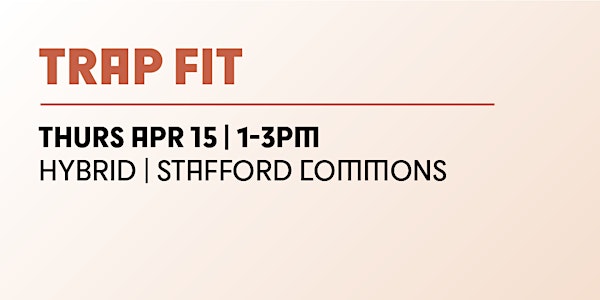 Pan-Afrikan Week: TrapFit Workout
Join us as we get into some fun exercise and de-stress on one of our Wellness Days!
When and where
Location
Stafford Commons 2610 Cates Ave. Raleigh, NC 27606
About this event
Come participate in a fun exercise session with Trap Fit on one of our Wellness Days! You can de-stress, get fit, and have fun all in one place. Pre-register here for your in-person spot OR RSVP to livestream the event at your home!
Only 40 students may register for each in-person class. This number may need to be altered if State or University event guidelines change, so register early!
Once you sign up for a time slot, you will need to arrive to Stafford Commons outside Talley Student Union at least 5 minutes before the start time of your in-person class or you will not be allowed entry into the event. Please plan accordingly! Please have your ticket ready to be scanned when you arrive at the UAB Check-In Tent.
If you have any questions please reach out to uab-blackstudentsboard@ncsu.edu.
Check out the link below for more information about Pan-Afrikan Week events: go.ncsu.edu/PanAf