The Pan-African Hybrid Conference of the PASET Regional Scholarship and Innovation Fund (RSIF).
About this event
Go to the French website version here
Go to the Portuguese website version here
Theme: African-led science, technology and innovation for contributing to the SDGs and stimulating global development
The event is co-organised by the RSIF (www.rsif-paset.org) Regional Coordination Unit, the International Centre of Insect Physiology and Ecology (icipe) (www.icipe.org) and the University Mohammed VI Polytechnic (www.um6p.ma), a PASET International Partner Institution.

Day 1 – Tuesday 28 June 2022
SESSION I: OPENING SESSION
8:45 AM - 9:45 AM GMT+1
Conference Welcome and Opening
Join in from the beginning as we highlight current global context; remind ourselves of PASET goals to bridge the skills gap in applied sciences, engineering and technology. and capabilities to address the continent's priority issues together through a regional approach and its flagship programme the Regional Scholarship and Innovation Fund (RSIF). Digital revolution, climate, and future pandemics. Excellent minds, research and innovation promise to shape our common future in concrete ways.
Moderator: Dr. Moses Osiru, RSIF Manager, icipe and Dr. Rachid El-Fatimy, UM6P
Brief RSIF and UM6P videos
Welcome remarks by Mr. Hicham El Habti, President, UM6P
Welcome Statement by the Government of Morocco
Introductory remarks by Dr. Segenet Kelemu, DG icipe, the RSIF Regional Coordination Unit
Opening remarks by Ms. Muna Salih Meky, World Bank
Remarks by Prof. Aminata Sall Diallo, PASET Executive Director
Welcome statement by Dr. Zuzana Schwidrowski, North Africa Director, representing Dr. Vera Songwe, United Nations Under-Secretary-General and Executive Secretary of the Economic Commission for Africa
Official Opening Statement by Hon. Dr. Valentine Uwamariya, Minister of Education, Rwanda and PASET Governing Council Chair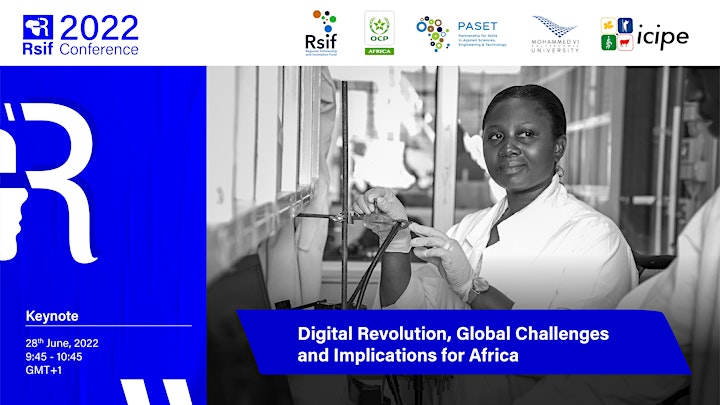 SESSION II- Session theme: Digital Revolution, Global Challenges and Implications for Africa
9:45 - 10:45 GMT+1
Moderator: Dr. Julius Ecuru, Manager, BioInnovate Africa
Rapporteur: Dr. Sharon Mbabazi, Makerere University
The keynotes and subsequent panel discussion will provide an updated perspective of the global context and Fourth Industrial Revolution (4IR). We wish to particularly understand implications for African universities, STI sector and the Regional Scholarship and Innovation Fund (RSIF). What are some key lessons and recommendations related to the digital revolution emerging from the recent pandemic and climate change experiences? What potential impacts of the Russia-Ukraine crises on Africa?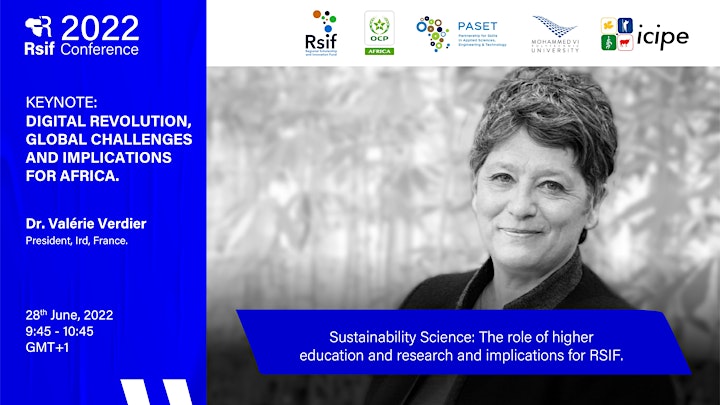 Keynote 1: Sustainability Science: The role of higher education and research and implications for RSIF.
Speaker: Dr. Valérie Verdier, President, IRD, France.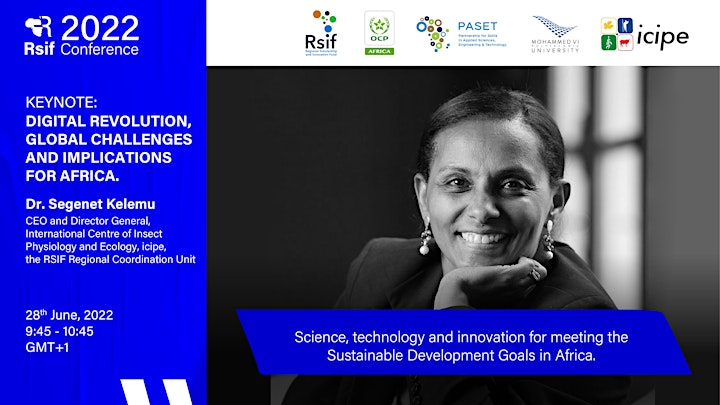 Keynote 2: Science, technology and innovation for meeting the Sustainable Development Goals in Africa: Some lessons from icipe's work
Speaker: Dr. Segenet Kelemu, CEO and Director General, International Centre of Insect Physiology and Ecology,icipe, the RSIF Regional Coordination Unit
Comments by the Government of Morocco
Tour of Exhibition
10:45 - 11:20 GMT+1
Research and innovation - featuring a selection of RSIF PhD scholars and pilot projects in African universities alongside partner representatives from Morocco and beyond.
Tea Break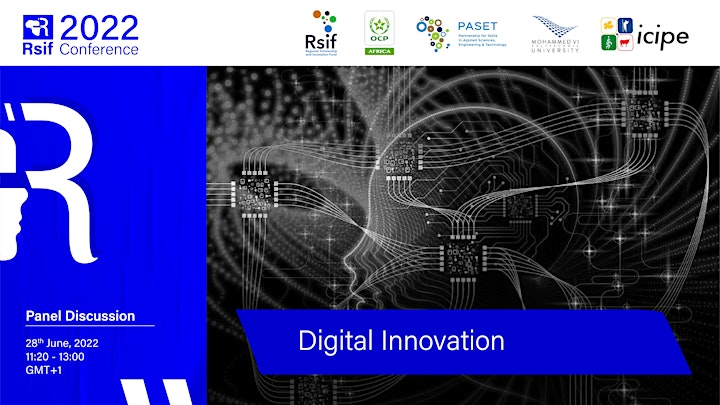 Panel Discussion - Digital Innovation
11:20 - 13:00 GMT+1
Moderator: Mr. Suraj Shah, Lead, Regional Centre for Innovative Teaching and Learning in ICT at Mastercard Foundation
Rapporteur: Prof. Rachid Guerraoui, UM6P/EPFL
RSIF is the flagship programme for the African government-led Partnership for Skills in Applied Sciences, Engineering and Technology? How can new technologies enable scientists globally to collaborate to advance sustainable development? Join an exciting panel discussion with researchers and industry leaders sharing concrete examples and perspectives for the application of digital technology in Africa in education, health, agriculture, energy, environment and manufacturing.
Panelist 1: Dr. Charity Wayua, IBM Research Africa
Panelist 2: Dr. Samuel Maina, Senior Applied Research Scientist, Microsoft Africa Research Institute (MARI)
Panelist 3: Dr. Ignace Gatare, principal of the College of Science and Technology, University of Rwanda, an RSIF African Host University
Panelist 4: Ms. Harriet Sibitenda, Uganda, RSIF PhD student at University of Gaston Berger, Senegal
Panelist 5: Prof. Jules Degila, University of Abomey-Calavi, an RSIF African Host University
Comments:
Mr. Rafiq El Alami, UM6P
Dr. Maria Uriyo, Executive Director, Abacus Robotics
Moderated discussion
Lunch Break
13:00 - 14:00 GMT+1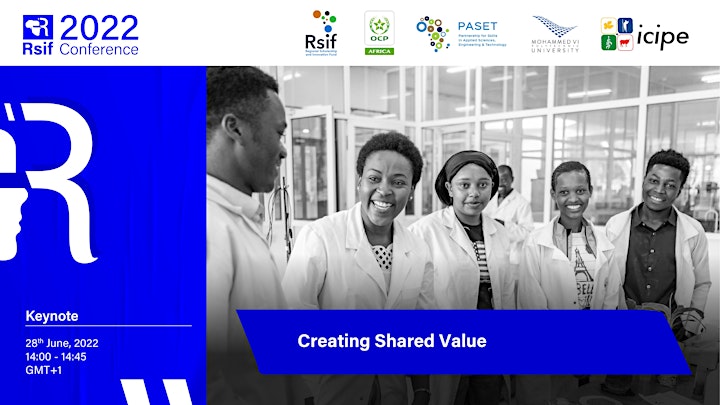 SESSION III- Session theme: Creating Shared Value
14:00 - 14:45 GMT+1
Keynote: Building Africa's STI sector to support industrialisation in Africa
Challenges present research and business opportunities. How can governments, universities, industry, and NGO sector co-create to develop solutions with shared value-generating both economic benefits and social progress? What lessons for universities, STI ecosystems in Africa and for the Regional Scholarship and Innovation Fund (RSIF)?
Moderator: Dr. Mafini Sarratou Dosso, Chief Economist and Policy Analyst, European Commission Joint Research Centre
Speaker: Dr. Kamau Gachigi, Executive Director, Gearbox, Pan African Network, an RSIF partner organisation
Respondent: Dr. Ellie Osir, STI Advisor, International Development Research Center (IDRC)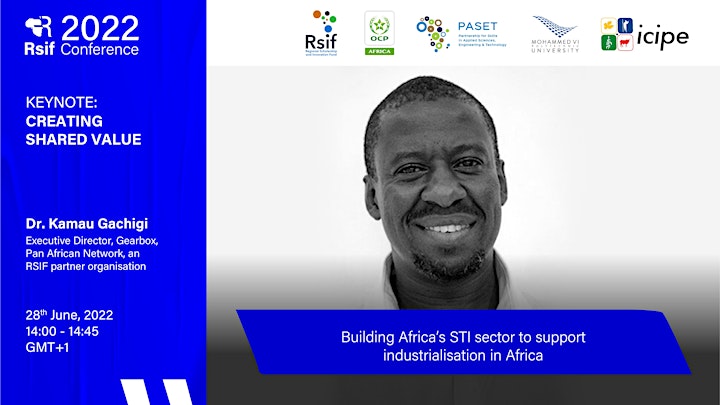 Panel Discussion – Nurturing collaboration between universities and industry – Lessons, experiences and best practice
14:45 -16:15 GMT +1
Moderator: Dr. Mafini Sarratou Dosso, Chief Economist and Policy Analyst, European Commission Joint Research Centre.
Rapporteur: Ms. Sylvia Maina, RSIF PhD Alumni
This discussion showcases the potential for universities and industry to collaborate, highlighting lessons for and potential of the RSIF model as a collaboration mechanism through which governments, universities and industry can partner to deliver academic research, industrial research and social development.
Introductory Remarks : Ms. Cynthia Orang'o, Grants Officer, RSIF, icipe
Panelists:
Panelist 1: Prof. Fulufhelo Nelwamondo, CEO of the National Research Foundation, South Africa
Panelist 2: Prof. Murtala Sabo Sagagi, Dangote Business School, Bayero University, Kano, an RSIF African host university
Panelist 3: Prof. Azikiwe Peter Onwualu, Prof. and acting President, African University of Science and Technology, Nigeria, an RSIF African host university
Panelist 4: Mr. Gerard den Ouden, Programme Manager, Science and Technology Expert, GOPAcom
Comments:
Mr. Amadou Gouzaye, OCP Africa
Mrs. Patricia Poku Diaby, CEO, Plot Enterprise LTD
Moderated discussion
Tea Break
16:15 - 16:45 GMT +1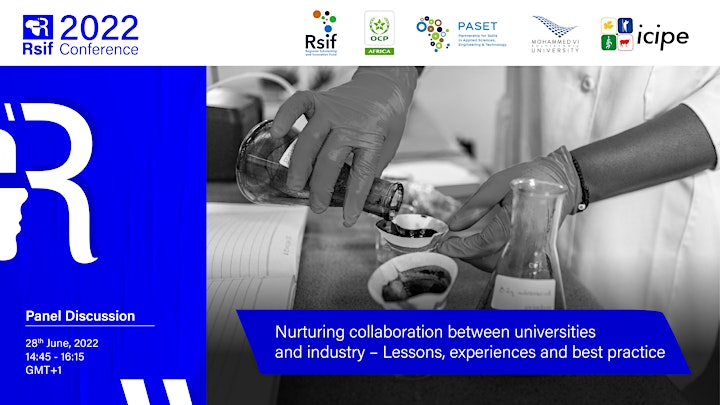 Science Slam
16:45-17:45 GMT+1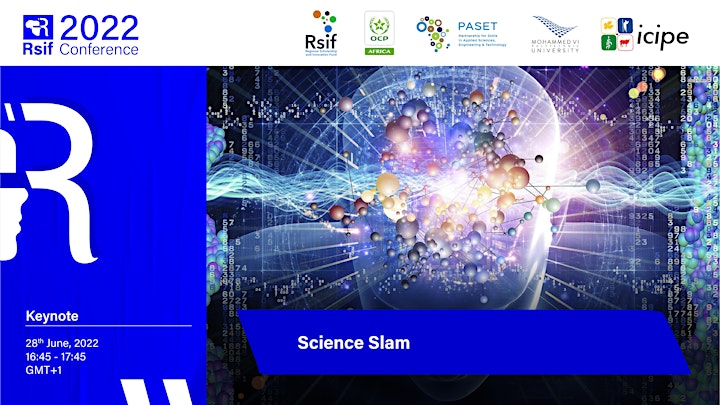 Moderator: Abdallah Oukarroum, UM6P
Rapporteur:Prof. Cheikh Ba, RSIF Coordinator, University Gaston Berger.
The RSIF program is a program of excellence focusing on a rigorous selection process, mentorship, selection of demand-driven research topics and internships at high-quality institutions. RSIF scholars explain the relevance of their research for bringing solutions to key challenges. What is the potential for enterprises and for people's lives? How has RSIF training contributed to their career development?
Introduction to the RSIF PhD Training model: Dr. Everlyn Nguku, Capacity Building Specialist, RSIF
Speaker 1: Dr. Noel Gahamanyi, Rwanda – Zoonoses and Antimicrobial Resistance (AMR)
Speaker 2: Dr. Emmanuel Effah, Ghana – Smart agri-IOT
Speaker 3: Ms. Fatoumata Thiam, Senegal – Precision irrigation
Speaker 4: Dr. Richard Koech, Kenya – Solar cells
Speaker 5: Mrs. Jeanne Pauline Munganyinka, Rwanda – Gold mining
Comments: Dr. Donald Madukwe, OCP Africa
End of Day 1 Summary: Mr. Arun Sharma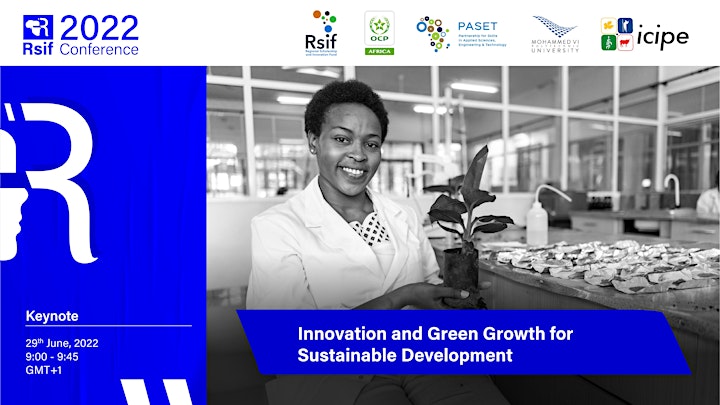 Day 2 – Wednesday 29 June 2022
SESSION IV: Innovation and Green Growth for Sustainable Development
9:00 - 9:45 AM GMT+1
Moderator: Prof. Mustapha El Bouhssini, UM6P
Rapporteur: Prof. Murtala Muhammed, RSIF Coordinator, Bayero University Kano, Nigeria
African government members of PASET have identified climate change as a priority thematic area. In the RSIF network are three specialised PhD programmes in climate change area and also an important cross-cutting issue. How can RSIF support transformative green technologies that support green growth and the transition to a green and knowledge-based economy in Africa? What recommendations and implications for RSIF research strategy, transdisciplinary research and practice?
Keynote: Building centers of excellence in Africa to enhance research and innovation in the climate sciences. Thoughts for PASET's RSIF Program.
Speaker: Prof. Lindsay C. Stringer, University of York
Respondents:
Dr. Quentin Delpech, Senior education specialist, AFD
Prof. Goolam Mohamedbhai, PASET CAG chair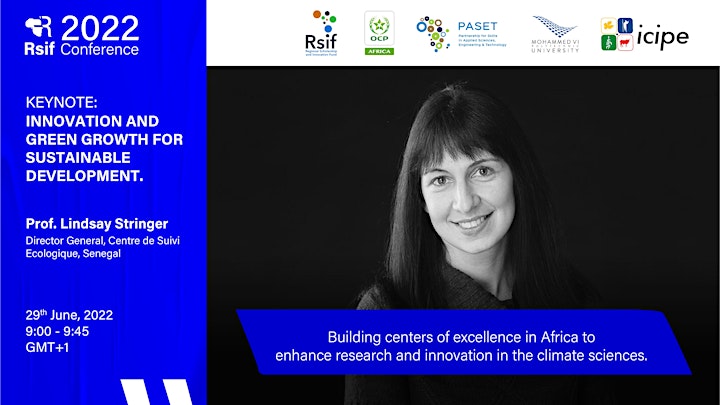 Panel Discussion – Innovative Climate Solutions
9:45 -11:15 GMT+1
Opportunities in the transition to economies that are low carbon, resource-efficient and socially inclusive. RSIF pilot projects in research and innovation support solutions to pressing local challenges and the creation of transformative technologies with social impact.
Moderator: Prof. Ghani Chehbouni, UM6P
Rapporteur: Dr. Sylvia Mkandawire, Association of African Universities
Panelists:
Panelist 1 : Prof. Daouda Kone, RSIF Coordinator, Université Félix Houphouët-Boigny, Côte d'Ivoire
Panelist 2: Dr. Laurenda Todome, Program Manager, ACED, Benin, RSIF supported innovation project
Panelist 3: Mr. Nana Okyir Badoo, RSIF PhD student, University of Ghana
Panelist 4: Prof. Rachid Doukkali, OCP Africa
Panelist 5: Prof. Rachid Serraj, UM6P
Tea Break
11:15 - 11:45 GMT+1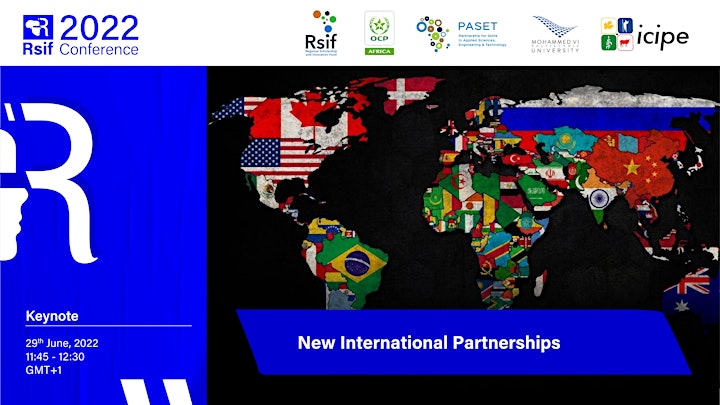 SESSION V: New International Partnerships
11:45 - 12:30 GMT+1
RSIF combines African ownership and leadership with global best practices and knowledge. The Partnership does this by bringing together African governments, the private sector, and partners such as Brazil, China, India, and Korea, to invest in science, technology and innovation in Africa. RSIF supported students spend 6-24 months at sandwich placement in a carefully matched international partner institution. What are some best practices for managing international university partnerships? What key modalities for positively impacting institutional capacities of African universities and their wider innovation systems? How can RSIF design unleash multiplier effects over time?
Moderator: Dr. Hassan Baloui, UM6P
Rapporteur: Hayeon Kim, World Bank
Prof. Yanfen Wang, Chinese Academy of Sciences
Dr. Mathieu Guérin, Attaché for Scientific and University Cooperation, Professional Training, French Embassy, Kenya
Mr. Daisuke Mizoghuchi, Director, Nairobi Research Station, Japan Society for the Promotion of Science.
Professor Rossana Valéria de Souza e Silva, Executive Director, International Cooperation Group of Brazilian Universities.
Mr. Jerome Chenal, EPFL
Comments:
Mr. Woonho Baek, Coordinator, Global R&D Strategy Team of KIER
Mr. Aniss Bouraqqadi, OCP Africa
Moderated discussion
LUNCH
12:30 - 14:00 GMT+1
SIDE EVENTS (BY INVITATION ONLY)
14:00 - 16:00 GMT+1
HEALTH BREAK
16:00 - 16:30 GMT+1
CLOSING SESSION
16:30 - 17:15 GMT+1
Moderator: Bonface Nyagah, RSIF-RCU and Mr. Khalid Baddou, UM6P
Rapporteur: Ms. Caroline Oremo, RSIF RCU
Summing up the key take-aways from the discussions with lessons, recommendations and actions for Africa's higher education, science, technology, and innovation space and RSIF specifically.
Reading of the meeting communique
Closing Remarks
UM6P
OCP Africa
icipe
World Bank
PASET