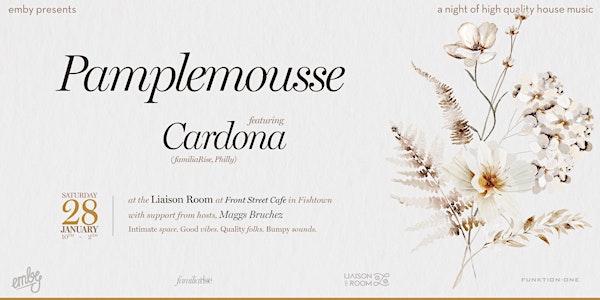 Pamplemousse w/ Cardona & Maggs Bruchez
emby invites you to Pamplemousse - a night of high quality house music - with Cardona & Maggs Bruchez!
When and where
Location
Liaison Room at Front Street Cafe 1253 North Front Street floor 2 Philadelphia, PA 19122
About this event
2022 was a hell of a year all around for the Pamplemousse Party. And we're stoked to carry that momentum into the new year with a BANG! Join us for the first Pamplemousse of 2023 at our favorite intimate space in Fishtown with one of our favorite local underground purveyors of late night sounds, Cardona. If you've been out and about in the city over the past 10+ years, you're likely already acquainted with Cardona and his crew's late night parties: FamiliaRise. If not, you're in for a sweet treat on the 28th under the disco ball and neon Pamplemousse sign. Let's get after it.
As always, don't forget to RSVP for reduced cover!
*** featuring the sounds of ***
Cardona
FamiliaRise
Colombian born and raised, moved to the U.S at thirteen years old with a passion for metal, hardcore and many other "rock" underground sub-genres with an edge. Although, there was always a twist, a love for the night life, a deep appreciation for a good party, feelings that were early introduced to him by his native city's active club scene.
After a couple of years, Cardona started developing a natural love for electronic music. He attended his first festival, and not knowing about Philly's own scene, he traveled to and from NY numerous times to feed his soul with his most desired type of electronic music. Back in 2007 he saw the need to pick up his first pair of turntables.
In early 2011, Cardona along with Jus and brothers Shino and Safarii founded familiaRise as a way to start bringing their take on music to the city of brotherly love, a project accepted with great appreciation from local crews and party-goers. Since 2011 until now his sound has been heard in many of Philly's venues, mostly after-hours clubs, as well as in New York, Colombia, Mexico, Switzerland and Germany.
"Music is a tool, used right it can give you answers, comfort and simply better living."
https://soundcloud.com/cardona-1
with support from residents & hosts
Maggs Bruchez of emby
www.soundcloud.com/embymusic
www.soundcloud.com/maggsbruchez
www.embymusic.com
Every 4th Saturday at Liaison Room
Intimate space. Good vibes. Quality folks. Bumpy sounds.