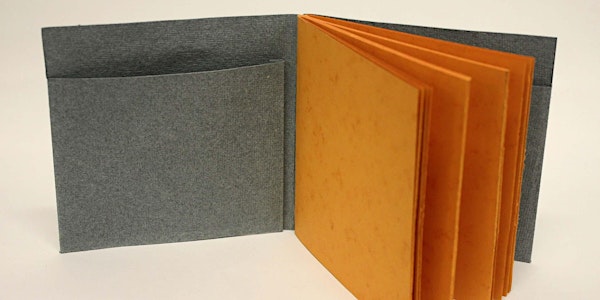 Pamphlets with Pockets taught by Maria Welch
When and where
Location
Parkway Central Library 1901 Vine Street Room 407 Philadelphia, PA 19103
Description
In this workshop participants will learn to make one and two signature pamphlet books with paper covers that feature interior pockets. One pocket variation will feature one cut edge and one edge with a folded tab, while the other will feature one folded tab and a small concertina that allows for even more storage. Additionally, participants will be introduced to book binding basics such as grain direction, constructing a sewing jig, and the sewing pattern for this binding. Pamphlet bindings are versatile, great for note taking or journaling, and the added cover pockets allow for easy storage of everyday keepsakes! Participants will leave the workshop with two complete books and the necessary knowledge to recreate this predominantly non-adhesive binding at home.

Maria Welch is an artist investigating the fleeting and residual nature of memory with emphasis on how these aspects affect the psyche. She explores these themes across various process- oriented mediums such as papermaking, printmaking, and book arts, and frequently uses dirt as a metaphor for taxing life experiences. Welch received her BA in Studio Art with a minor in Art History from Millsaps College in Jackson, MS. She has exhibited nationally, and her work is included in a variety of permanent collections. Welch is currently enrolled in the Book Arts and Printmaking MFA program at the University of the Arts in Philadelphia, PA.
This free workshop will take place 10 AM - 1 PM in Room 407 of the Parkway Central Library. Materials will be provided, but participants may bring their own tools.
The Art Department partners with the Philadelphia Center for the Book to bring free book arts workshops to Parkway Central from September to May. Space in these very popular classes is limited; please let us know in advance if you will not be able to attend after you have registered so that we can release tickets to those on the waiting list
Registration is required and will open Tuesday, September 10 at 12:00pm