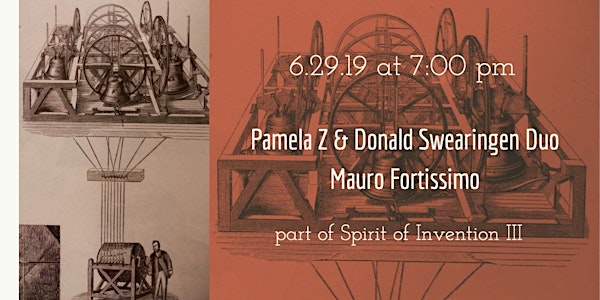 Pamela Z & Donald Swearingen Duo + Mauro Fortissimo (Spirit of Invention III)
When and where
Location
Bridge Storage and ArtSpace 23 Maine Avenue Richmond, CA 94804
Description
This live music event features Pamela Z & Donald Swearingen Duo + Mauro Fortissimo. Doors at 7pm, Music at 7:30pm. Refreshments will be available for purchase.

ABOUT PAMELA Z
Pamela Z is a composer/performer and audio artist who works primarily with voice, live electronic processing, and sampling technology. WATCH: https://www.youtube.com/watch?v=FxUyYEsqW20

ABOUT DONALD SWEARINGEN
Donald Swearingen is an Oakland, California-based composer, performer, multimedia artist, and designer of interactive performance systems and installations. He is a founder and member of the advisory board of the San Francisco Electronic Music Festival. WATCH: https://vimeo.com/148502014

ABOUT MAURO FORTISSIMO
Mauro Fortissimo has been investigating sounds with the deconstruction of pianos, becoming more able to expand the 12-tone scale. Together with Dean Mermell, he founded the popular Sunset Piano and Flower Piano performance series.
This show is part of the gallery exhibit Spirit of Invention III. The exhibit includes all types of instruments created by a diverse group of instrument builders based in and around the Bay Area. All types of instrument will be represented – from the simple, quick to make, to more sophisticated hand-crafted designs, new variations on folk instruments, recycled junk constructions, re-configured pianos, electro- acoustic sound sculptures and electronics. The Gallery will be open during the show. You may also visit from 9am to 5pm daily. For more information on this exhibit visit www.bridgestorage.com/soi