Pam Mark Hall In Concert @ Norton Buffalo Hall

Saturday, August 26, 2017 from 7:00 PM to 10:00 PM (PDT)
Event Details
Norton Buffalo Hall
- Presents -
A Dove- and Grammy-Nominated Artist
Pam Mark Hall
Celebrating her new CD, "Mangle The Tango"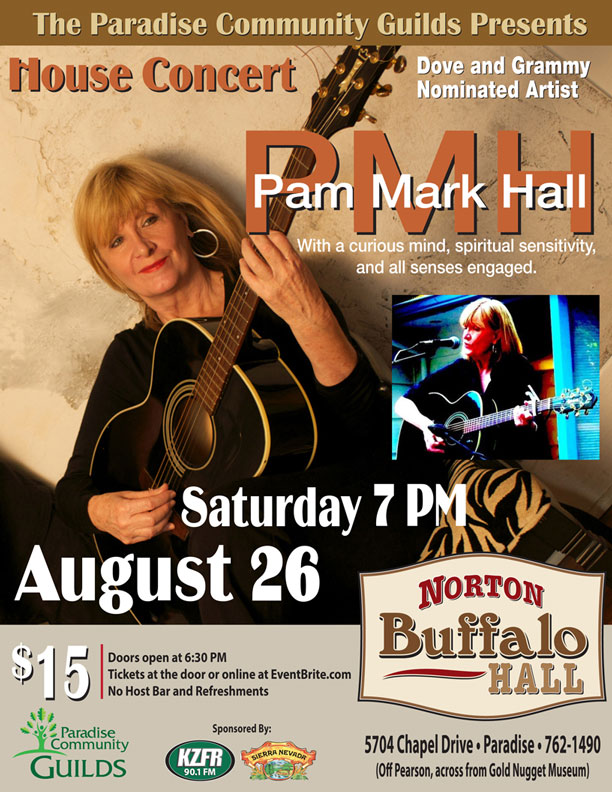 Saturday, August 26, 2017 at 7PM
Doors open at 6:30PM.  Tickets are $15, available online or at the door.
Refreshments will be served / Drinks for Purchase
"Paler Shade is one of the finest forgotten recordings of the '90s singer/songwriter boom. Pam Mark Hall's voice possesses the glow of Jewel and strength of Trisha Yearwood. She explores roots-related styles. 'Rock Me on the Water' is acoustic blues and "Paler Shade of You' is a world music smorgasbord."
-- Dave Sleger, All Music
---
We have a Northern California treasure in our midst.
Pam Mark Hall is a critically-acclaimed, Dove- and Grammy-nominated, veteran performing songwriter with eight albums to her credit -- and she's contributed songs to another two that went gold. Her newest effort, "Mangle The Tango" is due this August, and her appearance at Norton Buffalo Hall is part of a West Coast tour celebrating that achievement.
Hall's early influences influences include Joni Mitchell, The Beatles, Joan Baez, Bob Dylan and Peter, Paul and Mary. At age 16 she toured nationally as a cast member with Up With People, singing in trio with the actress-to-be Glenn Close. Hall's music career bloomed in tandem with the rise of new music from the Jesus Movement in the early seventies, a slice of the music industry that became known as Contemporary Christian Music (CCM). Ultimately, her successes would lead her to the home of Americana music, Nashville.
Genre-wise, Pam Mark Hall's music has always spanned categories, ranging through bluesy, folk, rock, pop, classical, jazz, gospel and country. Her songs have been covered by the likes of Amy Grant and Debbie Boone, and her musical collaborations have included Grant, Noel Paul Stookey and Phil Keaggy, among many others.

With her mid-90's release of Paler Shade, Hall's music took a more expansive turn, in terms of artistic and personal maturity as well as audience. The album drew on her acoustic roots, building up from Hall's raw in-studio acoustic piano, guitar and vocal performances with the help of Nashville producer Dave Perkins. All Music critic Dave Sleger has referred to the album as "one of the finest... recordings of the 90's singer/songwriter boom."
The new "Mangle The Tango" collection of songs "...is really about us boomers at this stage in our lives," says Hall.  "What's left?  Do we have more to contribute? I say yes, we do." Favorite collaborators Noel Paul Stookey and Bruce Cockburn have contributed tracks to the crowd-funded album.
Don't miss this exceptional artist in concert at Norton Buffalo Hall on Saturday, August 26, 7PM!
---
Coming up: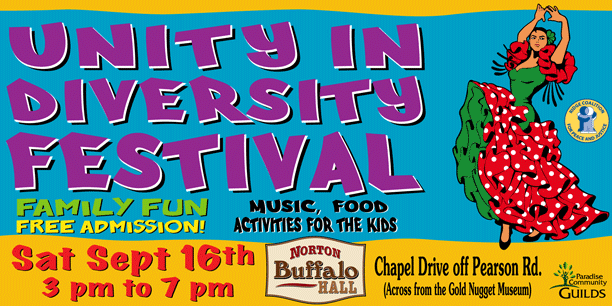 • Halloween Stomp, Saturday, October 28
• Leonard Cohen Tribute, Saturday, November 11
For more info call 762-1490.
When & Where

Norton Buffalo Hall
5704 Chapel Drive
Paradise, CA 95969


Saturday, August 26, 2017 from 7:00 PM to 10:00 PM (PDT)
Add to my calendar
Organizer
Located at 5704 Chapel Drive, Norton Buffalo Hall is an outreach of Paradise Community Guilds, an historic, non-profit, community-based service organization promoting the values of sustainability and stewardship.  Membership is open to all, and the public is generally welcome to attend all Guilds events.
Photos and other media support can be found at www.nortonbuffalohall.com.