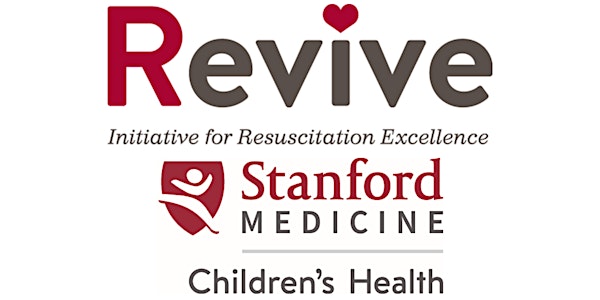 PALS HeartCode + Hands-on Session
American Heart Association Pediatric Advanced Life Support -PALS(HC,LS)
When and where
Location
Stanford Children's Health - AHA Training Center 4700 Bohannon Drive Room 103 Menlo Park, CA 94025
Refund Policy
Contact the organizer to request a refund.
About this event
Summary
This blended learning course includes the self-directed online PALS HeartCode eLearning module followed by a 4 hour in-person, hands-on session for skills practice and testing.
PALS HeartCode is a comprehensive program (estimated at 4-6 hours) that uses a series of videos and simulated pediatric emergencies to reinforce the important concepts of a systematic approach to pediatric assessment, basic life support, PALS treatment algorithms, effective resuscitation, and team dynamics.
Students who successfully complete the PALS HeartCode Course online (including achieving a score of 84% or higher on the course exam) and the hands-on session will receive a PALS Provider course completion eCard, valid for two years.
Course Learning Objectives
Apply and perform the systematic approach to pediatric assessment, including the general, primary, secondary and tertiary assessments
Recognize and manage a child in respiratory distress or failure, and perform effective respiratory management skills
Recognize and manage a child with various life-threatening states of shock
Recognize and manage a child with life threatening rhythm disturbances, and practice appropriate electrical therapy
Apply key elements of resuscitation team behaviors and demonstrate why the foundation of successful resuscitation includes both mastery of basic skills and effective communication
Employ the "assess-categorize-decide-act" approach to management of the critically ill child
Continuing Education
Stanford Children's Health is an approved provider of the California Board of Registered Nursing (BRN), BRN Provider Number CEP9713. The PALS Provider course offers 7 CE's.
Registration Fees
General Admission: $285
Stanford Children's Employee: $285
Stanford Health Care Employee: $285
Stanford University Employee: $285
Please be advised for direct payment, we only accept credit cards for course fees and materials. Once registered, you will receive an Eventbrite confirmation email as a receipt.
Course Materials
PALS HeartCode: Once registration is completed (and if applicable, TOF Form has been submitted), participants receive a key to access the online PALS HeartCode module from eLearning.heart.org to the email address submitted with registration.

If you have an existing AHA account, please use the email associated with that account during registration, If you'd like to update the email after registration, please contact Revive at Revive@stanfordchildrens.org.

Optional: BLS HeartCode: This course includes a combination skill check for participants that also need to renew BLS. If needed, please select the BLS HeartCode add-on during checkout. You will then be issued a BLS HeartCode online key through eLearning.heart.org. Once module and post-survey are completed, you'll receive Completion Certificate which you'll need to turn in as a printout at PALS course. Please disregard if you are an LPCH employee enrolled in RQI.

If you decide to renew BLS after registration is complete, you can purchase a BLS HeartCode Module key directly from AHA's ShopCPR site.
Policies and Disclaimers
PALS Course Completion eCards
Upon completion of all PALS course options, you will receive a AHA PALS course completion card valid for 2 years. This card will be emailed from eCards@heart.org to the address submitted with registration by 5pm of the course date.
Contact Us
For registration assistance and inquiries please contact us at Revive@stanfordchildrens.org or 650-497-9324.
PALS Course Offering Summary
1. PALS Provider
Summary: Recommended for Healthcare Providers new to PALS or those seeking renewal of current PALS certification with a thorough refresher
Course Length: 8 hours x 2 consecutive days
BRN CE's: 14 CE's
2. PALS Recertification
Summary: Recommended for Healthcare Providers seeking renewal of current PALS certification
Course Length: 8 hours x 1 day
BRN CE's: 7 CE's
3. PALS HeartCode + Hands-on Session
Summary: Recommended for Healthcare Providers that are proficient with PALS knowledge and skills, and seeking renewal of current PALS certification
Course Length: Online PALS HeartCode module est. 4-6 hours online (eSims, eLearning, Exam) + 4 hour in-person, skills session
Pre-requisite: The pre-requisite for the PALS skills check session is the completion of online PALS HeartCode which is included in the cost of this course. Once payment has been completed, you will receive an email from the AHA with instructions to access module. Once you have completed the course, print the Completion Certificate and bring it to your PALS Hands-on Session.
Description: Blended learning course includes a self-directed online APLS HeartCode eLearning module, followed by a hands-on session for skills practice and testing.
BRN CE's: 7 CE's