Sales Have Ended
Ticket sales have ended
Registration ended at 10:00am Friday morning. We look forward to seeing you next month!
Sales Have Ended
Ticket sales have ended
Registration ended at 10:00am Friday morning. We look forward to seeing you next month!
Description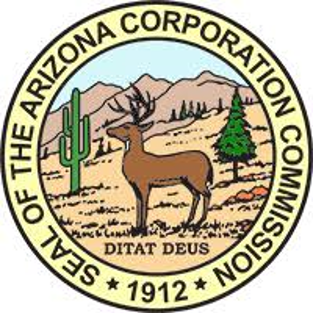 The seal of the Arizona Corporation Commission
February 19, 2020 Luncheon: Corporation Commission Panel
Join us for a panel discussion among six of our Republican candidates for Corporation Commission: Neil DeSanti, Boyd Dunn (incumbent), David Farnsworth, Lea Marquez Peterson (incumbent, appointed by Governor Ducey), Nick Meyers, Kim Owens and Eric Sloan.
We will not take questions from the floor. Please submit your questions to Karen Goldinov, President, at klgoldinov@gmail.com. Questions must be received by Wednesday, February 12th. If you do not indicate which candidate the question is to be asked of, we will assign it to a candidate.
For some background on what Arizona's Corporation Commission does, we turn to their website, www.azcc.gov. The organization's mission is "to ensure safe, reliable, and affordable utility services; have railroad and pipeline systems that are operated and maintained in a safe manner; grow Arizona's economy as we help local entrepreneurs achieve their dream of starting a business; modernize an efficient, effective, and responsive government agency; and protect Arizona citizens by enforcing an ethical securities marketplace.
We hope that you will attend! This is your opportunity to hear how each of these candidates intends to ensure safe, reliable and affordable utilities for all of us. We don't want to become another California, where rates are high, and availability is uncertain as a result of the state's insane "green energy" policies. See you there.
To make a reservation, click here:
https://pvrwluncheon.eventbrite.com
IMPORTANT:
If you do not receive a confirmation of your reservation within 24 hours, please check your spam folder. If it isn't there, please call Joan Lang at (480)703-0416 and leave a message with your name and number. Joan will call you back.
If you would like to pay by check, please mail your payment to Joan Lang at 12420 East Doubletree Ranch Road, Scottsdale AZ 85259. Checks must be received by Joan no later than Wednesday, February 12th. Be sure to let Joan know your meal selection. If you want to sit with your friends, be sure to give Joan a list of attendees you wish to have at your table.
Tickets are $45 if you pay at the door.
Reservations close on Friday, February 14th at 10 am. Once reservations are closed, it is no longer possible to cancel a reservation and get a refund.
Meeting Details
11:00 a.m. Social
11:30 a.m. Program/Lunch
Grayhawk Golf Club: 8620 East Thompson Peak Parkway, The Fairway House, Scottsdale
On the Menu
Chicken Enchiladas
Rice and Beans
Vanilla Ice Cream with Strawberry Sauce
Coffee and Tea
Alternative Menu
Palo Verde RW Grilled Chicken and Vegetable Salad
Fruit Cup