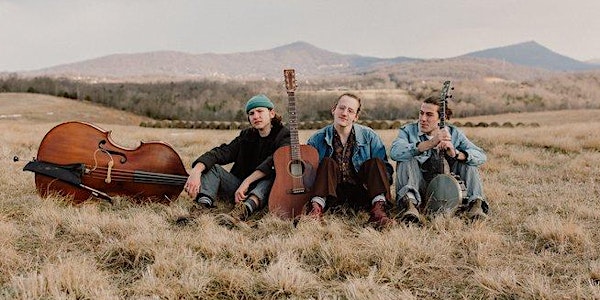 Palmyra w/ Love & Valor, Carolina Songbirds
The Pour House Music Hall & Record Shop
Location
The Pour House Music Hall & Record Shop
224 S Blount St
Raleigh, NC 27601
About this event
PALMYRA:
Drawing from the sounds of Appalachia and Midwestern Americana, Palmyra captures the collective spirit of three Virginia natives, Manoa (he/him), Sasha (they/them), and Teddy (he/him). With an ever-expanding sonic palette, Palmyra's live set explores the fusion of traditional folk string instruments, three part harmonies and foot percussion. The burgeoning trio sounds like a distant cousin of the progressive folk band, Punch Brothers, mixed with elements of Fleet Foxes or the Avett Brothers. Palmyra's songs are intimate and contemplative, with three-part vocal arrangements that allow them to create the illusion of a full, larger-than-three ensemble. Palmyra met in the Shenandoah Valley, which is incredibly apparent through their stirring craftsmanship and dedication to create a folk-driven, innovative experience through their live performances.
LOVE & VALOR:
Love & Valor is an emerging Americana-flavored Folk band based out of Burlington, NC. The band has been a staple in the NC folk scene since 2012, and are known for performing almost exclusively original music. Their influences range from classic singer/songwriters such as Bob Dylan and Johnny Cash, to current bands like The Avett Brothers, The Lumineers, and The Civil Wars. Love & Valor performs hundreds of shows each year, recently appearing at Shakori Hills Grassroots Festival, The Cat's Cradle, and much more. Their live shows are intimate yet energetic, with harmonies, gang vocals, and upbeat melodies.
CAROLINA SONGBIRDS:
The Carolina Songbirds are an innovative new fiddle-banjo duo project based out of North Carolina. Musicians Courtney Clapp and Waverly Leonard embrace a shared love of traditional folk music, from old time to Irish and beyond.