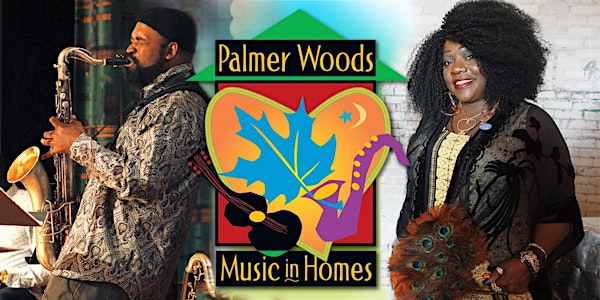 Palmer Woods Music in Homes 2022
Grammy nominees, Knight, Kresge & award-winning, extraordinary musicians & garden/home gems highlight Palmer Woods Music in Homes 15th year
When and where
Location
Detroit's Historic Palmer Woods Palmer Woods Woodward Avenue & Seven Mile Road Detroit, MI 48203
About this event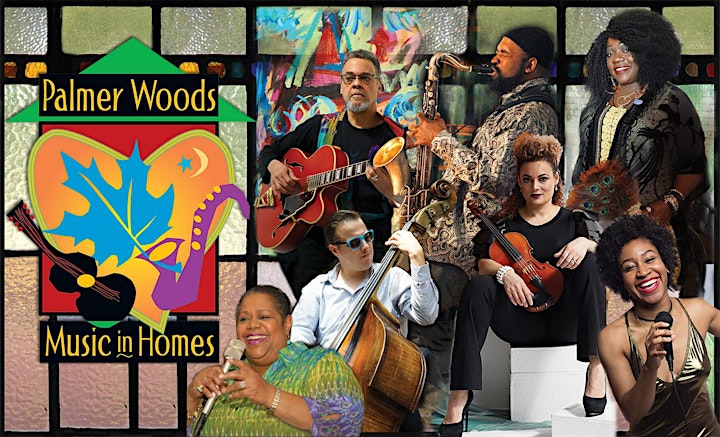 Palmer Woods Music in Homes
Presented by Palmer Woods Association & Creative Arts Collective with support from  John S. and James L. Knight Foundation, Barefield DesignWorks, Be Well Medical Center, Blossoms Birmingham, DetroitPerforms.org, WRCJ-FM, Mario Morrow & Associates
After a two-year pause due to COVID-19, Palmer Woods Music in Homes is back and continues each month through September. Join us to enjoy fabulous jazz, classical and world music concerts under a spacious tent set up in beautiful gardens of historic Palmer Woods homes. Delicious meals are included with each concert.
We have upcoming concerts in September:
Saturday, Sept. 17, 4 pm and 7 pm: Two concerts to choose from—enjoy an afternoon or evening jazz concert with guitarist A. Spencer Barefield, vocalist Isis Damil and bassist Marion Hayden in the intimacy and magic of the historic Palmer Park Log Cabin.
Grammy nominees, Knight and Kresge Artists, and other award-winning, extraordinary musicians highlight the Palmer Woods Music in Homes series. These musicians live in Detroit or have strong roots here, but are known 'round the world for exporting our city's stellar sounds. 
Email concertseries@palmerwoods.org or call Barbara at 313-891-2514 with your requests or questions.
For the final concert of the season, a new venue will be added: concerts in the historic Palmer Park Log Cabin (a rustic log cabin on the exterior with a Victorian home inside). Enjoy exquisite architecture and landscape design, and meet other music lovers for fun, entertainment and and memorable experienced. 
Ticket holders will receive the address and directions to the concert location via email the week of the event. You will  receive electronic tickets when you purchase online. If you have not received directions by Tuesday prior to the concert, CHECK YOUR SPAM folder, contact concertseries@palmerwoods.org or call Barbara, 313-891-2514 or 313-574-6847.
If you need assistance purchasing your tickets online through Eventbrite, please call Barbara or Spencer at the phone numbers above for help. Please note that concerts often sell out well in advance and buying online insures that you will have a seat for the concerts you wish to attend. 
We have added a few modifications to address safety. All guests and participants must be vaccinated and show their proof of vaccination and ID or a negative Covid test within 24 hours of the concert (home tests acceptable). Masks inside the tent and log cabin are encouraged. During intermission, delicious cuisine will be served in individual covered containers that will be filled in advance by our food committee, who will be masked, vaccinated, and taking safety precautions as directed by our professional caterer.
If the weather is uncooperative, we have a spacious and safe indoor backup.
*MIH reserves the right to make program changes if necessary. Tickets are not refundable except in the case of Covid.
For more information, visit palmerwoods.org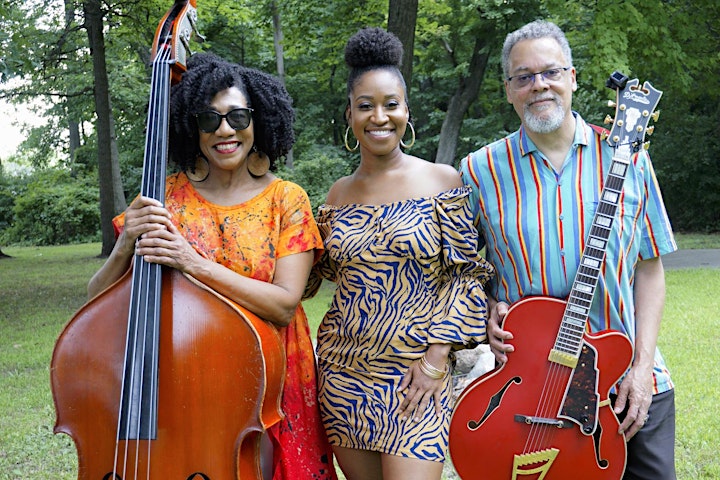 Saturday, Sept 17, 2022 • 4 pm and 7 pm
Concerts in the Cabin
Spencer-Marion-Isis Trio
At the Palmer Park Historic Log Cabin
 A. Spencer Barefield, guitar • Marion Hayden, bass • Isis Damil, vocals
Concerts in the Cabin! Two concerts to choose from: Enjoy an afternoon or evening jazz concert with guitarist A. Spencer Barefield, vocalist Isis Damil and bassist Marion Hayden in the intimacy and magic of the historic Palmer Park Log Cabin.
Isis is the daughter of two fine jazz musicians, including her dad Zion Israel (who has performed on the MIH series). Her DNA must be infused with music, propelling a merger of her classical training with jazz, funk, fusion, neo-soul, scat, rap and R&B. Only in her twenties, her voice has the depth, richness and passion of someone decades older.
This young lady will knock your socks off — she is powerful,  tender and everything in between, bending notes and emotions just so exquisitely! Isis has appeared regularly at Bakers Keyboard Lounge, as well as at the Dirty Dog Jazz Cafe, Cliff Bell's, and other top jazz venues in the Detroit area. She has also performed on the Palmer Woods Music in Homes series.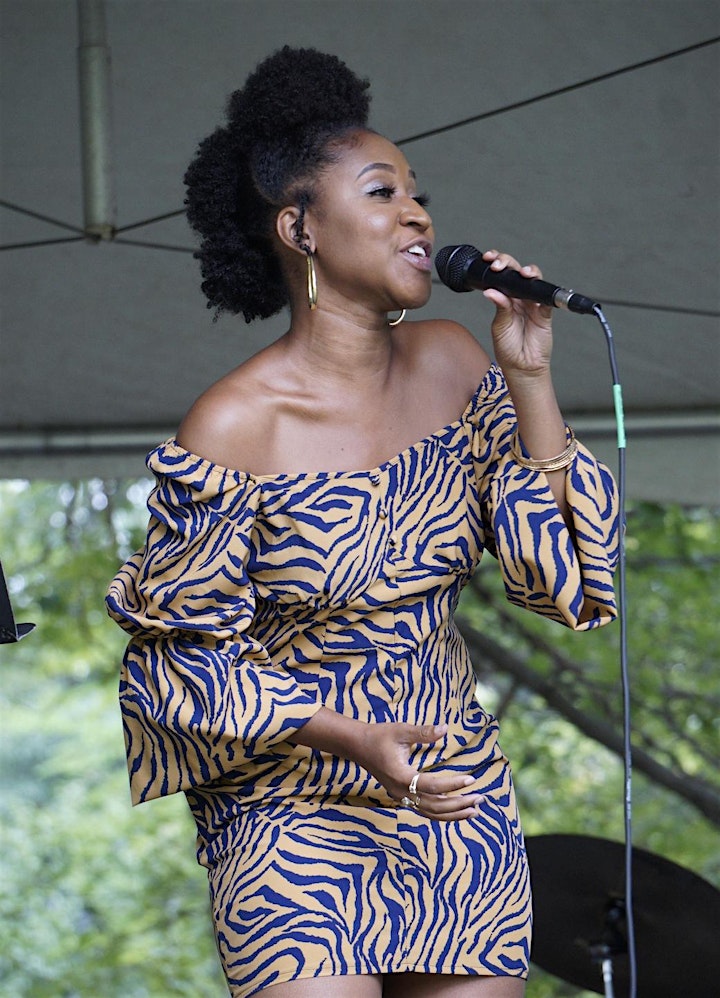 Bassist Marion Hayden and guitarist A. Spencer Barefield are international jazz legends with resumes that extend for miles. Their mastery will provide a synergy of sensational sound to this historic concert space.
The Log Cabin, a Victorian home on the interior covered with rustic logs on the exterior, is one of Detroit's most significant landmarks and architectural treasures. Built in 1885 for Senator Thomas Palmer and his wife Lizzie Merrill Palmer, it was donated to the city of Detroit in 1893 along with land that we now know as Palmer Park. The other extensive portion of the Palmer estate is now residential areas, including Palmer Woods. The Log Cabin is being lovingly restored by the nonprofit People for Palmer Park and the City of Detroit.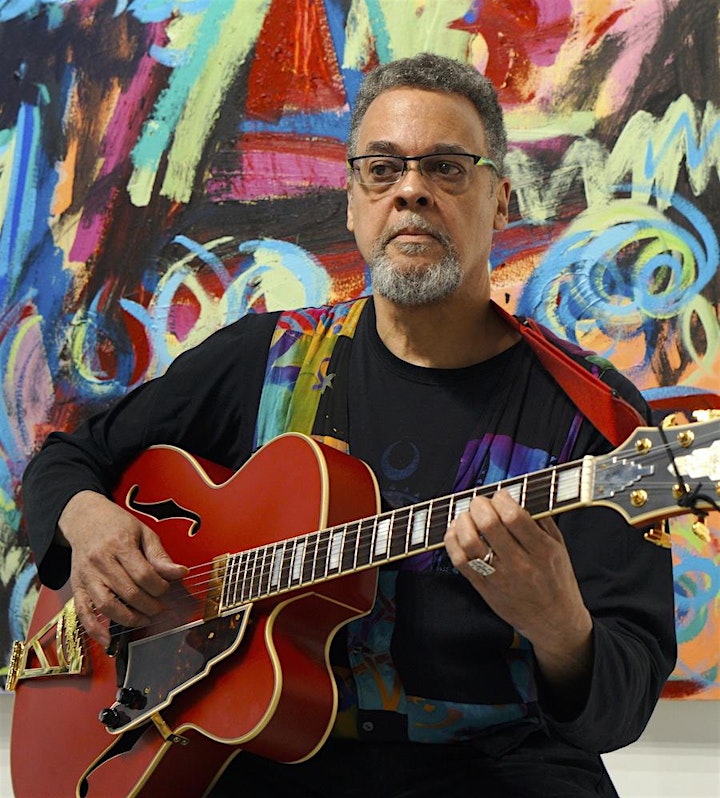 PAST CONCERTS FROM 2019-22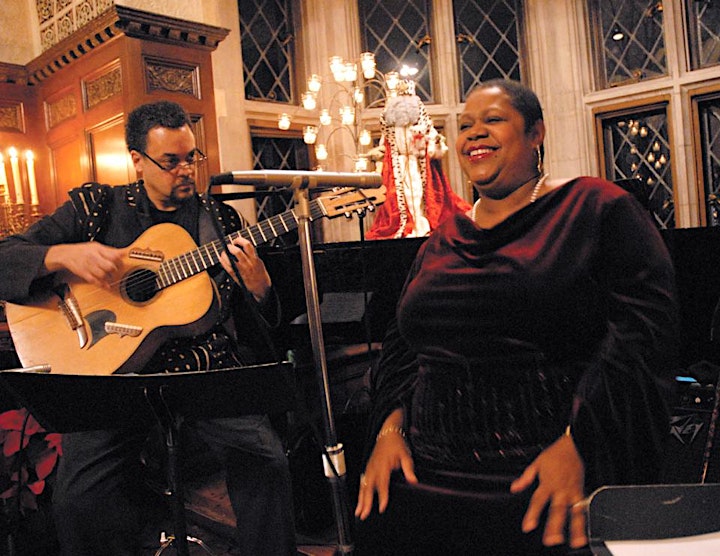 Past concerts:
SOLD OUT
Saturday, December 28 • 8 pm
Pre-New Year's Eve Concert Party!
A. Spencer Barefield, Shahida Nurullah & Friends
Vocalist Shahida Nurullah • Guitarist A. Spencer Barefield • Pianist Pamela Wise • Bassist Jeff Pedraz • Drummer Djallo Djakate
The epitome of great Jazz and Blues that eminates from Detroit's musical legacy, Shahida Nurullah is one of the motor city's most treasured jazz vocalists. Her repertoire includes jazz, blues, samba, bossa nova, show tunes, American Songbook, and Brazilian and New Orleans gems. Shahida's talents have been internationally lauded from the stages of the Detroit Jazz Festival, Preservation Hall, New York City, Paris, Amsterdam and beyond. Singing in three languages, her lush and upbeat voice is reminiscent of the classic styles of Sarah Vaughn and Carmen McRae and is steeped in the musical nuances garnered with performing with luminaries such as Geri Allen, Marcus Belgrave, Charlie Gabriel, Donald Walden and others.
Guitarist A. Spencer Barefield shares this musical legacy with Shahida. The artistic director of Music in Homes, is "an extraordinary guitarist/composer" according to JazzTimes. He has perfomed extensively throughout Europe and the U.S. with legends Roscoe Mitchell, Lester Bowie, Oliver Lake, and Reggie Workmen, to name a few. A Kresge Arts Fellow, and recipient of numerous grants for composing, he recently was awarded support from the presigious Knight Foundation.
Creating the holiday spirit with Shahida and Spencer will be pianist supreme, Kresge Arts Fellow Pamela Wise, bassist Jeff Pedraz and drummer Djakate Djakate.
"The motivation, inspiration, passion and vision of Pamela Wise's music comes from tracing the music of her African ancestors. Drum rhythms and patterns are the basis of her work…," states Kresge Arts, awarding Wise with the prestigious 2016 Kresge Artist Fellowship. Dan Ouellette of Downbeat raves, "Wise, an assured bop pianist with a Tyneresque (as in McCoy Tyner) touch, composes strong melodies and braces them with the simmering rhythms of the Afro-Cuban tradition." A powerful voice on the keyboards, Wise is one of Detroit's Jazz leaders making a strong impact around the globe, as well as mentoring young, emerging talent. 
Jeff Pedraz is a native of Philadelphia, and yet another outstanding composer/educator. While there, he worked with jazz luminaries, such as drummer Mickey Roker, saxophonist Cecil Payne and others. He has toured internationally with jazz guitar legend Pat Martino. In the faculty of the University of Windsor, Pedraz is known for his versatility and virtuousity on both the double bass and electric bass. A sought after bassist, he has worked in a range of musical genres ranging from orchestral to jazz and beyond.
Well respected for his versatility, Djallo Djakate is one of the most in-demand drummers in town, equally at home hitting the bebop rhythms as he is playing techno, reggae, gospel, avant garde or blues. He's performed countless gigs at the Detroit Jazz Festival, as well as at the Montreux Tokyo International Jazz Festival and the Detroit Electronic Music Festival. He has toured and recorded internationally with Marcus Belgrave, Charlie Gabriel, Harvey Thompson, Alvin Waddles and many others.
Their musical magic will pave a journey for a new year of enchantment for Music in Homes! The festivities include a delicious light meal, gourmet pastries and desserts, and sparkling wine for a pre-New Year's Eve toast.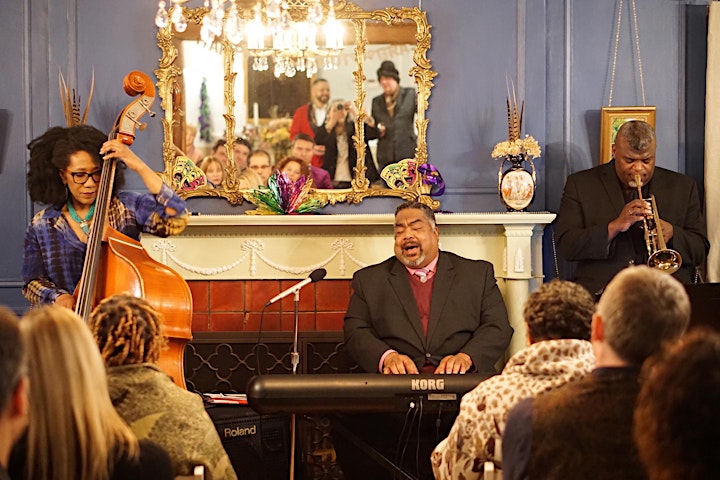 SOLD OUT
Saturday, January 25 • 8 pm
Mardi Gras Celebration!
Alvin Waddles Fat Waller Review
Alvin Waddles, piano/vocals • John Douglas, trumpet • Marion Hayden, bass • Djallo Djakate, drums
An evening of rich jazz history comes alive when pianist/vocalist Alvin Waddles plays the music of stride and ragtime legends Fats Waller, Jelly Roll Morton, and other greats. Widely popular for his central roles in Ain't Misbehavin' and Too Hot to Handel, Waddles will be tickling the ivories along with his dynamic ensemble featuring Marion Hayden on bass, trumpeter John Douglas, and percussionist Djallo Djakate.
The concert includes a delicious creole-style meal with favorites such as jambalaya, red beans, rice and corn bread. Mardi Gras attire encouraged (get those masks, feathers, sequins and beads ready!)!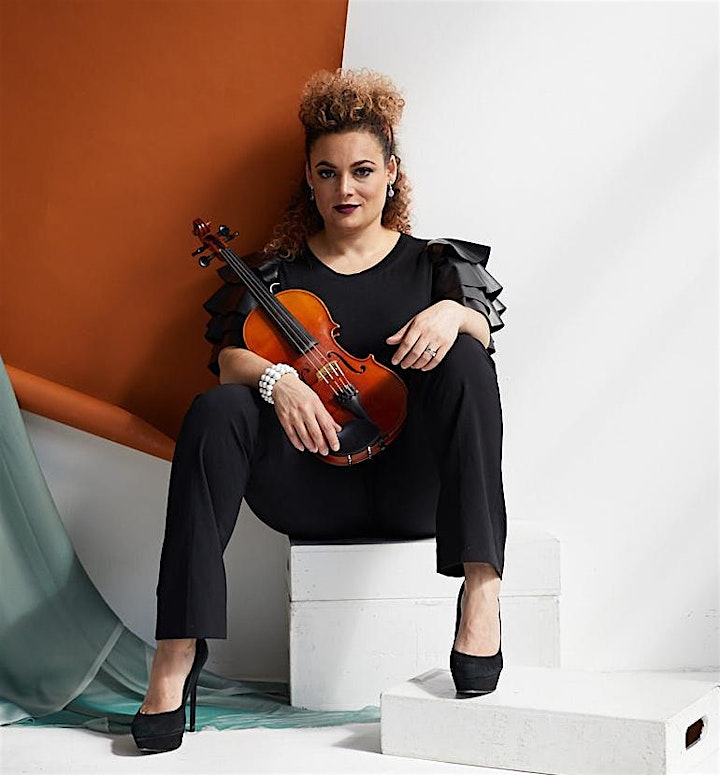 SOLD OUT
Saturday, February 29 • 8 pm
Honoring Black History Month, Beyond Classical
Jannina Norpoth & Jason Amos with John-Paul Norpoth & A. Spencer Barefield
Violinist Jannina Norpoth • Violist Jason Amos • Bassist John-Paul Norpoth • Guitarist A. Spencer Barefield
Violinist Jannina Norpoth and violist Jason Amos, former Detroiters and Sphinx Music alumni, will perform in a Detroit Homecoming concert. For a portion of the concert, the duo will be joined by guitarist A. Spencer Barefield and bassist John-Paul Norpoth with a world premiere of a new Barefield composition commissioned with the support of the Knight Foundation.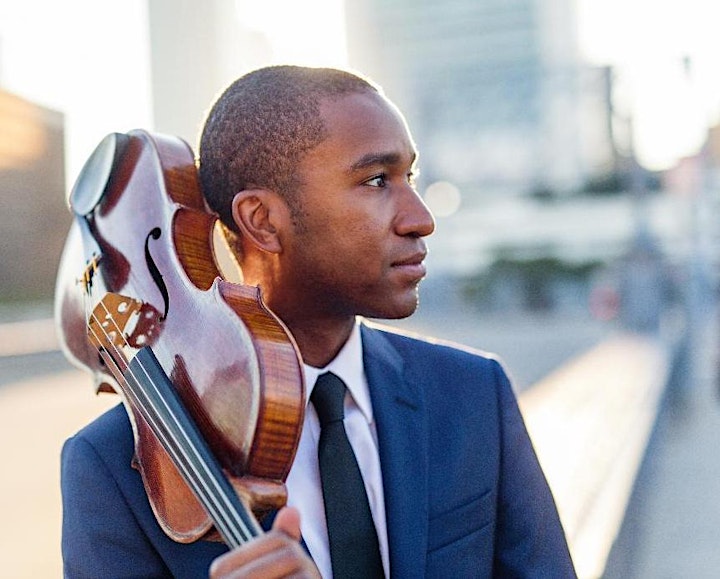 The concert will celebrate Black History Month with chamber music that highlights the legacy of Black Composers in America and beyond, including works by Jessie Montgomery, George Walker, Coleridge-Taylor Perkinson and others. Jannina is a member of Grammy-nominated PUBLIQuartet, the 2016-17 Artists-in-Residence at the Metropolitan Museum of Art and Chamber Music America's 2019 Visionary Artists. She made her debut as a soloist with the Detroit Symphony Orchestra at age 14 and since then has built a career as an innovative collaborative artist, performer, arranger and educator. Jason has served as violist of the Boston Public Quartet and resident musician at musiConnects, a non-profit which provides free instruments and comprehensive music education to underserved children in Boston since 2010. He is a also a faculty member at Project STEP, an intensive training program for minority string players. Jason and Jannina have performed internationally and are members of the Sphinx Symphony Orchestra. 
 John-Paul has performed with many great jazz, classical, and avant grade music stars, including Pauline Kim Harris, Tyshawn Sorey, Bang-on-a-Can, and numerous orchestra and chamber groups. He is currently a music doctoral candidate at Stoneybrook College in New York.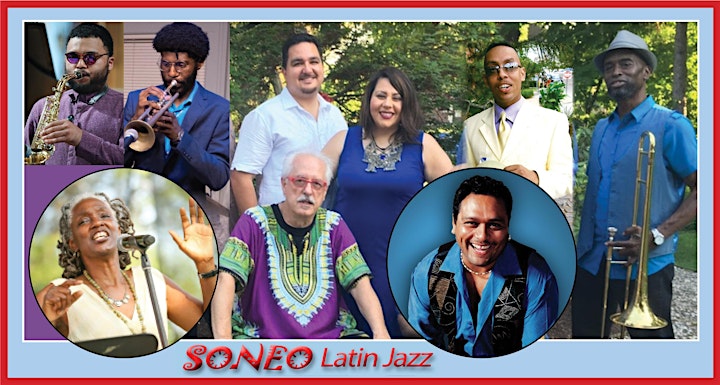 Saturday, May 28, 2022 • 7 pm
Celebrate Memorial Holiday Weekend
Bill Meyer & SONEO Latin Jazz
Garden Concert
Our Latin Jazz garden concert is always a favorite, filled with soulful music, joyful and powerful rhythms, and dancing. Under the musical direction of pianist award-winning pianist  Bill Meyer, SONEO Latin Jazz is a large ensemble of some of the Detroit area's most vibrant and knowledgeable Latin musicians.
Soneo will feature the driving percussion work of Kito Pardo and Keith Glass along with the amazing vocal stylings of Michelle McKinney. As the former leader and music director of Ozzie Rivera's famed La Inspiracion, which has appeared here for many years, Bill will also be bringing longtime members of that band, including lead vocalist Dulce Checkler, bassist Eddie Caraballo, trumpeter Allan Dennard, and trombonist Steve Hunter. Saxophonist Kasan Belgrave (son of the late, legendary Marcus Belgrave) will be a special guest performer. Repertoire will be a mix of Latin jazz and hot salsa.
During intermission, enjoy a Mexican-style meal with a glass of Sangria.
The beats of salsa, merengue, cumbia and Afro-Caribbean jazz may entice dancing and swaying on a grassy dance floor beneath a star-studded sky. Festivities are held in a spacious tent in a Palmer Woods ­garden behind a legendary home designed by famed architect Minoru Yamasaki.
We hope to include: Free Salsa & Merengue Dance Lesson Instructors from the Fred Astaire Dance Studios will teach a free class from 5-6 pm for all ticketholders to get you ready to move and have more fun at the concert! Learn or brush up on your Salsa, Merengue and other Latin dance styles.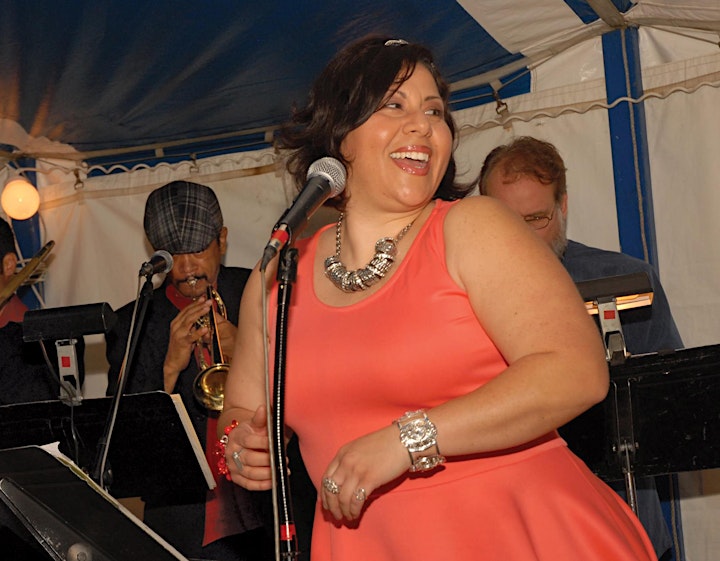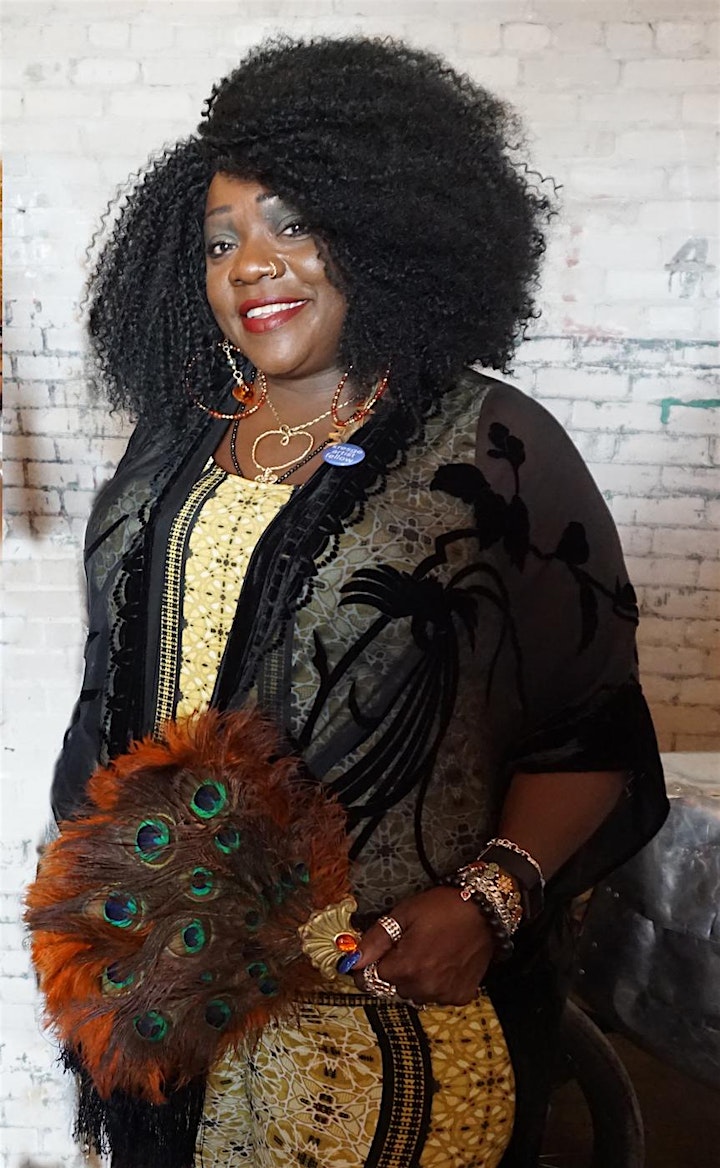 Saturday, June 25, 2022, 7 pm
Straight Ahead
Garden Concert • Concert Sponsor: Mario Morrow & Associates
Marion Hayden, bass • Gayelynne McKinney, drums • Alina Morr, piano • Kymberli Wright, vocals • Ingrid Racine, trumpet
Out of Detroit's explosive jazz scene, which has produced some of the best musicians in the world, comes the ground-breaking jazz group Straight Ahead. A group of strong, inventive instrumentalists and vocalists, they are powerful and imaginative composers and arrangers. 
 Grammy-nominated and award-winning, they are Detroit's premiere all-female jazz ensemble. The ensemble celebrates a 30-year legacy creating fantastic music over the course of four albums — three for Atlantic records. Together and individually they've played with many musical legends, including Aretha Franklin, Clark Terry, Geri Allen, Marcus Belgrave, Charlie Gabriel, Roy Brooks, Regina Carter and many others.
Widely recognized for their eclectic and soulful approach to creating music, the Straight Ahead sound ranges comfortably from mainstream jazz, contemporary jazz, latin and jazzy hip-hop. Their live performances are a dynamic celebration of power and joy with a wide range of musical textures, moods and tempos.  
Straight Ahead was introduced to the world as finalist in the "Sony Innovators" competition, a national competition recognizing exceptional performers in the jazz field. They received international exposure when they were invited to open for the legendary Nina Simone at the Montreux Jazz Festival, Switzerland. They were the first all-woman jazz ensemble signed to Atlantic Records. The ensemble has shared the concert stage with a who's who of the music world including: Kem, Jean Luc Ponty, Nancy Wilson, Roy Ayers, Tony Bennett, George Duke, Stanley Clarke, Max Roach, the Yellowjackets and Dianne Reeves.  
Recognized for its creativity, musicianship and dedication to making great music, the band was inducted into the Detroit Music Awards Hall of Fame.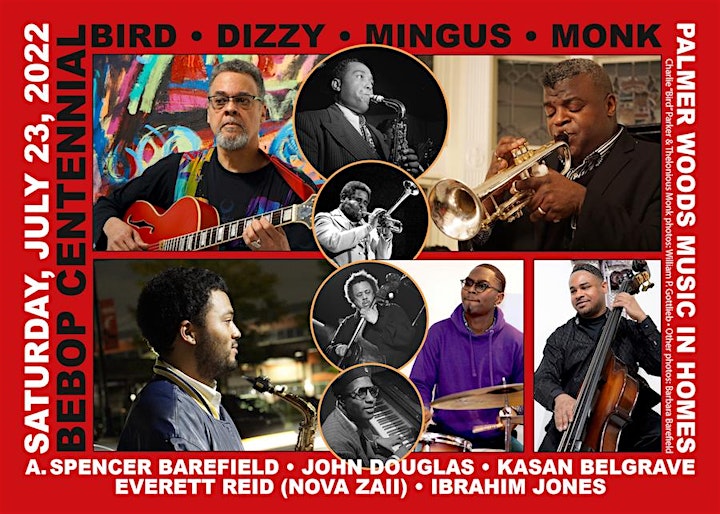 Saturday, July 23, 2022 • 7 pm
BeBop Centennial
Bird, Dizzy, Mingus, Monk! Celebrating 100+ years
Jazz Ambassadors
Guitarist A. Spencer Barefield • Saxophonist Kasan Belgrave • Trumpeter John Douglass •  Bassist  Ibrahim Jones • Drummer Everett Reid
This concert will honor the Centennial (plus 2) of Charlie "Bird" Parker, one of the most influential innovators of Jazz and BeBop, a master of improvisation, and a brilliant composer. It will feature original and classic jazz by Parker and others who were inspired by him, as well as works by legends such Dizzy Gillespie, Charles MIngus, and Thelonius Monk. Also featured will be original compositions by A. Spencer Barefield.
Composer/guitarist A. Spencer Barefield will lead the ensemble and present original compositions with support from the John S. and James L. Knight Foundation. The artistic director of Music in Homes, is "an extraordinary guitarist/composer" according to JazzTimes. He has performed extensively throughout Europe and the U.S. with legends Roscoe Mitchell, Lester Bowie, Oliver Lake, and Reggie Workmen, to name a few. A Kresge Arts Fellow, and recipient of numerous grants for composing, he recently presented a major performance at the Detroit Institute of Arts, where several of his compositions were performed by a 10-piece star-studded line, including Roscoe Mitchell and PUBLIQuartet.
We are thrilled to present saxophonist Kasan Belgrave, son of the late, virtuoso trumpeter Marcus Belgrave, who performed on our Music in Homes concerts a number of times. Kasan has performed the music of Charlie Parker with none other than Jazz at Lincoln Center Orchestra with Wynton Marsalis! The concerts with JLCO at Orchestra Hall and elsewhere were virtual due to COVID, but now Detroit-area attendees can hear his mastery live at MIH. A multi-woodwind-instrumentalist, Kasan holds a unique stance in the city as one of the young torchbearers who continues the legacy of Detroit jazz royalty, the foundation laid by his father and other jazz masters and mentors such as Wendell Harrison and Rodney Whitaker. A number of years ago, Kasan performed a duo with Aretha Franklin at her final Detroit concert, and recently performed at Detroit Symphony Orchestra Hall with the Paradise Jazz Series Big Band directed by Kris Johnson with Terence Blanchard and Kurt Elling.
The ensemble will be joined by trumpet sensation John Douglas, a funk and Latin jazz star, and a seasoned be-bop professional. He has toured the U.S., Canada, and Europe with notable fellow performers, including Gladys Knight, Marshall Allen, Kevin Good of the Detroit Symphony Orchestra, and R&B icons The Chi-lites. He has performed with many of the Detroit-area's top musicians and also leads his own ensembles.
Bassist Ibrahim Jones will join the rhythm section with drummer Everett Reid. Jones was exposed to jazz early on by his father, jazz trumpeter and music educator Felton Jones. As many great Detroit jazz musicians, Jones attended Cass Tech High and Wayne St. University. He has been mentored by great jazz bassists Ralphe Armstrong, Marion Hayden, the late Don Mayberry and with Detroit Symphony Orchestra bassist John Kennedy. He has toured and performed with James Carter, Frank Foster, Marcus Roberts, Herb Ellis, Donald Byrd, Marcus Belgrave, Rayse Biggs, Straight Ahead, Harold McKinney, and Donald Waldon. When not on the road or in the studio, Ibrahim can be heard performing with Sky Covington and the John Douglas Quartet.
Everett Reid is a drummer and electronic producer from the South Side of Chicago. Now well established in Detroit after having graduated from University of Michigan's School of Music, he's in demand in the vibrant local jazz and electronic music scenes. Also known as Nova Zaii, he's been a core member of the electronic-jazz group The JuJu Exchange, which released its debut album "Exchange" in 2017 that quickly rose to the number one Jazz Album streaming position on Apple Music. The group has performed at the San Francisco Jazz Festival, the Chicago Jazz Festival, Le Poisson Rouge in New York, as well as TEDx Chicago and other prestigious venues.
Award-winning composer/guitarist A. Spencer Barefield will lead and present original compositions for this group with support from the Knight Foundation.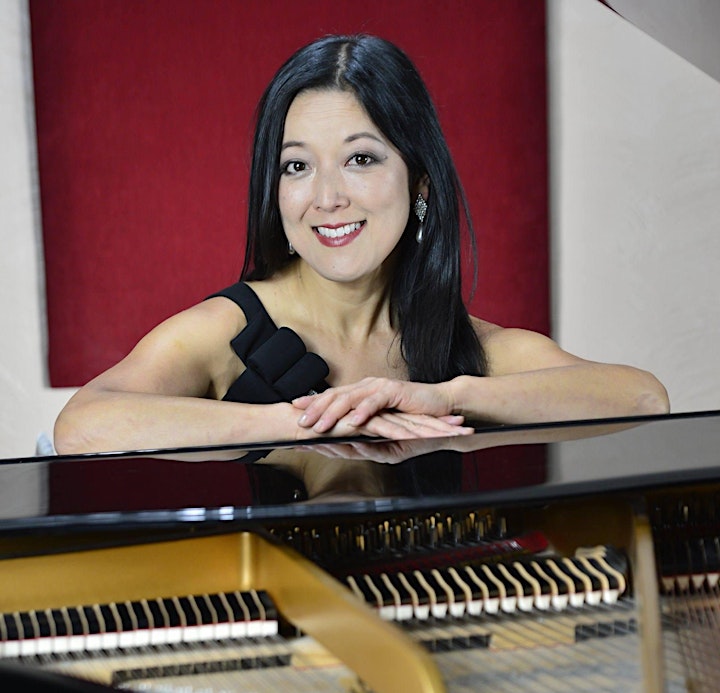 Saturday, August 27, 2022 • 7 pm
Classical Journey: East Meets West
Erhuist Xiao Dong Wei & Pianist Yuki Mack
Japanese-born pianist Yuki Mack has dazzled audiences on three continents. Her performances include a broad range of piano works, from chamber to orchestral music. In addition to collaborations with Xiao, she performs as a soloist and in piano duos with her sister Tomoko. Beyond the main-stage, she has performed live on the radio in Sweden, Italy, Poland and the United States. In 2006, Yuki and Tomoko were selected as Steinway Artists, joining an impressive roster of world-renown pianists. 
Chinese-born erhu master Xiao Dong Wei creates spirited and engaging musical bridges spanning thousands of miles—from Beijing to her Detroit area home. Xiao Dong's father began teaching her to play when she was five, and at age 11 her studies took her to the prestigious Central Conservatory of Music in Beijing. There she also learned to play the guzheng (a zither-like instrument), the guitar-like pipa, the erhu (a Chinese two-stringed violin), and classical piano. She has live in the U.S. since 2005, and has performed with orchestras around the country. A 2012 Kresge Artist Fellow, Xiao has performed internationally as soloist, with chamber ensembles and orchestras— including the Detroit Symphony Orchestra — playing Chinese and Western classical music, world music and more.