Palmer Woods Music in Homes 2019 Free Concerts for Children

Saturday, March 23, 2019 from 5:00 PM to 6:00 PM (EDT)
Event Details
Palmer Woods Music in Homes
CONCERTS for CHILDREN

Presented by Creative Arts Collective with support from Palmer Woods Association, Barefield DesignWorks, 
Be Well Medical Center, Jim Shaffer & Associates Realtors, Blossoms, DetroitPerforms.org and WRCJ-FM
Your children are invited to
two free jazzy concerts!
Children, students, teachers and adult chaperones (priority seating for students, with limited number of seats allocated for parents and chaperones) are invited to two jazzy concerts at private homes in the Palmer Woods neighborhood of Detroit (just north of Seven Mile Rd. and just west of Woodward Ave). This will be a short live performance with time for discussion and Q & A. The address will be provided the week of the concert for all who have reservations. Click here to make your reservations.
These educational concerts are geared toward children (for adults, there are full-length concerts with dinners the evenings after the children's events and each month through mid-June, 8 pm; tickets can be purchased at palmerwoods.org or palmerwoodsmusicinhomes2019.eventbrite.com).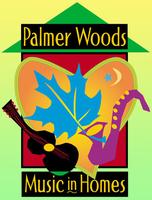 The concerts are most appropriate for children from 4th grade through high school level (college-level students are also welcome). For younger groups, we'll need adult chaperones to participate and all children must be able to be part of a quiet, attentive audience. Priority seating will be given to students. We urge that adults attend the evening concert so that there is room in the educational concert for youth. 
To reserve seats for your group, please respond on this Eventbrite page. Seating is ­limited and is on a first-come basis, so we encourage you to reserve seats as early as possible. Please honor your reservations and attend the concert so we do not turn away others because we have saved your seats. We do not wish any empty seats and seating is limited. 
If you have any questions, email concertseries@palmerwoods.org
or call Barbara, 313-891-2514 or 313-574-6847
Educational Concerts for Children
Saturday, March 23 • 5-6 pm
Musique Noire

WORLD MUSIC SEXTET
Michelle May, violin/flute • Tia Imani Hanna, violin
Leah Lucas Celebi, viola/violin • Elden Kelly, guitar 
JoVia Armstrong, percussion • Marion Hayden, bass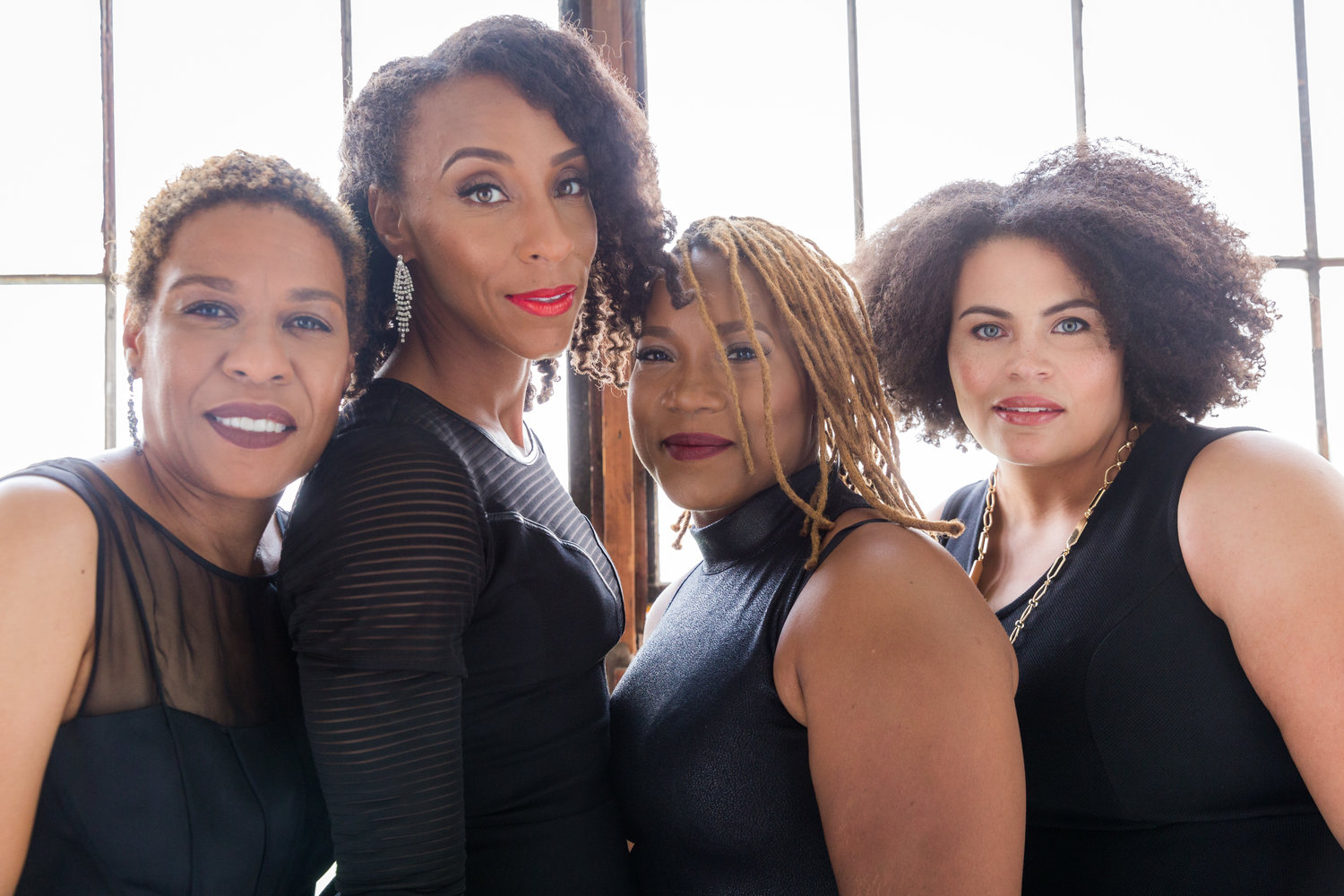 Join the award-winning world jazz ensemble Musique Noire for an engaging afternoon showing how orchestral strings aren't just for the orchestra! This Children's Concert also celebrates Women's History Month by highlighting how girls and women are doing cool things in the world of music.
Musique Noire  are veteran players who have performed with high-profile artists, including Stevie Wonder, KEM, Aretha Franklin, El Debarge, and Frank McComb, among many others. 
Led by violinist Michelle May, a 2018 Detroit Kresge Artist Fellow, the ensemble produces a sophisticated sound showcasing unique arrangements of world fusion music. Their debut CD "Good Hair" features original songs that reflect their musical influences in funk, Latin, world music and jazz. Their latest release "Reflections: We Breathe" celebrates women warriors of the arts, with original tunes and covers of Nina Simone and Eileen Ivers.
Musique Noire has received numerous Detroit Music Awards nominees for Outstanding Jazz Recording and Outstanding World/Reggae Group and were named the 2015 winners of the Best Black Female Jazz Group by the Black Women in Jazz Awards based in Atlanta, Georgia. The ensemble performed and presented at the 2018 TEDx Detroit.
Tickets for the evening concerts: palmerwoodsmusicinhomes2019.eventbrite.com
Past concert
Saturday, February 23 • 5-6 pm
Honoring Black History Month
ME3 Marcus Elliot Trio
Marcus Elliot is "Convincing and confident, evolved in touch and tone..." 
— Ben Ratliff, The New York Times
Marcus Elliot, saxophones
Brian Juarez, bass • Everett Reid, drums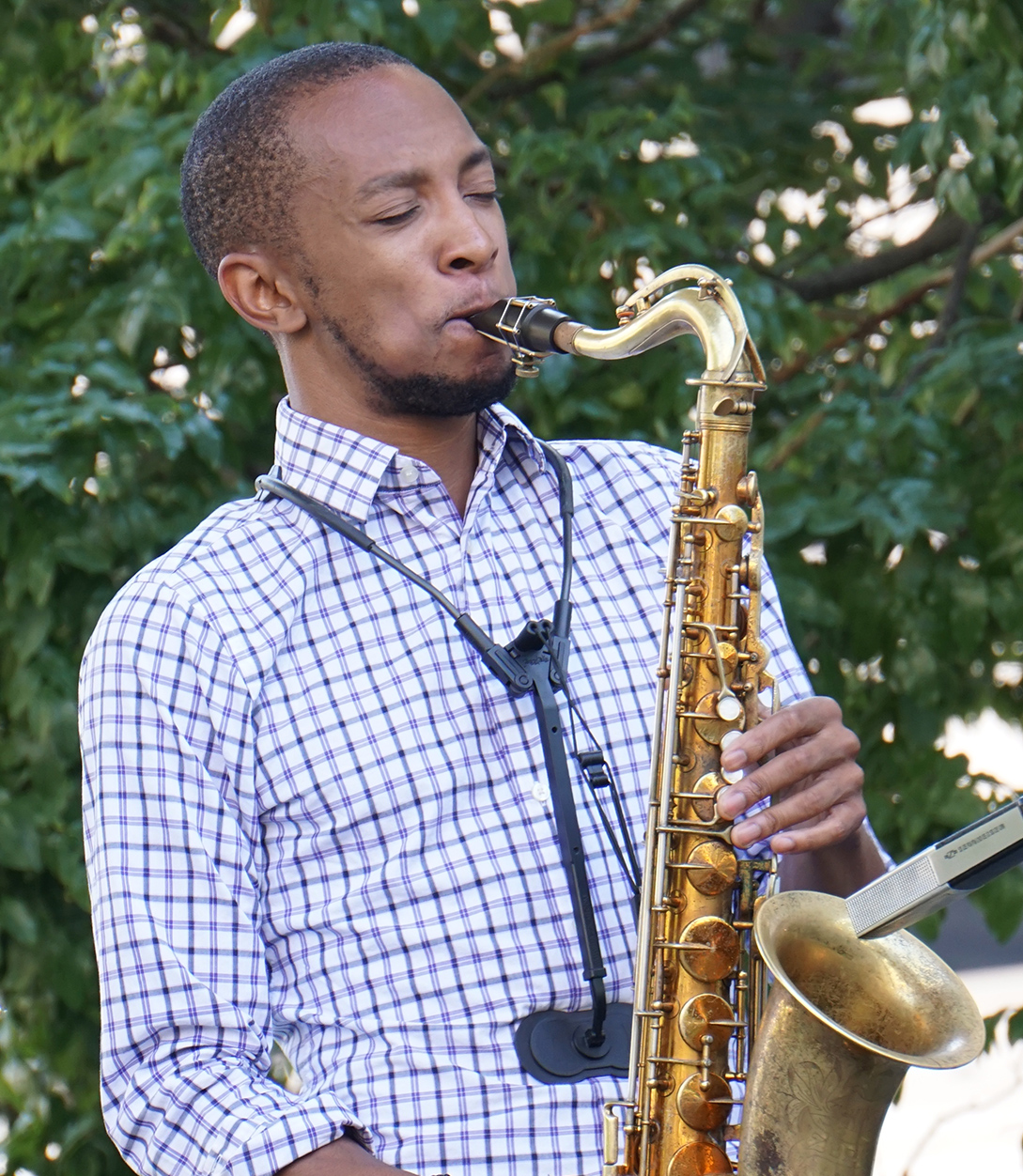 Learn about great African-American composers and musicians at this special Black History Month concert. The ME3 ensemble are exceptionally gifted musicians who will perform innovative and original works inspired by legendary composers of jazz.
Marcus is a saxophonist, composer and improviser, who the Detroit Free Press says, "represents the next generation of jazz."
A respected educator and director of the Detroit Symphony Orchestra's Civic Jazz Ensembles, Marcus is a leader and co-leader in many Detroit-based bands. He is a Fellow of the Geri Allen Gathering Orchestra, and co-founder of the nonprofit Polyfold Musical Arts Collective.
He received his master's degree in improvisation from the University of Michigan. 
Marcus travels the world with trumpeter Anthony Stanco as a musical ambassador through the program American Voices. During his travels, Elliot has collaborated with musicians from South Africa, Namibia, Botswana, Egypt, Jordan, Indonesia, and Kyrgyzstan. 
When & Where

Palmer Woods Music in Homes
Woodward Avenue and Seven Mile
Detroit, MI 48203


Saturday, March 23, 2019 from 5:00 PM to 6:00 PM (EDT)
Add to my calendar
Organizer
The Palmer Woods Association (PWA) is the neighborhood association for the Palmer Woods historic neighborhood in Detroit. Creative Arts Collective (CAC) is an arts organization founded by jazz legend Roscoe Mitchell, A. Spencer Barefield and other musicians in the mid-1970s. In 2007, CAC's Executive/Artistic Director A. Spencer Barefield and his wife artist/photographer Barbara Barefield (both longtime Palmer Woods residents) conceived the Music in Homes concert series and forged a partnership between CAC and PWA to present Palmer Woods Music in Homes concerts, as well as a free concert series for children. PWA has been presenting historic holiday home tours in Palmer Woods since 1990, started a Summer Garden Tour in 2014 and is a 501 (C)(4) nonprofit organization. Funds raised from these events help to improve, beautify, and strengthen the neighborhood. A portion of the proceeds is donated to Detroit-area charities that provide important services to improve the quality of life in Detroit and help the lives of those in need. Creative Arts Collective (CAC) has been presenting jazz and creative music in Detroit and throughout the world since 1978. It is a nonprofit arts organization dedicated to the presentation, preservation and creation of jazz, creative music and artistic expression.