Location
Camelot Theatres
2300 E Baristo Rd
Palm Springs, CA 92262
Palm Springs Rewinds is a summer-long film retrospective featuring the must-see films of three acclaimed contemporary directors.
About this event
See it on the BIG screen!
This summer experience the definitive films of three of the most innovative directors working in Hollywood today at the Historic Camelot Theatre. Featuring the Coen Bros in June, Quentin Tarantino in July, and Wes Anderson in August. Behold beloved classics like The Big Lebowski, Pulp Fiction, and The Royal Tenenbaums on one of the largest screens in the Coachella Valley.
The bar opens ninety minutes before showtime, so come early to chat about all things film with fellow movie lovers. Drink specials available.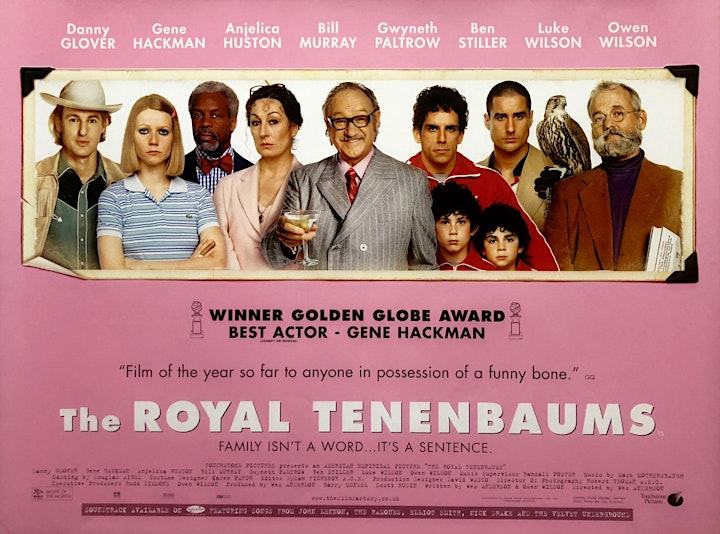 August 13th - The Royal Tenenbaums (2001)
The Tenenbaums are a family split apart by the actions of the family head, Royal Tenenbaum. When Royal's estranged wife is engaged to a new man twenty two years after their separation, Royal Tenenbaum (Gene Hackman) sets forth a devious plot to win Etheline (Anjelica Huston) and his family back: By pretending to be dying. Starring Gwyneth Paltrow, Ben Stiller, Danny Glover, Luke Wilson, Owen Wilson, and Bill Murray.
JUNE - Coen Bros
The Big Lebowski 6/4
Fargo 6/11
O Brother Where Art Thou 6/18
JULY - Quentin Tarantino
Reservoir Dogs 7/2
Pulp Fiction 7/16
Kill Bill Vol 1 7/23
Kill Bill Vol 2 7/30
AUGUST - Wes Anderson
Rushmore 8/6
The Royal Tenenbaums 8/13
Moonrise Kingdom 8/20
The Grand Budapest Hotel 8/27