Description
Instructor: Wafa Ghnaim
In this 3-hour class, students will learn how to adorn and embroider a wearable, stitchable leather cuff with traditional Palestinian border motifs! Traditionally, embroidery was used to ornament clothing of Palestinian women in old Palestine, and after 1948 it began to appear on a variety of items, from wall hangings to jewelry. Palestinians continued to practice their traditional techniques regardless of the end product, to ensure the back of the cloth was clean and the embroidery was easy to wear. The same clean stitching techniques will be practiced in the creation of the leather cuff, to ensure that once it is worn it is not too heavy to wear in the summer months.
Students will select a border motif provided in class or design their own, and personalize a faux leather cuff using traditional DMC embroidery thread. You will leave the class with an insta wearable art piece featuring your favorite Palestinian border motif!
The session fee includes the stitchable faux leather cuff, embroidery thread, needles, general class instruction and 1:1 guidance. You may select the color of your cuff, and if you'd like to purchase a signed copy of the matte paperback book, Tatreez & Tea, you can receive a 20% discount by preordering. Please note that all book orders must be placed 14 days in advance of the workshop. A detailed description of the matte paperback is available here.
---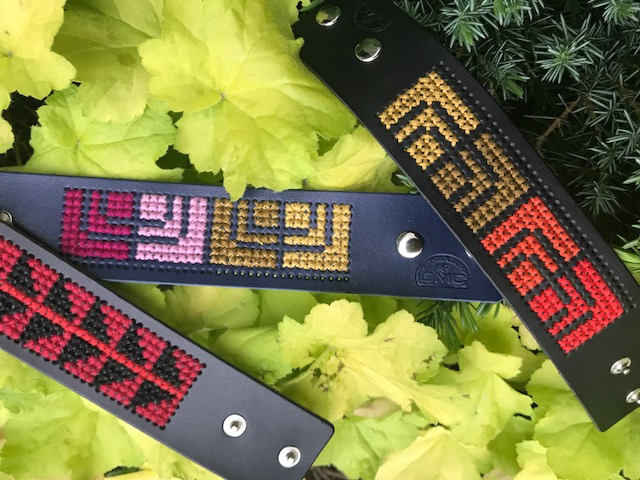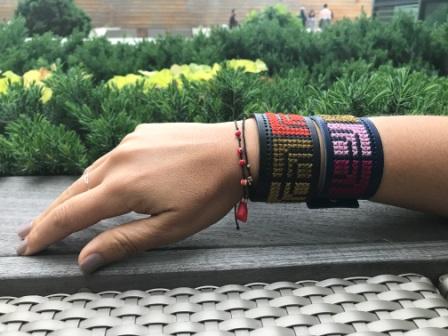 ---
The Tatreez & Tea Workshops are a series of high quality hands-on classes, at low cost and low commitment.
Palestinian tatreez embroidery is a centuries-old folk art, traditionally passed from mother to daughter over a cup of tea.
Tatreez & Tea's mission is to provide educational resources, namely through workshops, lectures and publications, to preserve Palestinian tatreez embroidery, folk arts and storytelling traditions in the diaspora.
The workshop will focus on preservation of the indigenous, endangered art of Palestinian embroidery. The workshop is centered on Wafa's digital book, Tatreez & Tea: Embroidery and Storytelling in the Palestinian Diaspora, which preserves the craft of embroidery as well as the art of storytelling that is encapsulated in each traditional Palestinian motif.
For generations, Palestinian women have gathered together with their daughters to work collectively on embroidery projects, bonding with one another over a cup of tea. Over time, and after the exodus of Palestinians from Palestine in 1948, embroidery has become an endangered art that has been subjected to decades of cultural appropriation. But embroidery represents more than just a village craft of old Palestine -- it became the primary form of communication for Palestinian women who used needlework as a way to express their opinions, share their stories, and document their protest of occupation, war and violence.
To learn more about the project, please visit www.tatreezandtea.com. Donations are 100% tax-deductible through the Brooklyn Arts Council.
---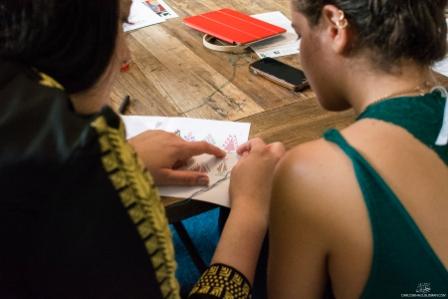 ---
Please contact Wafa Ghnaim at wafa@tatreezandtea.com if you have any questions.
---