About this Event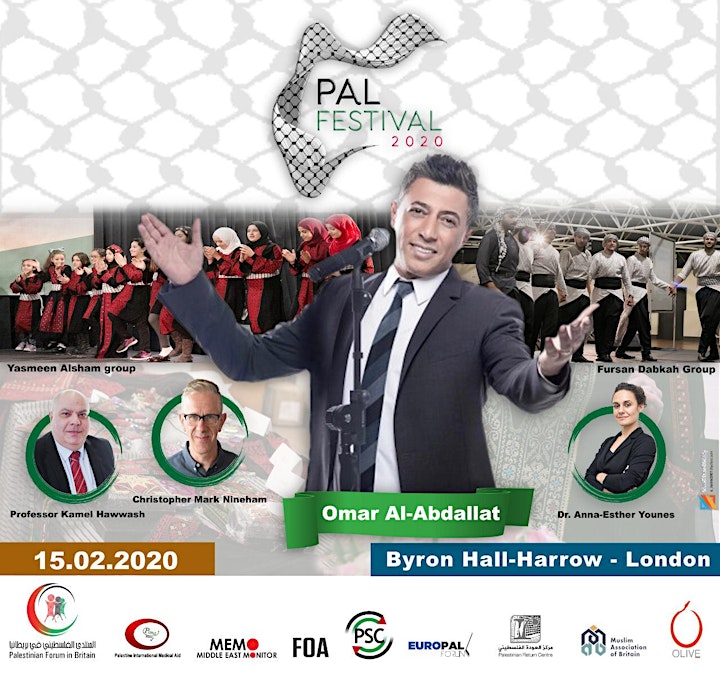 #PalFest
The annual Palestine Festival will be held for its second year in a row to exhibit the rich history and culture of the Palestinian heritage.
The non-profit organisation known as Palestinian Forum in Britain will be jointly launching the festival with a group of organisations and institutions supporting the Palestinian cause.
The first festival of which was held in December 2018 with collaboration of artists such as Omar Saidi,Yahya Hawi, A dabke group from Jaffa, A London based dabke group named Yasmine El Sham and a number of rappers in Britain brought together more than 3000 people.
The next edition of the Palestine Festival which will be held in 15th of February 2020 in Byron Hall , Harrow London will hope to cater for a large number of attendance.
The festival will include many elements including an open theatre which will accommodate an average of 1500 people with the participation of a number of British personalities who stand in solidarity with the people of Palestine.
Palestine festival is waiting for you in London with the participation of the great artist Omar Al-Abdullat joint seminar by Dr Anna-Esther Younes, Prof Kamel Hawwash and Christopher Nineham. The festival will also include artistic, cultural,traditional items and Palestinian food . There will be special a programme for children.
We hope that this event will be as successful, if not more than last year's event. This annual festival is aimed to bring people together from different cultures to raise awareness of the Palestinian cause and represent the beautiful culture that is Palestine.
Book Your Early bird ticket Before 15th Jan, buying Tickets at door will be as follows:
Standard £15
Family 2 adult 2 kids £35
Student £10
Kids under 6 years free
For more information visit our website: www.PalFest.uk