Palate Builder - Learn to Taste Like a Pro

Friday, January 11, 2013 from 8:00 PM to 10:15 PM (PST)
Event Details
Palate Builder


TASTE LIKE A PRO - Advanced Class!
LearnAboutWine started in 1995 and has invented hundreds of classes to
assist Southern California's wine culture – this is one of our best!
This unique, action-packed, tasting class and palate workout will help you
break through to fine wine appreciation! It is intended to be a class that you
will return again and again.
The 

Tasting Workout

 Includes:
A sense/scents of place tasting
Explore the smells of wines with our Le Nose Du Vin sensory kit.
Learn about unique grapes, places, and wine making styles
Learn about grape identification, varietal markers, alcohol indicators,
ripeness appreciation, and the common scents in common sense.
Blind tasting – Competitive tasting that pushes your abilities – team approach
This level-3 tasting program is the ultimate class for those of you who like
wines but have a hard time describing what you smell, taste, feel and need
more information and practice.
This class is not for people who have never tasted wine before, but for those
of you who are ready to move to the next level.
This promises to be one of our best wine education experiences!
Ticket: $60 advanced
Valued at $100 per person - this class is action packed and loaded with value.
We hope you will come ready to taste, learn, and participate - prizes will be awarded to the best team in the blind tasting.
*If event does not sell over 20 guests, we will reduce the number of bottles - to one bottle per guest and not cancel the program.
Limited to 24 guests per session.
Taste up to 20 wines in Palate Builder this Week: 
Bodegas Beronia, Rioja Reserva, Spain 2006
 

Clos Des Grandes Versannes, Bordeaux, Saint Emilion Grand Cru 2008

 
Jovino, Pinot Noir, Oregon 2009
Chanson Pere & Fils, Pinot Noir, Burgundy, France 2010
 

Cakebread Cellars, Cabernet Sauvignon, Napa Valley 2009

 
Eden Canyon, Cabrernet Sauvignon, Paso Robles 2006
Dutton Goldfield, Chardonnay, Russian River Valley 2008
Frank Family, Zinfindel, Napa Valley 2009
Acrobat, Pinot Gris, Oregon 2010 
Tiefenbrunner, Pinot Grigio, Delle Venezie 2010
Katin, Viognier, Paso Robles 2009
Vetiver, Viura, Rioja 2009
Michael & Stephane Ogier "La Rosine," Syrah, Rhone France 2009
Telmo Rodriguez, Gaba do Xil, Mencia, Spain 2010
W.H. Smith, Pinot Noir, Sonoma Coast 2006
J.Lohr, Los Osos, Merlot, Paso Robles 2008
This class is built for you to attend monthly or as often as possible.


*To avoid cancellation of any program, we commit to opening a minimum of one bottle of wine per paid guest until the class is complete.
No class fee is predicated on the tasting of any wine, no price determined by any one bottle or overall promise of quantity of wine. The experience and education is what is being purchased; should a bottle be bad, corked, or not served, that will not affect the pricing and our refund policy will remain in tact.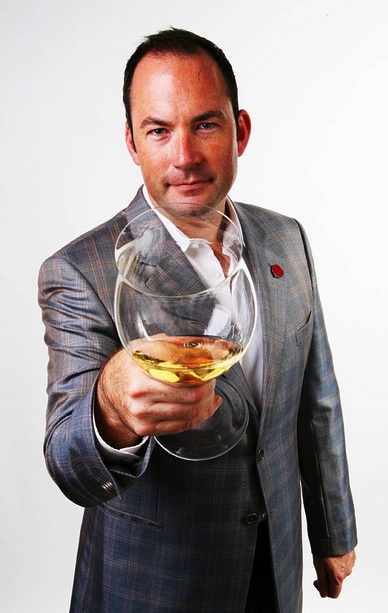 Ian Blackburn
Founder and Educator
of LearnAboutWine.com
Ian Blackburn, CSW, JWE - Founder of LearnAboutWine.com
Professional Sommelier, Candidate for the Master of Wine

Ian drinks wine for a living and plans over 100 public and private events a year. Ian stays busy designing tasting and events for both LearnAboutWine and private clients large and small;  Fortune 500 company's, Law firms (Summer Associates), and private birthday celebrations all benefit from Ian's well informed and industry leading personality.  When Ian is not busy teaching, he is making appearances on radio, television and social media outlets and studying for his Master of Wine.
Since 1995, LearnAboutWine has done the hard work of building a better culture for fine wine, opening the doors for more quality products to enter the marketplace and has taught over 500,000 students. With over 50,000 current subscribers and followers, LearnAboutWine now focuses on the best quality events and classes, and wine credential programs which have graduated over 450 wine students in the last 5 years with a Junior Wine Executive credential (JWE).
When & Where

Eat Drink Americano
923 E 3rd St
Los Angeles, CA 90012


Friday, January 11, 2013 from 8:00 PM to 10:15 PM (PST)
Add to my calendar
Palate Builder - Learn to Taste Like a Pro