Description
We are pleased to report that the Summer 2018 Pakistan Reunion Fellowship will be held at Lake Junaluska (in beautiful North Carolina) beginning the evening of July 26 (Thursday), and ending on July 30 (departing after breakfast on Monday morning). We are pleased to offer two ways of registering. You may do it online, through this site, or through a more traditional paper registration form.
For housing information, scroll down.

---
Mail Registration
To get a paper (Editable MS Word) copy of the registration form to mail with a check, click here and print it out. To get a pdf copy click here. For questions about paper registration contact Norm Yearick.
---
Online Registration
For online registration, take the following steps. Those with questions may contact Tom Brown.
Online Registration form, pay by mail is the cheapest option.
'Onsite' Registration is for those planning to book accomodations at Lake Junaluska.
'Commuter' Registration is for those planning to stay offsite.
Online payments have a $5 service fee for processing the credit card payment.
1) Click on the 'Tickets' link above and to the right.
2) A box should open with the ticket options. You may scroll down to see all of the options. They include:
a) Online Registration form, pay by mail -- send a check to Norm Yearick (this does not include a service fee)
b) Onsite Registration + Pakistani Banquet -- pay online w/ credit card or paypal (this includes a service fee)
c) Onsite Registration only -- pay online w/ credit card or paypal (this includes a service fee)
d) Commuter Registration + Pakistani Banquet -- pay online w/ credit card or paypal (this includes a service fee)
e) Commuter Registration only -- pay online w/ credit card or paypal (this includes a service fee)
f) For those able and interested, an opportunity to assist others in coming to the reunion.
---
Accomodations
Regardless of registration method, participants will need to reserve housing directly through Lake Junaluska conference and retreat center.
---
Accomodations can be reserved online. If you wish to do that, scroll down for step by step instructions.
With questions, or to make reservations by phone, please call 1-800-222-4930 and select option 1; when the call is answered, let them know that you are a part of the Pakistan Missionaries Reunion (we get a special rate).
There are two locations reserved for Reunion attendees. Lambuth Inn is the building where our event will be happening and where we will be having our meals. Junaluska Apartments are located 1 mile west of the Lambuth Inn and there is regular transportation provided between the Apartments and the Inn. http://www.lakejunaluska.com/accommodations/

The room rate covers all guests sleeping room costs per night but excludes applicable sales/room tax, currently eleven percent (11%). Housekeeping gratuities will be at guest discretion.
No additional charge for children 11 years old and under who stay in the room with their parents.
Meal Rates: Meal packages per person per day (per three consecutive meals): $36.00 per adult, $18.00 per child age 4-11.
Meal Plan for the Reunion includes Thursday dinner, Friday bkfst lunch dinner, Saturday bkfst lunch dinner, Sunday bkfst lunch, Monday bkfst = 10 meals = $118 per adult (not including gratuities)
Individual rates: Breakfast $10 Lunch $13 Dinner $16 (Children 4-11 are half price)
Individual meal gratuities can be given, but a group collection will be taken on Sunday.
Online Accomodations
For reserving your accomodations online, please take the following steps:
1) Connect your browser to the Lake Junaluska Accomodations website.
2) Click 'Book Now', the red button on the upper right.
3) Choose the arrival date and number of nights (the reunion starts the evening of Thursday July 26 so if you are staying through the full reunion, it would be for 4 (four) nights). Select the type of accomodations. For our rate, you may choose either the Lambuth Inn (same building as the programming) or the Lake Junaluska Apartments. For Lambuth Inn, select the number of rooms, and the number of adults and children. For LJ Apartments, choosing one room will give you a choice of apartments. Finally, put in the four digit code 1531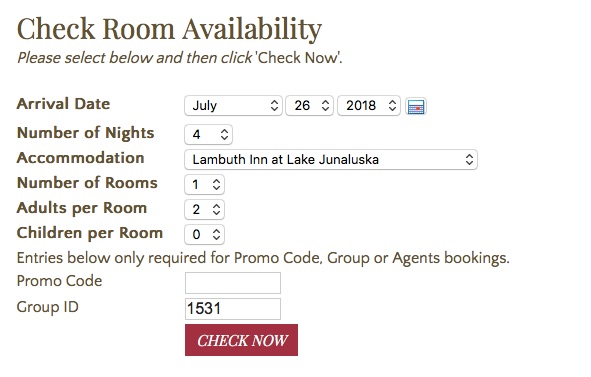 The example above shows what it looks like for the Lambuth Inn selection.
4) Click 'Check Now', and you will get the following:

5) Now click 'Show Rooms'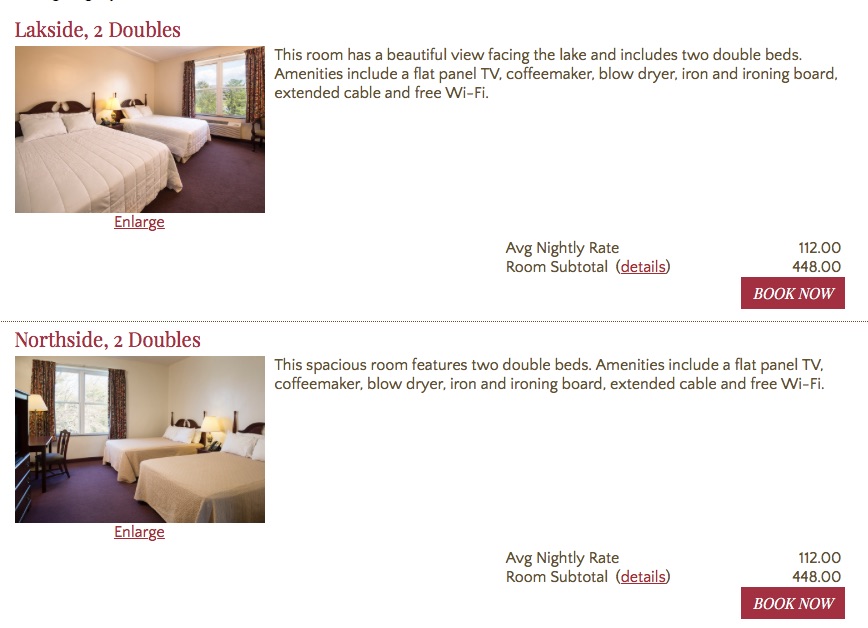 (There will also be a third choice if you scroll down the page).
5) You can now click 'Book Now' on your choice of room and complete the reservation by holding the room with a credit card. You will also see details of the cancellation policy.