Description
Get your tickets now for the 3rd Annual SHELTER TO HOME Benefit Dinner!



$100/ticket ($100 goes so far to help families in PVSS' programs)




Thursday, October 3rd, 5:30 PM




Pajaro Valley Historical Association





Meet PVSS' new Executive Director!




Learn about PVSS' vision for the future.




Explore the many treasures on exhibit at the Bockius-Orr House.




Angela Blessing Catering will cater a delicious dinner!


SELF-EMPOWERMENT - DIGNITY - COMPASSION
Pajaro Valley Shelter Services provides families with a path to stable, self-sufficient futures through short- and longer-term housing and supportive services.

We envision a community where families have safe, secure, and stable housing with sufficient resources and space to plan for their futures and pursue happiness.
At PVSS, families move from shelter to home, from despair to security, from isolation to community, from separated to united, from financial instability to savings and consciousness, from "I can't" to "I can!"
Join us in celebrating these transformations at our 3rd annual Shelter to Home Benefit Dinner.
NEW & EXCITING! In honor of PVSS' 36-year history in the Pajaro Valley and an eye on a sustainable future, the event will be held at the Pajaro Valley Historical Association. The association preserves, interprets and promotes the history of the diverse cultures that have shaped the Pajaro Valley. Join us in exploring the many treasures on exhibit at the Bockius-Orr House.
MORE NEW & EXCITING! We will have a silent auction featuring work by PVSS family members - PVSS clients, alumni, volunteers, and donors - accompanied by great bottles of wine.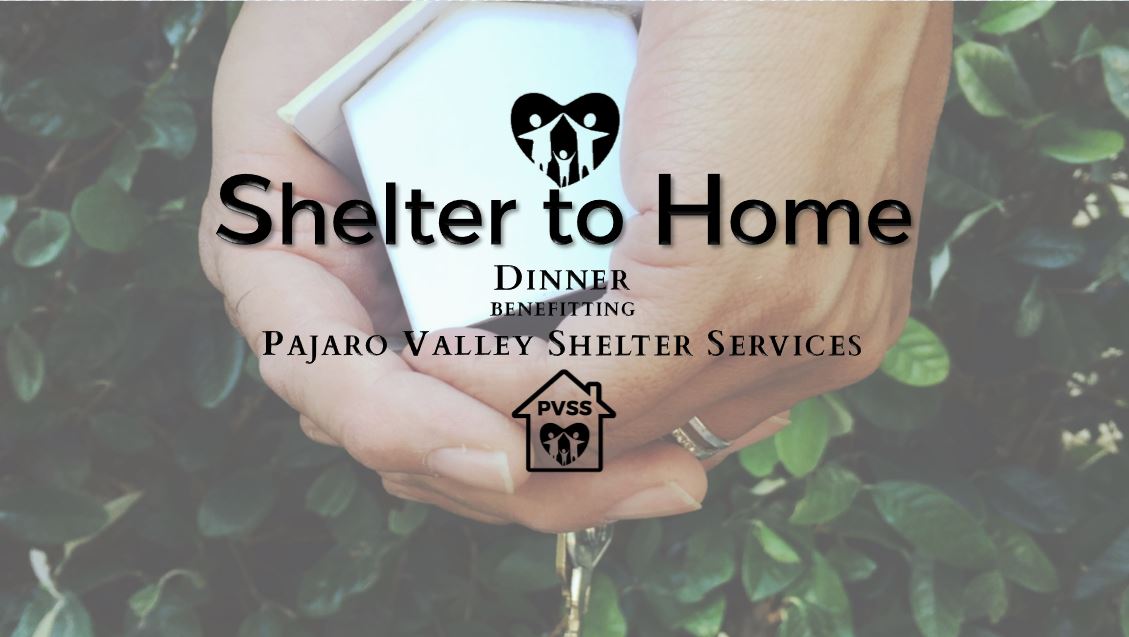 To make a donation, please go to our website: http://pvshelter.org/donate-now/.
Please follow us on Facebook to stay up-to-date on the latest news and needs: https://www.facebook.com/PVShelter/.
FAQs
What are my transportation/parking options for getting to and from the event?
Parking for the event will be available at Watsonville High School's Staff Parking Lot on Lincoln Street. Follow the signs from the parking lot to the venue, as there is a side entrance you may use.
For individuals with disabilities, please contact us at oana@pvshelter.org to reserve a parking spot.
The PV Historical Association is adjacent to a number of bus routes. Plan your visit and find your best bus route and schedule at http://www.scmtd.com/en/.
How can I contact Pajaro Valley Shelter Services with any questions?
Please call Oana at 831.728.5649 x107 or email her at oana@pvshelter.org.