Actions and Detail Panel
Pairing Wine with Exotic Chocolate and Artisan Cheese
Thu, April 20, 2017, 6:30 PM – 8:30 PM EDT
Description
Pairing Wine with Exotic Chocolate and Artisan Cheese
This special class brings together three divine creations: wine, cheese and chocolate. We are inviting you to travel the globe with your palate from Italy to France to Colombia. We will lead guests through an exploration of the regional histories, contrasts and delights that each element brings to the experience The crisp acidity and velvety texture of six great wines; the complexity of five fine cheeses; and the rich luxuriousness of five tastes of superior chocolate, ranging from creamy milk to intensely dark are all elements that will be explored. Join us to find out why chocolate is considered one of the most difficult foods to pair with wines. Svetlana will teach you which wine pairs best with which type of chocolate. Also discover which cheese couples best with these luscious libations.Our classes are known for being both educational AND fun!
This class is part of a 6-week wine course called "Be Your Own Sommelier" (also listed on Eventbrite). The cost for all 6 classes is $210. All classes can be scheduled individually. You can also schedule by calling WineNot directly to save the Eventbrite service charge.
Instructional Staff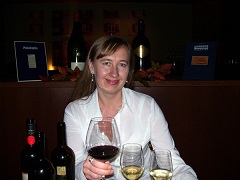 All wine education classes are led by professional sommelier and wine educator Svetlana Yanushkevich. Svetlana has spent the majority of her life surrounded by wine. She grew up on the southern peninsula of Ukraine, in a territory renowned for its 2,000-year-old winemaking tradition. After moving to the US in 2002, she built upon that foundation by managing wine programs at several prestigious restaurants and earning a diploma from the renowned Wine and Spirit Education Trust in London. Svetlana managed the wine program at several very prestigious Philadelphia restaurants, the three-diamond restaurant The Marker, and four-diamond Penne Restaurant & Wine Bar. She worked as wine educator for corporate and private clients in Philadelphia.
In 2007 Svetlana moved to Nashua, NH, where she decided to open WineNot Boutique, winner of "The Best of The Best Wine Shop of NH 2011-2014" in the Hippo Magazine Reader's Poll, "The Best Wine Store of Greater Nashua 2011" by the Nashua Telegraph, "The Best Wines of Greater Nashua 2011" by the Nashua Telegraph, and "The only A rated Wine Shop of NH" by the Better Business Bureau of NH. Svetlana Continues to offer her expertise by offering unique wine educational events to private and corporate clients. In September 2013, Svetlana became the owner of The Wine Steward in Hampstead, NH.