Painting With A Purpose for Lymphedema Awareness!
Description
Join Champions Can! Foundation for Cancer Wellness, Inc. in partnership with ADA Medical Supply and Painting With A Twist Sandy Springs for:
"Painting With A Purpose for Lymphedema Awareness!"
March is Lymphedema Awareness Month. Come paint and have fun while learning all about lymphedema treatment, prevention, and management!
Date: Sunday March 31, 2019
Time: 2pm-4pm
Location: Painting with A Twist: 6780 Roswell Rd NE d120, Sandy Springs, GA 30328
Cost: $55 (Tax Deductible and includes painting, heavy hors d'oeuvres, and beverages)
Registration Ends on Friday March 15, 2019!
Painting With a Twist has donated over 4 million dollars to non-profit organizations across the country. Sandy Springs, Painting With a Twist will donate a portion of the event proceeds to Champions Can! Foundation.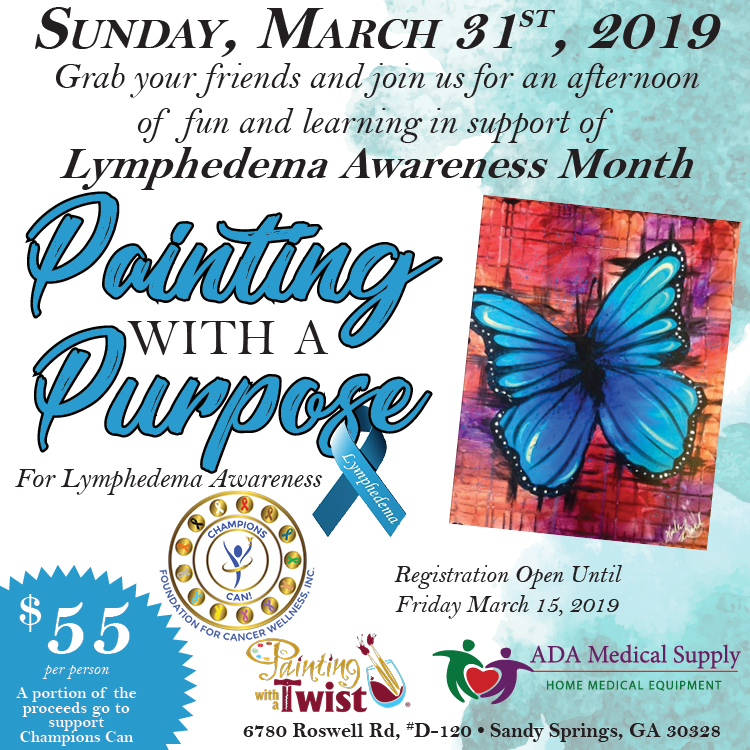 Event Schedule:
1:30-2:00pm: Registration and Heavy Hors d'oeuvres
2:00-4:00pm: Painting!
4:00 pm until: You are invited next door to ADA Medical Supply after the event to view compression garment items and learn more about lymphedema management and prevention!
---
Facilitators: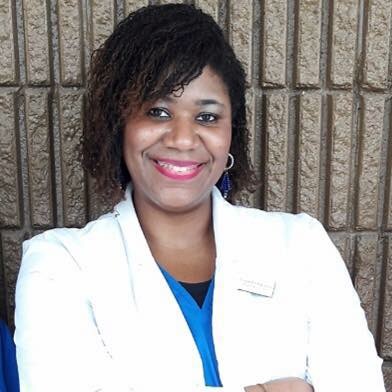 Dr. Crystal Champion, PT, DPT, CLT-ALM, Cert. DN:
Dr. Champion is the of Founder and Executive Director of Champions Can! Foundation for Cancer Wellness, Inc., a 501(c)(3) nonprofit organization that advocates for cancer survivorship, regardless of the cancer diagnosis. She is a Certified Lymphedema Therapist and owner of Eminence Physical Therapy, where she specializes in and cancer rehabilitation and lymphedema treatment. She is also a published co-author of "The Elements of Cancer Survivorship: A Guide to Navigating the Journey" and has made numerous TV appearances spreading awareness about cancer survivorship and lymphedema treatment.
To learn more, visit www.championscanfoundation.org or www.eminencept.com.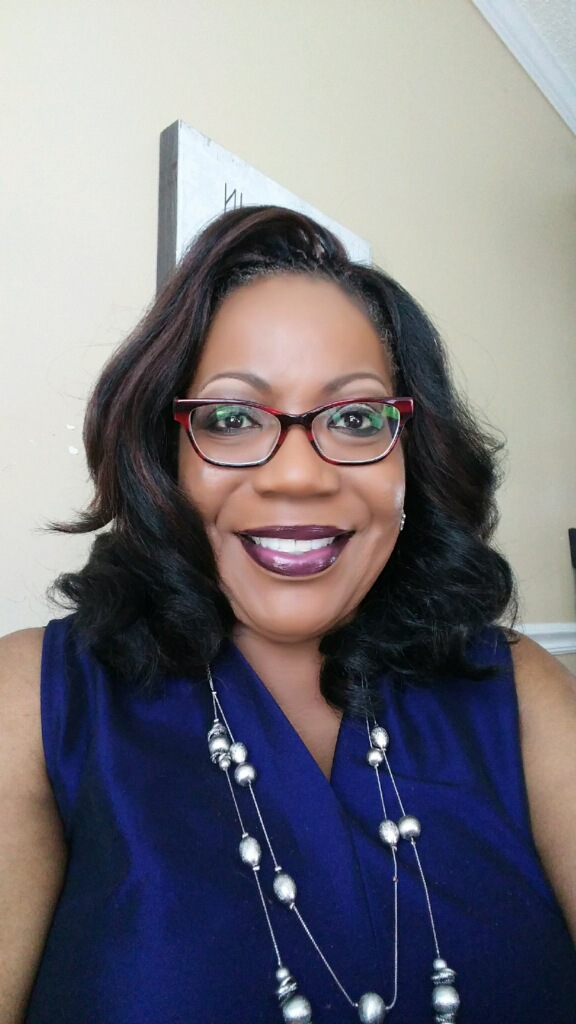 Debbie Grant, BSM, CFm, MCF:
Debbie Grant is a compassionate and dedicated trailblazer of Medical Compression and Post Mastectomy products for Lymphedema and Cancer patients. ADA Medical Supply & Services, Inc. has served the community for nearly 20 years. We are members of BBB (A+), NFIB, Joint Commission and ABCOP. Our success is attributed to our 4 C's by (connecting, collaborating, caring and celebrating) the survivorship with our customers. Our experience in collaborating with manufacturers worldwide, Therapists and Physicians enhances our experience and knowledge of medical compression garments. We welcome the opportunity to be of service.
To learn more, visit www.adamedicalsupply.com
---
FAQs
1. Is this event open to anyone? Yes. This event is open to both male and female patients with lymphedema from any cause, medical providers, and anyone who wants to learn more about lymphedema!
2. Is there an age limit? Yes, ages 18 and over only. Please note that it is the law that you have to be 21 years old to consume alcoholic beverages.
3. Are refunds allowed? Unfortunately, refunds for this event are not allowed due to the required seat reservations. If you are unable to attend and you wish for someone to attend in your place, you must notify the event organizer 48 hrs prior to the event and provide the name of the person who will be attending in your place. No exceptions!
4. Are outside food and beverages allowed? The facility is BYOB, however beverages and heavy hor d'oeuvres will be provided at the event
5. Is there free parking? Yes
6. How early should I arrive? Early arrival is STRONGLY suggested. Please plan to arrive at least 30 minutes prior to event start, no later than 1:30pm, to check-in and to be seated. Event will start promptly at 2:00pm.
7. What should I wear? Whatever is comfortable and you don't mind if a little paint gets on it. Facility will have aprons for you if you need them.
8. What makes my ticket tax deductible? Proceeds from ticket sales from this event will benefit Champions Can! Foundation for Cancer Wellness, Inc, which is a 501 (c)(3) non-profit organization that advocates for cancer survivorship. Doations to non-profit organizations are tax deductible. Please save your receipt!
9. Do I get to keep my painting? Yes! You will keep your painting as a fun memory from the event! Canvas size is 16 x 20 inches
10. How do I get there?
Location:
Painting With A Twist (Located in Marsh Creek Village Shopping Center)
6780 Rowell Rd, #D-120
Sandy Springs, GA 30328
https://www.paintingwithatwist.com/studio/atlanta-sandy-springs/
11. Is there an age limit?
Ages 18 and up