PAINTING THE FUTURE "A GLOBAL PERSPECTIVE ON EARLY CARE & EDUCATION"

Saturday, October 20, 2012 from 8:30 AM to 4:30 PM
Event Details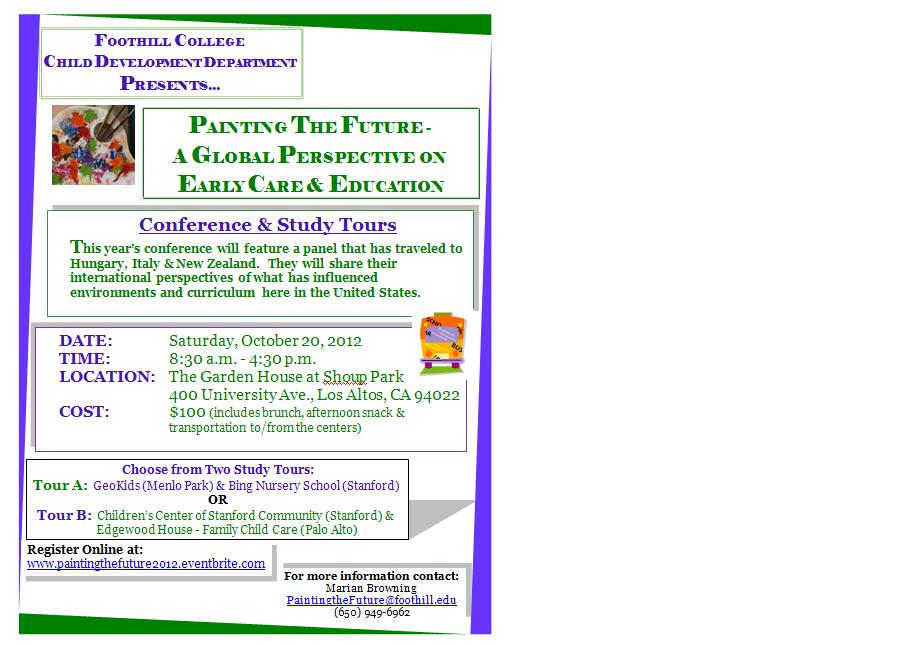 Tour Sites
Tour A
An environment designed especially for young children, Bing Nursery School serves as the laboratory school for research and teaching at Stanford University.  The program's philosophy is child-centered and play-based.  Edith Dowley, our founding director believed in treating children as "honored guests."  In that same spirit we want to welcome you to our school.
GeoKids is an accredited, nationally recognized, non-profit parent cooperative providing high quality child care for children aged 3 months through pre- kindergarten. The center is located on the Menlo Park campus of the United States Geological Survey (USGS).
GeoKids is a developmental play-based program founded on the belief that children are capable, competent, self-motivated learners. Within our program adults encourage children to participate in everything that concerns them and to do as much as they are capable of doing for themselves.  GeoKids is a close and unique community of children, parents and staff. Our first priority is our children, whom we want to be well cared for, stimulated and encouraged to discover the world around them. We also strive to meet the needs of our parents, staff and the greater community. Our vision is that everyone who comes in contact with GeoKids share a common understanding of the program and have respect and appreciation for the program.
Tour B
The Children's Center of the Stanford Community (CCSC) was founded in 1969 by a group of Stanford undergraduates who wanted to offer care for young children.  Over the course of the next 10 years, CCSC, Little Kid's Place and the Craig Infant Program incorporated to become Stanford's oldest childcare center, the Children's Center of the Stanford Community. 
Today, our Parent Cooperative center meets the needs of 140 children each day and serves staff, student and faculty families from throughout the university.  We serve children ages 8 weeks through 5 years of age.
CCSC is grounded in the belief that children are competent, curious, resourceful learners.  Our inspiration comes from the RIE approach, the schools of Reggio Emilia, Italy and Socio-Constructivism to name a few.
Children's interests and explorations provide the framework for curriculum and investigation.  Our thoughtful and intentionally designed environment fosters children's experiences, relationships and opportunities for cooperative work.  Materials are selected that are interesting and provoke creativity and wonder.
Our work with children hinges on respectful, collaborative relationships between staff, families and the community.  The active participation of our parents is an essential element in the life of our school.
The Edgewood House School was founded to provide children, teachers, and families a child-centered, extended day preschool program in an intimate small group environment. Our homes are a place of comfort, fun, and learning for children. Our unique afternoon program provides a family style extended care option for morning preschoolers and school age children requiring a longer day.  Our indoor and outdoor environments are equally accessible throughout our program day.  Most notable are our year round outdoor patio classrooms, eco design centers, our organic garden, reef tank habitat and outdoor hollow block area, small group size, low ratios and no teacher turnover.  Our indoor learning spaces are characterized by comfortable quiet play and work areas appropriate for both the children and adults in our home school environment. 
Typically, EHS does not ascribe to any one educational philosophy or model.  People love to describe us as play-based, Reggio-inspired, and emergent or even progressive at times.  All of these descriptors may be true, but the truth is; every child, teacher and family comes to us with different sets of values, different wants and needs, as well as, very different temperaments and learning styles.  We are eclectic in our use of theory and practice, concentrating on the idea of scaffolding child and parent developmental agendas, more than following a preset guideline for programming.  For this reason we ascribe to a "way of being" with children and families, not an educational philosophy.   This "way of being" is most closely aligned with the principles and assumptions of the Brazelton's Touchpoints Approach and a relationship based family centered approach to early care and development.
 We look forward to welcoming you to our unique school environment.
Meet the Panelists
Chris Carducci teaches Child Development classes for Foothill College and provides professional development training through WestEd Program for Infant Toddler Care (PITC).  This fall, Chris is starting her second year of Doctoral studies in the Leadership Program in Early Childhood at Mills College. Previously, she was an infant teacher at the Presidio CDC, a Reggio inspired school in San Francisco. Chris is a member of the Innovative Teacher Project, a network of Bay Area Schools inspired by the Reggio Approach, the North American Reggio Emilia Alliance (NAREA) and of the Association of Childhood Education International (ACEI) where she attended the Global Summit on Childhood in March 2012 in Washington DC.  Internationally, Chris participated in a study tour to Reggio Emilia, Italy in 2007 and to Auckland, New Zealand in 2011.  She will be returning to New Zealand in February, 2013 to continue on going study of Te Whaariki the early childhood national curriculum of New Zealand.
Sandy Osborne is an innovative Program Administrator with 30 years of experience. She was the Director for 14 years at the SFUSD Presidio Child Development where she was instrumental in creating a nationally recognized early education program (infant – 5th grade).  She is a demonstrated instructional leader known for having a strong vision as well as an in-depth understanding of the Reggio Emilia approach, emergent curriculum and project-based learning. She is a leader who has demonstrated the ability to collaborate with parents, teachers, children, and members of the community.  She has worked in the field as a teacher, a consultant, an implementer of professional development initiatives and a site director.  She has her undergraduate degrees in Child Development & Family Life and Elementary Education from Oregon State University.  She has a Masters degree in Education Administration from San Francisco State University.  She was selected as a SFUSD Site Director of the year in 2008 and a California Early Childhood Mentor Director in March 2011. She is a member of the Innovative Teacher Project Director's Group and the North America Reggio Emilia Alliance. She was President of the S. F. Association for the Education of Young Children 6/03 - 6/10.
Annie White has worked in the field of child development for over 30 years. She currently works for KidZKount PCAC, Inc. as an Early Head Start Infant Toddler Specialist. Annie supervises EHS center and home visitation programs in Placer and Nevada County. Annie also works for West Ed's Program for Infant Toddler Care Partners for Quality and provides training for family child care and center child care providers.  In addition, Annie is adjunct faculty for the ECE Department at Los Rios District College, American River College campus.  Annie is a Doctoral student for Leadership in Education at UC Davis & Sonoma State University, CANDEL program.   Annie is an active and life long researcher and has participated in several international study tours including Reggio Emilia, Italy, Pistoia, Italy, New Zealand, and at the Pikler Institute in Budapest, Hungary. Annie has presented at conferences at the local, State and national levels, including topics of cross-cultural study, reflection and the impact on her work with EHS programs.
Kathy Kelley was born in Budapest, Hungary and came as an immigrant to the US in 1958 as a ten year old. She has had an abiding interest in young children since she was one herself, and promised to treat them differently than so many adults seemed to treat children. She had the good fortune to have a father who treated her more like an adult and had talks with her as long as she can remember.
After earning a B.A. from UCLA, Kathy held various jobs, including a family childcare provider for about 8-10 years. Kathy earned an M.S. from Cal State East Bay in mid-life. Her mentor recommended the Human Development Ph.D. program at Davis and she attended and completed that program. Kathy now serves as Director of the Chabot Child Care Laboratory -- and charged with overseeing the building, equipping and licensing that Center was prevented from ever writing a dissertation.
Kathy has traveled widely in Europe, most recently for a Sabbatical on Infant Programs. She visited Italy and Hungary and found surprising similarities between those programs.  She is now serving as Academic Senate President at Chabot and had to give up her great love: teaching infant/toddler development and care. She still teaches the Introduction to the Profession and various other classes at Chabot. 
Please note:  Tickets are not refundable but you may transfer your ticket to someone else.
When & Where

The Garden House at Shoup Park
400 University Avenue
Los Altos, CA 94022


Saturday, October 20, 2012 from 8:30 AM to 4:30 PM
Add to my calendar
Organizer
The Foothill College Child Development Department
The Child Development program is designed to deepen understanding of children, their families and developmentally appropriate practices, while preparing students for careers in teaching and education. The program offers a strong foundation in child development that allows students to take classroom and lab learning into their workplace to enhance children's learning environments.
PAINTING THE FUTURE "A GLOBAL PERSPECTIVE ON EARLY CARE & EDUCATION"