Description
Are you an art lover, artist, or overall supporter of the arts community in the Triangle? Do you enjoy creating art and/or engaging in powerful dialogue that leads to fruitful outcomes? Join us at Golden Belt Studios on the evening of Thursday, June 8th starting at 6:30pm for "Painting Our Privilege" as the Equity and Membership Committees of the Durham Art Guild team up to lead this activity and
discussion, which will explore ways that we personally and collectively enjoy privileges based on our membership in social identity groups in the United States. How does awareness of privileges affect how we navigate daily; and how then can we use our privileges for good?
This event is an adapted version of a Privilege Beads Exercise facilitated by Brenda J. Allen at the University of Colorado Denver with instructions written and revised by Dr. Thomas E. Walker for the Colorado Leadership for Equity, Advocacy and Discovering Social Justice Conference. It is based on an exercise developed by Gerakina Arlene Sgoutas & colleagues, Metropolitan State College; Denver, CO.
Our conversation will begin at 7:10pm. The time before this is alotted for participants to quietly mingle, visit the 7 stations around the room and participate in the painting portion of our activity.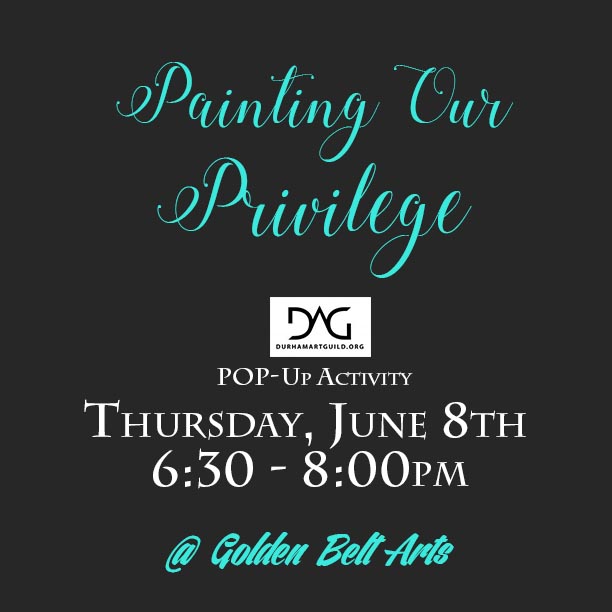 WE LOOK FORWARD TO SEEING YOU THERE! MORE DETAILS WILL BE POSTED HERE AND ON OUR FACEBOOK.
FOR ANY SPECIFIC QUESTIONS, COMMENTS, OR CONCERNS... please email Cynelsa Broderick at cynelsaeb@gmail.com