Description
HAVE SOME COCKTAILS & PAINT OUTDOORS! THIS EVENT IS AN AMAZING EXPERIENCE. THE CHANCE TO PAINT IN CENTRAL PARK IS A DREAM FOR MANY PEOPLE AROUND THE WORLD SO DON'T MISS THIS OPPORTUNITY.

You have to prepay here in advance (can't pay at the event)
* In the event of rain, we have a nearby backup indoor location that we will move the event to.
Socialize and Paint! ~ Come and join us at a Central Park location for some colorful fun. Feel free to bring your own beverage and snacks and we will provide you with canvas, supplies and instruction!

Enjoy a beautiful day in the park combined with painting = experience that can't be beat!
So what's this event all about? Come on out and sip cocktails, make new friends and paint a great canvas under the guidance of a master artist! During the event, you'll be crafting your masterpiece while sipping drinks (Bring your own). We supply paint and brushes, canvases, easels, and aprons.
* The meeting spot is by the bathrooms (near water fountain) at the Delacorte Theatre at 81 Central Park West. You will see the group and canvases set up.
BY THE WAY... YOU DON'T HAVE TO HAVE ANY ARTISTIC ABILITY TO ENJOY THIS EVENT. FOR MANY PEOPLE ATTENDING IT WILL BE THEIR FIRST TIME PAINTING ANYTHING IN YEARS. THE ARTIST WILL WALK YOU THROUGH EVERYTHING STEP BY STEP.
Here is the painting we'll be doing: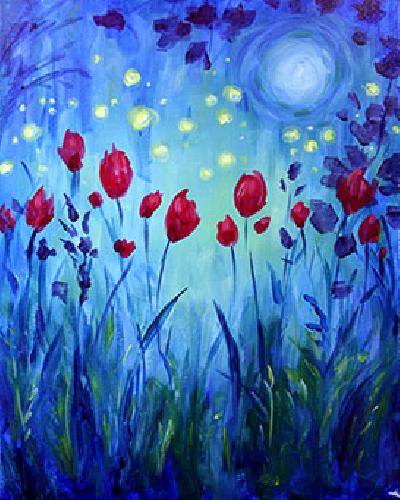 You'll have a great time meeting like-minded fun new friends and Typically about 75% of attendees of this event come alone and 25% bring friends. People of all ages are welcome to attend (over 21 of course).
• Student learn the art of mixing colors, blending and painting techniques from an accredited artist in this 2 hour class.
• Instruction, a 12x16 pre - sketched canvas, unlimited acrylic paint (water based) is the medium and painting supplies, brushes, apron and a take home bag are all included.
This is going to be a fun time!!!!!!