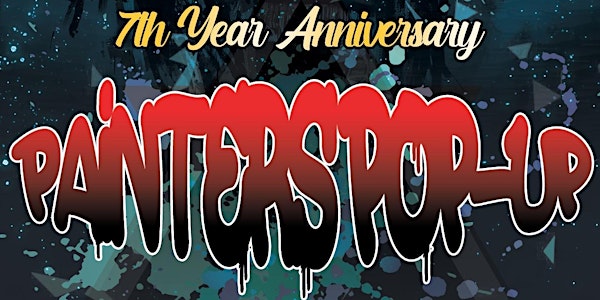 PAINTERS POP UP B&SUN ART GALLERY 7TH YEAR ANNIVERSARY
PAINTERS POP UP B&SUN 7TH YEAR ANNIVERSARY VENDORS/MUSIC/ART/ARTISTS NETWORKING/FREE EXPRESSION/ARTISTIC RELEASE/GOOD VIBES/MEET NEW PEOPLE
When and where
Location
2422 Myrtle Ave N 2422 Myrtle Avenue North Jacksonville, FL 32209
About this event
🎨 PAINTERS POP UP 🎨 B&SUN ART GALLERY 7TH YEAR ANNIVERSARY 🎉
If you missed our past PAINTERS POP UP EVENTS 🎨 well here is another chance. This is an INDOOR/OUTDOOR event where Artists will be doing "LIVE" paintings leaving there expressions on the inner and outer walls of the 🎨 Art Gallery as soulful musical sounds 🎶 flow through your ears while beautiful people interact in a artistic space & with free expression through Art 🎭🎨. VENDORS/MUSIC/ART/ARTISTS NETWORKING/FREE EXPRESSION/ARTISTIC RELEASE/GOOD VIBES/MEET NEW PEOPLE/DATE NIGHT.
Artists who attend this event & bring there own paint supplies message us for "FREE ENTRY". This is perfect for a night out with friends or meeting new people. Those that attend this event automatically receive free entry into our evening event at the same location B&SUN Art Gallery for POETIC KICKBACK that starts at 7PM Music By: @theegjshotgun Dj Shotgun
Headliner Mural Artist: @3_inked_up
Sponsor: @mama-goddess2u
If you would like to participate as a vendor, message us for more info.
INDOOR/OUTDOOR
DATE: 09-24-2022
ADULT & Artistic Setting
ENTRY FEE: $10.00 AT DOOR THOSE WHO ATTEND OUR PAINTERS POP UP WILL HAVE FREE ENTRY INTO OUR EVENING EVENT "POETIC-KICKBACK" WHICH STARTS AT 7PM.
Time: 2PM-7PM
Location: B& Sun🌞Art Gallery
Address: 2422 N Myrtle Ave
THOSE WHO ATTEND PAINTERS POP UP WILL HAVE FREE ENTRY INTO OUR EVENING EVENT "POETIC-KICKBACK" WHICH STARTS AT 7PM. A vibe like other 💭
The videos below are our past Painters Pop Events that have occurred at the B&SUN Art Gallery
FOLLOW US ON IG AT: @bsunsartgallery
FACEBOOK: B&SUN Arts and Culture Center
PILLAR FOR THE ARTS & CULTURE