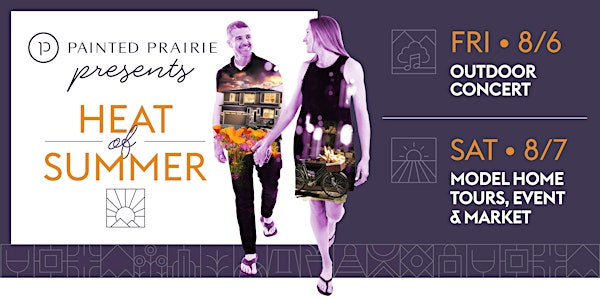 Painted Prairie Presents: Heat of Summer
Join us as we kickoff the HEAT OF SUMMER weekend!
When and where
Location
Painted Prairie 6000 Picadilly Road Aurora, CO 80019
About this event
MUSIC IN THE PARK: WhiteWater Ramble
FRIDAY, AUGUST 6: 6:30 p.m. to 9:30 p.m., High Prairie Park
It's hard to celebrate summer without attending an outdoor bluegrass concert! Join us and WhiteWater Ramble with blankets, chairs, snacks, and your dancing shoes! The music will begin around 7:30 p.m.
YOGA IN THE PARK
SATURDAY, AUGUST 7: 8 a.m. to 9 a.m.
Start of your summer Saturday with an hour of yoga! We'll have an instructor, Lauren Lewis, coming to Painted Prairie to guide us.
HOME HOW-TO CLINICS / WORKSHOPS
SATURDAY, AUGUST 7: 10 a.m. to 1 p.m.
This is your chance to ask questions around home-related topics from local experts! Joining us will be:
Ellis Design Studio – Interior Design Trends
DMI Tech – Smart Home Trends + Entertainment & Security Systems
BAC Appliance Center – Home Appliance Considerations & Trends (especially when buying new construction!)
Dig and Dream Garden Club – Vertical and container gardening
MODEL HOMES
SATURDAY, AUGUST 7: Open at 10 a.m.
Explore our ten open model homes from world-class builders—David Weekley Homes, Epic Homes, KB Single Family, KB Paired Villas, and McStain Neighborhoods.
MICRO FARMER'S MARKET
SATURDAY, AUGUST 7: 9 a.m. to 1 p.m.
Support local vendors at our micro farmer's market. The Nook Apothecary, Fat Cat Ceramics, Happy Jack Spice Company, Elevated Soap Co, Ana's Norwegian Bakeri and Love 4 Bees will all be back! Come show them some love!
MORE SATURDAY ACTIVITIES:
Don't Forget the Details!
Register for the Painted Prairie App for more event and community information.
FREE tickets are required. We are asking all attendees to pre-register for Friday's Music in the Park and for a specific arrival time for the Saturday event.
Please register for only ONE arrival time on Saturday. Once you've arrived at the event, you may attend any of the activities and stay all day!
If you're unable to attend this weekend, SAVE THE DATE for the rest of our events this summer season—September 3 & 4 and October 2 (Saturday only).
Safety continues to be our top priority! We can all do our part to prevent the spread of illness in our community. You can help by staying home if you're feeling sick. If you are healthy and make it to our event, please be respectful and maintain social distancing.
Visit our website or event FAQs for more event details and to view our event attendance policy related to COVID-19. Please note: Our program policies and procedures and event specifics are subject to change based on evolving COVID-19 guidelines.