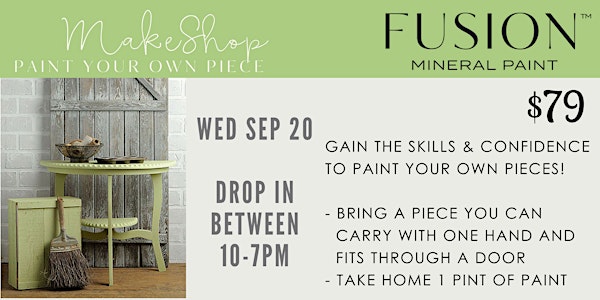 Paint Your Own Piece MakeShop
When and where
Location
Sweet Clover Barn 4051 Stanford Court Frederick, MD 21703
Description
WHAT WILL I LEARN?
- - - - - - - - - -
The Paint Your Own Piece MakeShop covers the basics of painting skills as well as multiple techniques for working with Fusion Mineral Paint. Fusion Mineral Paint is a low prep furniture & project paint that is simple to use with fantastic finishing results. This hands-on MakeShop covers basic painting techniques you will apply to your own piece including:

- Proper Prep
- Brush use and care
- Wet distressing
- Dry brushing method

By the end of this MakeShop, you'll have the knowledge and confidence to use Fusion for your craft projects and furniture makeovers as well as take home your own piece you have started

WHAT MATERIALS ARE INCLUDED IN THE $79?
- - - - - - - - - -
Bring your own piece that you can carry with one hand and can fit through a door. Some ideas are small stools, boxes or crates, frames, small end tables, old suitcases, etc. If you have a piece you are not sure of, feel free to email kim@kimberlybrooke.com with a photo and I will let you know if it would be a good candidate. All paint and materials will be provided. You will be able to take home one pint of paint that you use to work on your piece (a $21.95 value) You will also have the chance to purchase any other Fusion products at 10% OFF!

HOW LONG IS THE MAKESHOP?
- - - - - - - - - -
Because this is a drop-in, I suggest you plan for 2 hours to work on your piece. This allows room for other attendees and will give you enough time to learn and apply your skills. In the Select a Date (above right) pick the start time you plan to arrive so that the MakeShop space is not overcrowded at one time.

WHERE IS IT?
- - - - - - - - - -
In the cottage behind the barn at Sweet Clover. Yes - we are air conditioned and heated!