Description
In this very popular workshop, our guest instructor, Lisa Venturi-Rosser, will walk you through step-by-step instructions on how to create a beautiful 8-inch round wood mandala that reflects your own creativity and soul.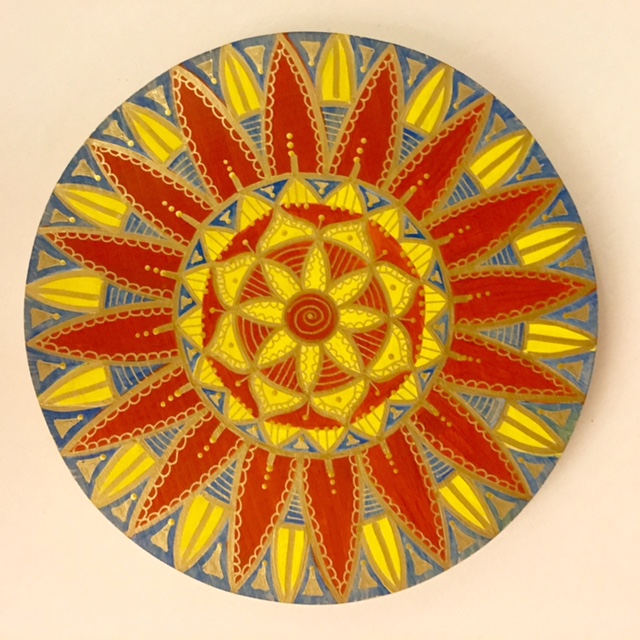 A mandala is an abstract design that is usually in a circular form. The word "mandala" is a Sanskrit word that means "circle." There is usually one identifiable center point, from which radiates an array of symbols, shapes and forms.
Mandalas are often used as objects of devotion or meditation especially in Hinduism and Buddhism. However, examples can be found in all religions as well as nature. Mandalas have been painted or drawn on paper, wood, stone, cloth or walls for decades. In some traditions, mandalas can be constructed using ephemeral material, like sand or chalk to illustrate the impermanence of life.
A mandala can contain recognizable images that may carry a meaning for the person who is creating it; in essence they represent the connection between our inner soul and outer reality. Designing your own mandala can be inspirational, therapeutic and relaxing.
Students must bring their own:
* compass (can be found in back-to-school section at walmart)
* protractor (can be found in back-to-school section at walmart)
* 12" ruler
Note: These inexpensive materials can be found at the local Wal-mart in the back-to-school section.
All other materials will be provided by instructor and Flourish.
Instructor: Lisa Venturi-Rosser
Our guest instructor learned how to knit, crochet, embroider and needle point at the age of six from her grandmother. A mother of two girl scouts, Lisa was an active troop leader and taught many girls scouts how to knit and crochet. She has found a passion for painting Mandala based designs on wood, furniture and canvas. She is available for small, mandala painting parties and also designs original work for clients. Lisa can be reached at rayoflightmandala@yahoo.com
Special Note: We are pleased to announce that Lisa will have some of her beautiful stained glass creations available for sale at the workshop!