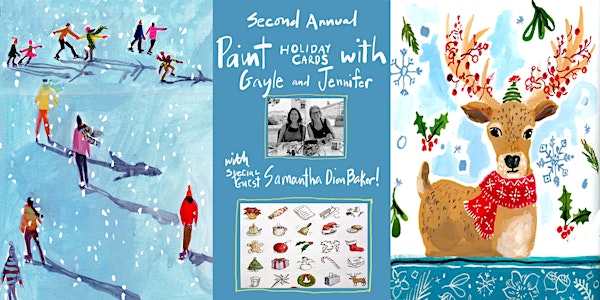 Paint with Gayle and Jennifer - Holiday Cards!
Paint with Jennifer and Gayle - holiday and winter-themed painting and drawing workshop. For all levels. https://us02web.zoom.us/j/895427184
Refund Policy
Contact the organizer to request a refund.
Eventbrite's fee is nonrefundable.
About this event
Join Zoom Meeting :https://us02web.zoom.us/j/89542718482
We're excited to announce our second annual Holiday Card class with our good friend Samantha Dion Baker as our Special Guest! As always, it's a donation-only class and a % of our profits will go to our local food banks. This class is about creating some fun, holiday-themed cards. Jennifer and Gayle will each paint something festive and wintery, and Sam will show us some cool hand lettering along with some fun and festive things. It's on Sunday, December 4th from 1-3:30 PM EST. Donate what you can! (the Eventbrite fees do apply) Gather some blank cards and envelopes, or just paint/draw on paper - anything is fine! Bring the kids! The recording of the class is offered to purchase as well if you can't make it on Dec. 4th. Everyone receives the replay within a week of the class.
See our supply list HERE. You do not have to buy anything from this list. You can use what you have around the house, no need to purchase anything!
Reference will be emailed to you the day before the class.
During this workshop, we will begin with a brief show and tell, a short explanation of our materials, our process, and how we choose and mix colors. Then we will each paint for 40 minutes.
You will have a chance to ask us questions in the chat. You're welcome to either simply watch or you can paint along with us. After we're finished painting we will each show you some of our work and what we are inspired by lately. At the end we will have time for some participants to show their work.
We want these classes to be accessible to anyone who'd like to take them, and we're so happy that this donation based model is working so well. Pay what you can! NOTE: whatever your donation, you will also be charged the Eventbrite fees. Do keep in mind that we work hard to give you great classes, so we appreciate that those of you who can afford to pay more will help those who can afford less!
If you can't make it on December 4th, there is a video-only option. EVERYONE from the live class will also get the video. It takes about a week for us to have the video edited after the class. You can purchase the video on Eventbrite, and it is also 'pay what you can'! NOTE: whatever your donation, you will also be charged the Eventbrite fees.
For this class we're donating a % of our profit to our local foodbanks. Please remember to adjust for your time zone. Tickets are non-refundable. This attached supply list is the materials we use. You do NOT have to buy anything from our list! While you are welcome to use any materials you want, we will be painting with acryla gouache and gouache during the class. We do suggest that you get a sketchbook, but otherwise please use whatever materials you want! We hope to see you there! Gayle & Jennifer
Here's a few reviews from our last class.
Gayle and Jennifer have such an accessible approach to painting. Their relaxed style is approachable and helps you feel less intimidated along with being able to watch world class talents do what they do best. It's boosted my confidence as an artist and broadened my horizons along with being just plain fun!
The classes are beyond inspiring. I learn new techniques every time. And then I am eager to paint!
If you have the good fortune to join Jennifer+Gayle's workshops, you won't want to miss anything they offer! Such fun with warm hands-on teaching from two such talented artists. I feel so lucky to have discovered these two. Thank you so so much.
Gayle Kabaker
Gayle Kabaker is an award-winning illustrator, writer, and visual storyteller. She graduated from the Academy of Art in San Francisco and began her career as a freelance fashion illustrator. After moving to Western Massachusetts she expanded from fashion illustration and this led to projects for a variety of major clients in advertising, editorial and animation. She had her first New Yorker magazine cover 'June Brides' celebrating gay marriage in 2012 and has had a total of eight covers since then. Her work tends to be very feminine, exploring beauty in all forms. Gayle uses her sketchbook to document her life and her current favorite muse is her granddaughter Mona. She had an ongoing column in the Washington post Called 'Sketching My Way Through Crisis' showing how keeping a sketchbook practice can be therapeutic for anyone even if you're not an artist. Gayle illustrated 100 portraits for the book Vital Voices - 100 Women Using Their Power to Empower and it came out last year to rave reviews. The companion exhibition was the longest running show in the history of the Kennedy Center. Gayle lives in Western Massachusetts with her husband, artist Peter Kitchell and their dog Charlie. https://www.gkabaker.com \ https://www.instagram.com/gaylekabaker
Jennifer Orkin Lewis / Augustwren
A deep love of color, pattern and nature are the foundation of Jennifer's work as an artist, illustrator, author and teacher. Her joyful gouache paintings of flowers, random objects, people and occasional meditative abstract musings open a colorful and enticing window onto a detail of the day one might ordinarily overlook. In 2010 she made the move to switch careers from textile design to illustration, to fulfill a long held goal, and began a rigorous daily sketchbook project, doing a 30 minute painting every day. The looseness and intuitiveness of those paintings became her signature style and they are the source of much inspiration to herself and others. She is endlessly amazed and satisfied to see her shelf filling up with completed sketchbooks. Jennifer's work has been featured on many products and brands worldwide, including Anthropologie, Abrams Books, Chronicle Books, Eeboo, Kate Spade Home, Tocca, Seattle Chocolate Company, Roger LaBorde as well as many others. Her books include two inspirational sketchbook journals published by Abrams that encourage and inspire people to develop their own daily drawing practice. Jennifer studied at Rhode Island School of Design and spent the first half of her career as a textile designer and stylist in NYC. https://www.augustwren.com / https://www.instagram.com/augustwren/
Samantha Dion Baker
Samantha Dion Baker is originally from Philadelphia, where she grew up in a family of artists. Throughout childhood, she would spend afternoons drawing in her grandmother's sculpture studio and would watch her mother make intricate illustrations on her drafting table at home. She attended The Cooper Union in New York City, where she studied everything from design to printmaking, having the desire to learn and experiment with as much as possible before settling on a design career. She then spent over twenty years working as a graphic designer in Toronto and New York City, with a strong focus in the art world. In her early forties, she began to draw again, and through a regular sketchbook practice, transitioned from designer to artist. Now a full-time illustrator, artist, and author, her favorite thing to do is wander the city streets and travel with her family, drawing all of the things around her. She lives and works in Brooklyn with my husband and two sons.
The Washington Post Magazine, Gloria Steinem, Penguin Random House, The Highline Hotel, Blackwing, Atelier Cologne, and The Shaker Museum are just a few of her clients.
https://www.sdionbaker.com https://www.instagram.com/sdionbakerdesign/