Description
Our Paint the Night Away party is back one m ore time right in time for the summer! We are at the Bronx Beer Hall this May by popular demand! Join us for a fun, chillax night of painting, beer drinking, music and real cool vibes!!! May 20th is National Bike to Work Day and we are excited about it! Join us for Bike Days!!
Ticket includes a FREE drink and all art materials are also included! At the end of the night you will take home your own creation on a canvas!
This evening, all funds collected by BxArts Factory will support our Community Engagement Summer Activities as well as our Bring Art to Every Household programming in the Fall!
This summer we will be participating in 4 summer events! These events are:
1. Longwood Art Festival - June 4th
2. Boogie on the Boulevard - Last Sundays on May, June, July and August
3. Wonderfully Made Walkathon – July 9th
4. Weekend Walks with WHEDco and Morning Glory Garden – September 17th
In the Fall and Winter we will be collaborating with Wonderfully Made Family Services to bring art directly to the homes of the parents and families involved in their parenting programs! These are unique and special project to us and they allow us to have a real and powerful connection with the community through the use of art and creativity as a vehicle for change! Support us by buying your tickets today!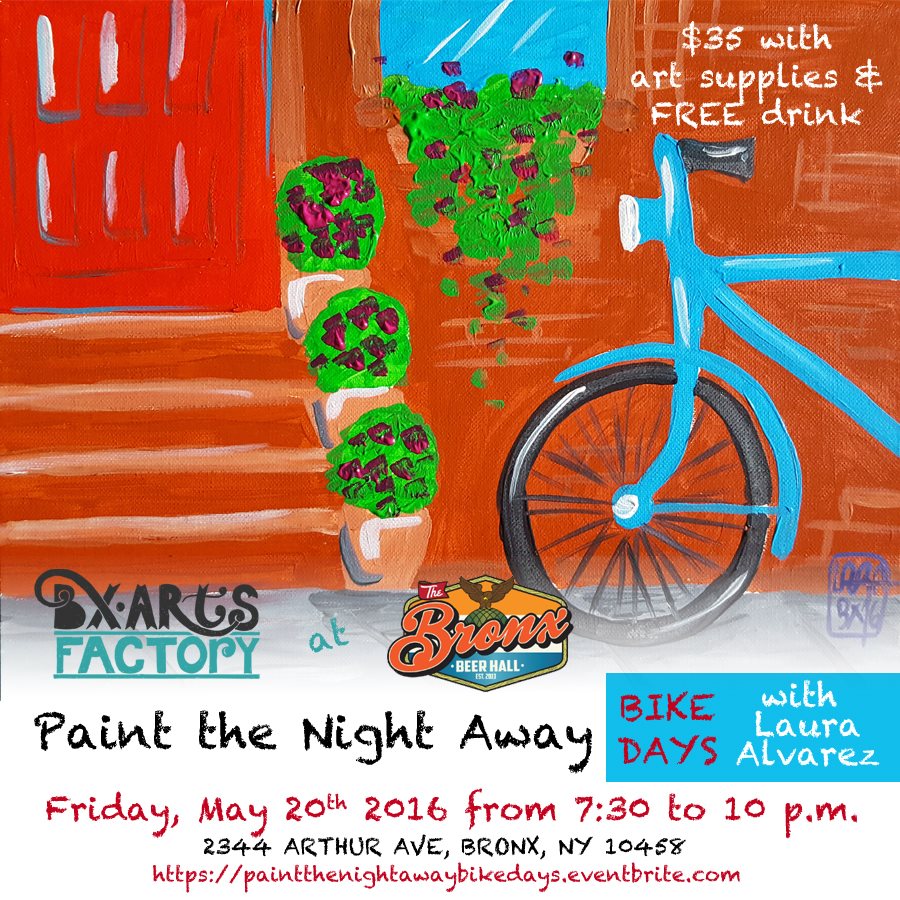 Organizer of Paint The Night Away - Bike Days!
BxArts Factory is a grassroots, 501c3, non-profit organization that connects  Bronx-based artist and community, in experiences, events and opportunities for connection, community development and healing.   We assist affiliated artists to engage and advance the Arts in communities throughout the borough via a diverse set of arts-oriented programming and services. Through collaborations with local artists and community based organizations, we offer dynamic arts programming that incorporates education and showcase a variety of art genres.  The BxArts Factory provides unique and engaging experiences to advance the Arts and cultural education in the Bronx.