Sales Have Ended
Ticket sales have ended
Thank you! If you have any questions or concerns, please e-mail us at 444Memphis@gmail.com.
Sales Have Ended
Ticket sales have ended
Thank you! If you have any questions or concerns, please e-mail us at 444Memphis@gmail.com.
Paint & Play is a guided painting workshop for the kids of Memphis!
About this event
Our Paint and Play is a guided painting workshop where a local artist will come out to teach the children basic painting skills. They'll also discuss how they got into the art field, what it's like to be an entrepreneur, and more information about the specifics of what it's like to be in their field.
Your $5 dues will cover the cost of your snacks, paint, brushes, canvas, aisle, and other craft materials. This event is ideal for girls and boys ages 10-14.
** PLEASE NOTE: Parents are allowed to chaperone ALL workshop events! We encourage you to stay and meet other local families! If you plan on chaperoning your child, please add an adult ticket. If you or a family you know cannot pay dues in order to participate in this event, please e-mail us at 444memphis@gmail.com so that we can accommodate you. Limited space is available for this event. If the weather isn't in our favor, we will relocate and notify you days prior.
4:44 Memphis works hard to connect with local healers, leaders, and visionaries so that each child who participates in our monthly workshops will leave feeling enriched and cared for. We want the children of Memphis to aim higher than the standards set before them! That's why we showcase creators who specialize in digital creations, dance, spoken word, finance, etc. We believe that exposing children to different hobbies and streams of income will inspire them believe in themselves and their personal goals. We hope to instill purpose, integrity, and determination into all of our workshop participants.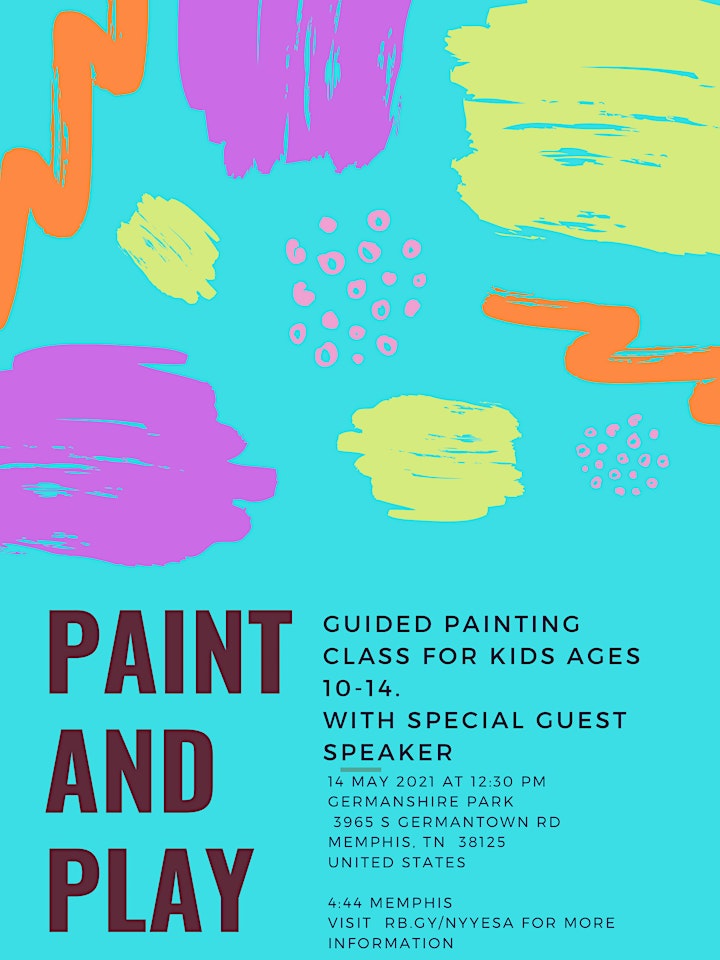 Organizer of Paint & Play
Here at 4:44 Memphis, we see the value in everyone. We want to be a catalyst for positive change, and since our beginnings in 2020, we've been driven by the same ideas we initially founded our organization upon: support, empowerment, and progress. Learn more about our mission, our vision, and how we go about making the changes we want to see.