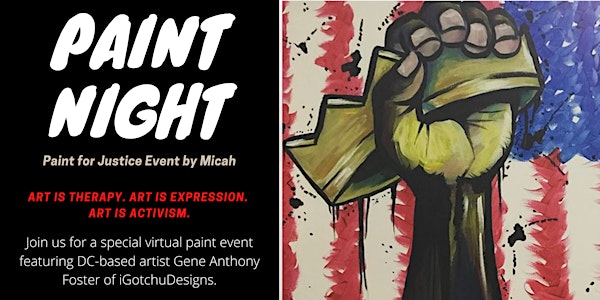 Paint for Justice Virtual "Paint Night" Event
Event Information
Refund policy
Contact the organizer to request a refund.
Eventbrite's fee is nonrefundable.
Art is Therapy. Art is Expression. Art is Activism. Join this family friendly virtual paint event to make a colorful statement of solidarity
About this event
Event Description. DC-based artist Gene Anthony Foster, Creative Art Director of @IGotchuDesigns, will lead us in creating meaningful, empowering art! This paint night is an opportunity for us to come together as a community and enjoy a night of family fun while making a collective statement through our art, and our actions, as all proceeds will be donated to fund BlackLivesMatter DC. BlackLivesMatter DC is providing food, supplies and assistance to those impacted by the pandemic through their East of the River Mutual Aid Fund and 100% of our donations will be going towards that initiative. Please help us meet our goal of raising an $1,000 donation for Micah's first official charitable event.
After the event, we encourage all participants to share a photo of their paintings on social media with the hashtag #PaintforJustice to continue the conversation. We encourage you to invite your immediate family to participate and to share this event with your extended family and friends. The registration fee is per log in so for just $25 you and your family can join. In support of our mission, Gene is donating a portion of his time so the proceeds raised through this event can go directly towards the fundraiser. You can find out more about him on his website: www.iGotchuDesigns.com and on social media at @iGotchuDesigns.
About the Organizer & FUNdraiser. Micah, an eight year old DC native, has always had a passion to serve those in need, specifically our homeless and displaced communities. Since we are in the midst of a pandemic, we decided to host a virtual event to jumpstart his series of events supporting our community. Given the current climate, we felt his first event should be one to raise funds for an organization amplifying black voices, fighting for social justice, AND supporting our most vulnerable community members.
Check out the video below for a message from Micah!
How do I Participate? The Zoom information for the event will be provided via email two days before the event date (July 16, 2020). Once received, please do not share the log in information with anyone.
What do I need to participate? Participants are responsible for obtaining their own art supplies. If you do not own supplies, you can find them at Target, Walmart or a local art supply store. You can also order them from Amazon at the links below. You will need brushes, acrylic paint (primary colors and black) and either an acrylic notepad or a canvas (9x12). The estimated price of the supplies is $25-$28. Here are links for you if you'd like to order your supplies online.
Why this event? Why BlackLivesMatter DC? We are currently fighting two pandemics: Racism and COVID-19. So... we wanted to create an event that supported efforts to fight both!
African American men and women are disproportionately impacted by health, economic, educational and social disparities as a direct result of deep-seeded, systemic racial injustice codified through years of unjust practices and policies. These disparities set the stage for the devastating impact this pandemic has on our community. A recent report published by Georgetown University found that Black residents in Washington, DC represent 75% of the district's COVID related deaths. In addition to the dismal infection, hospitalization, and death rates of COVID-19, many Black residents are experiencing higher rates of job loss and significant increases in food insecurity and other needs. Amid this economic and public health crisis, Breonna Taylor and George Floyd were murdered by police spurring an international outcry. People of all walks of life are coming together to rally behind a call for police reform and publicly proclaiming that Black Lives (do) Matter.
We support BlackLivesMatterDC in their commitment to addressing these social disparities and confronting racism head on. And while they tirelessly fight against racism, BLMDC is also currently raising funds to continue supporting communities most hurt by the pandemic. We selected the Black Lives Matter DC East of the River Mutual Aid Fund, because we are answering the systemic calls to action to eliminate racism, and stepping up to help our community that is hurting as a result of the pandemic.
This event is a safe space where all family members can engage in this movement towards racial equity by continuing to raise awareness and give back to those most in need. Thank you for your time, desire to help, and commitment to using your voice to inspire change.
Date and time
Location
Refund policy
Contact the organizer to request a refund.
Eventbrite's fee is nonrefundable.