Description
Ready for a fun night out creating and sipping?! We are and you are invited to join us at the Half Lion Public House in Kent, Washington. Come tap into your creative side with Konnex during this session we will be creating the 'Deer Couple' Painting. This piece can be created as a single canvas as well so you do not need to be a couple to attend. Your Konnex Artist will guide the session with step by step demo and instruction so even if you have never painted before you can participate. Hands on help available if needed. Come for the fun, try out a Half Lion beverage because your first drink is included (signature beers, wine and well drinks only) and discover your creative side with Konnex!
We will be painting the 'Deer Couple' and this painting can be painted by singles, couples or friends!
Grab your group and save your seats we will see you at the Half Lion Public House.
*The Half Lion Public House offers a full menu that is available before, during and after our event. They also have a full driving range and a mini 18 hole golf course on site for your significant others/children if they are not joining us for painting. Make a day of it at HLPH!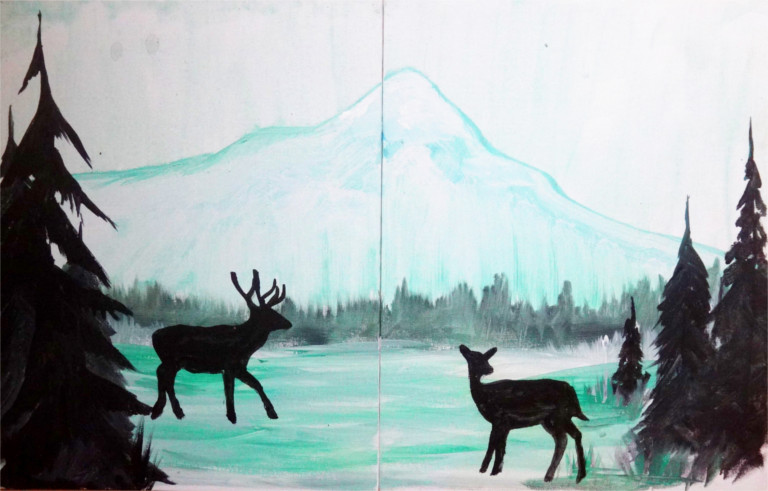 TIPS / REMINDERS
Please arrive 10 minutes early so your Artist can get you checked in and you can get settled with your drink and paint station.
Wear something that makes you comfortable (your clothes will be around paint, the paint is usually washable but we do not make any guarantees that paint will come out of all clothing types) If this is a ball gown or sweats it doesn't matter to us!
If you have a larger group (more than 5) and you want to be sure to sit together, come early or send us an email and we will reserve some seats nearby each other for your group.
Come ready to relax and get creative, art nights are all about tapping into your creativity and letting the stress of the day wash away. Beer helps this process but you do not need to consume alcohol to attend Konnex events!
Share this event with your friends so more people can find out and hear about Konnex paint and sip events, we travel across the Puget Sound to paint with you!
Any questions, concerns or need help registering for an event, contact us at wakonnex@gmail.com