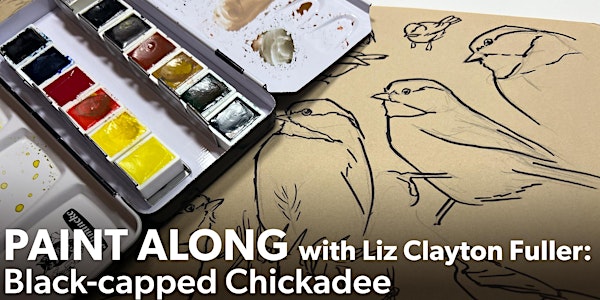 Paint Along with Liz Clayton Fuller: Black-capped Chickadee
Join Liz for a ​step-by-step guide through the process of creating your very own painting of a Black-capped Chickadee.
Refund Policy
Contact the organizer to request a refund.
About this event
In this workshop, join science illustrator Liz Clayton Fuller for a ​step-by-step guide through the process of creating your very own painting of a Black-capped Chickadee. Liz will take you from blank paper, to sketch, to finished painting while explaining her techniques and strategies along the way. Liz will show you tips and tricks in watercolor for rendering feathers, beaks, branches, and more.
Some sketching and watercolor experience would make you more comfortable during this workshop, but all skill levels are welcome!
Liz's workshop will be live on Zoom. She'll be demonstrating different techniques while you follow along.
This workshop will be recorded and sent to all participants within a week of the event. This recording will be available for viewing for three months after the workshop.
Materials and Instructions:
Please feel free to use your own materials in a variety of brands and styles. Here is what Liz recommends you have for the workshop:
Any type of heavier weight paper that can handle watercolor paint (thin paper like computer paper will buckle, bend, and chew up under the water!). Watercolor paper or mixed media paper will work. Please have a minimum of 3 sheets ready.
Watercolor paints: Watercolor pans or watercolor tubes will both work. Liz will be using watercolor pans. Liz recommends you have at least red, blue, yellow, green, orange, white, and black, but please feel free to join with what you have. Any brand will do.
Mixing palette: you will need somewhere to mix your paints!
Brush(es): a water brush or traditional brushes will both work
If you are using traditional brushes, get two cups of water—one to rinse your brush in and one to use the clean water from.
Paper towels
Pencil and eraser
Closed captioning will be available during the workshop.
If you have questions for Liz, you'll be able to ask using the Zoom Q&A feature. After each exercise, Liz will take a few minutes to respond to your most frequently asked questions.
Other questions? Visit our FAQ page or email: cloeventsales@cornell.edu
Born and raised in Nashville, Tennessee, Liz is an accomplished science illustrator and fine artist. She holds a BFA in illustration, with a minor in art history from Savannah College of Art and Design and a certificate in natural science illustration from the University of Washington. She has created and taught field sketching courses for Cornell University undergraduates as well as for participants in Cornell's adult university program. She has also illustrated field guides, created educational outreach materials, and painted visuals for scientific papers at the Cornell Lab of Ornithology. Her online course Nature Journaling and Field Sketching is available from the Cornell Lab's Bird Academy.
I would like to thank Liz for the miracle that she made happen by teaching me how to draw. Prior to the class I only drew terrible stick figures! She gave me a life long skill! Thanks, Liz.
- Liz's former student