Event Information
Location
Marina Bay Sands Convention Centre, Level 4, Orchid Ballroom
Singapore
Description
ACE Success Convention 2018
ASIA's Energy Healing Expert Reveals: How To Use A Simple 'Subconscious Mind Alignment' Technique To Enhance Your Life, Health, And Wealth.
If you've tried every healing and growth practice out there but still feel strains, stress, and stuck in life… the missing solution you've been looking for may just be this 2,500 years old ancient science of subconscious alignment.


Prepare yourself to learn this simply 'Subconscious Mind Alignment' Technique that may get rid of your pains, stress, and aches… once and for all.
And discover proven and powerful strategies that can enhance your wealth and income too.
Share With Others
The Ace Success Convention is organised to help you and loved ones live a pain-less and stress-free life. Feel free to invite anyone who will benefit from this convention.
Founder of Master Your Mind System, Master CK Tan has helped many students to free their pain, aches, success blocks and other internal blocks that stop them from achieving their full potential.
This ultimate breakthrough in subconscious communication, combining modern science and a 2500 years old ancient system has helped many reduce or eliminate aches and pains.

At the Ace Success Convention, You'll Discover:
Why certain pains, aches, allergies, phobias, depressions, panic attacks and mental illnesses that has been torturing you for years MAY NOT be caused by physical issues and how you can get rid of them in 3 minutes or less!
What you can do in 20 minutes each day that will accelerate your way to success, have a pain free body and build better relationships!
What you can do to help you and your loved ones lead a "Stress-Free" Life with a simple technique even a 7 year old kid could do.
How your subconscious is stopping you from achieving what you want in life, like becoming a successful career, creating wealth, starting a successful business, and how to eliminate it in as fast as 3 minutes!
And many more secrets on living a pain-less and stress-free life!
Alongside Master CK Tan, there will also be 7 expert speakers that can help you discover how you can achieve success in these 7 areas of your life: Personal, Inter-Personal, Money, Family, Career, Relationships, and Health.
And Get These Bonuses When You Attend!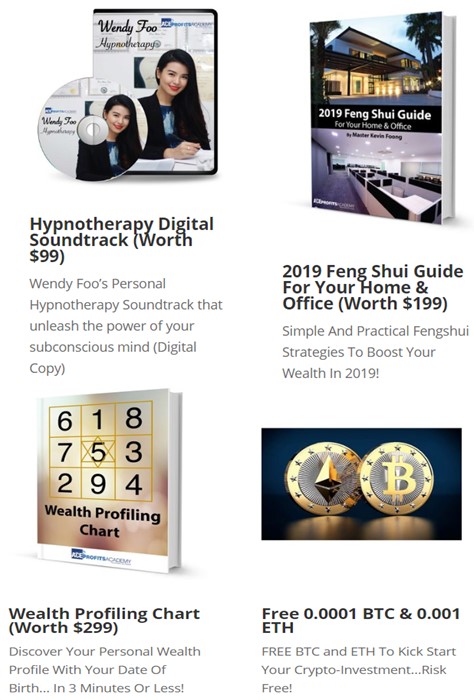 #1: Hypnotherapy Digital Soundtrack (Worth $99)
- Wendy Foo's Personal Hypnotherapy Soundtrack that unleash the power of your subconscious mind (Digital Copy)
- Discover Your Personal Wealth Profile With Your Date Of Birth… In 3 Minutes Or Less!
#2: FREE 2019 Feng Shui Guide For Your Home & Office (Worth $199)
- Simple And Practical Fengshui Strategies To Boost Your Wealth In 2019!
#3: Wealth Profiling Chart (Worth $299)
-Discover Your Personal Wealth Profile With Your Date Of Birth… In 3 Minutes Or Less!
#4: Free 0.0001 BTC & 0.001 ETH
FREE BTC and ETH To Kick Start Your Crypto-Investment…Risk-Free!

Date: 20th & 21st October 2018, Saturday & Sunday
Time: 9 am to 7 pm for both days. (Registration starts at 8 am)
Tickets: FREE (Limited to first 50 people only)
Venue: Marina Bay Sands Convention Centre, Level 4, Orchid Ballroom

Sign Up Now!
Date and Time
Location
Marina Bay Sands Convention Centre, Level 4, Orchid Ballroom
Singapore