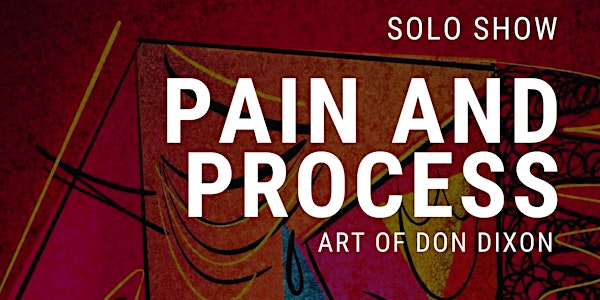 Pain and Process Art of Don Dixon - Solo Show
Don Dixon is launching his premier solo show and invites you to join for an opportunity to view works from his Pain and Process Collection.
When and where
Location
event1013 1013 East 15th Street Plano, TX 75074
About this event
Meet the artist, view the art, and celebrate the essence of Don's journey as shown through his art.
Wine, beer, and hor d'oeuvres provided.
More About Don Dixon
As an artist, I push myself to feel the energy and bear witness to life's narrative through my creative endeavors. I want to capture not only the fun side of art, the freedom of line, and energy and the imagination we all have in our childhood. I also want to amplify what's going on in the real world through my art. The goal of my art is to light the flame of imagination and start a conversation. I create art, books and advocate for personal causes. In addition to fine arts, I am an evangelist for the creative process, speaking at events and creative collaborations whenever the opportunity comes my way.
About Don
My love for art started when I was a toddler – finger painting on the walls and following my dad around while he tested new toys. This passion grew stronger with each passing year, and now I have over 20 years of experience in art, design and animation. I Love to laugh, work with teams to create exciting new visions that capture the collective imagination. My life is a blending of fine arts, design and animation. My inspiration comes from a family life filled with creativity, play and reflecting on the strides my father made in the Robotics and Toy industry as virtually the only person of color in his field at the time. Born in North Carolina in 1978, I grew up in a household with a seven-foot tall robot that looked after my sisters and myself. My father moved us to California and created robots for companies like Atari and Worlds of Wonder, to further solidify his position in leadership as a Design engineer for international toy manufacturers.At the age of 15, I received a full scholarship to Interlochen Arts Academy in Michigan. It was here that I began to really take my art seriously and to dive into learning more about fine art as a practice.After majoring in Visual Arts at Interlochen Arts Academy in 1996, I attended Savannah College of Art and Design, but had to transfer due to financial challenges I completed my formal education at the College for Creative Studies in Detroit, Michigan, and graduated with a BFA in Animation and Digital Media.My first job was at WMS Gaming in Chicago creating animation in both 2D and 3D. From there, I moved to Texas to work at Green Grass Studios, then on to Florida to work at Ignition Entertainment doing video game animation. I even had the chance to work on the TV Show Veggie Tales in Hawaii! All along the way I continued to shine a light on the themes that stirred in my heart the need for serious attention and care through my art: systemic racism, children's advocacy and grief. It wasn't until I was an adult that I realized the full implications of my dad's legacy. His unique experience as a person of color in the Robotics and Toy industry paved the way for my own success. I get it now. We really cannot understand until we LIVE it. I lost my mother in 2015 I became interested in writing and illustrating children's books. I wrote my first book, Dandelion, to grieve her loss. Friends read the book and shared how much it helped them process their own grief. Seeing the positive response ignited a new passion and purpose in me. The photos of parents reading the book to their children, little ones dressed up as dandelions, and drawings by the children shared by families motivated me to write even more.
My latest book, Pain and Process, is a collection of works that reflect what I see in our world at this moment in history. It serves as the mirror I hold up to the world as a Black man living in America now. I hope this book and the paintings it inspired starts conversations and spurs many interpretations. I have worked on feature films such as THE BOOK OF LIFE, FREE BIRDS, ROCKDOG, SHERLOCK GNOMES, UGLY DOLLS as well as Television and video game animation, and illustration for Rolling Stone Magazine.Currently, I live in Dallas, Texas.Who could know that a young 12-year-old Black child who loved to draw would transform that love and joy into a 20-year career? I believe my calling is to inspire others, especially children, and help to create a better world.