Description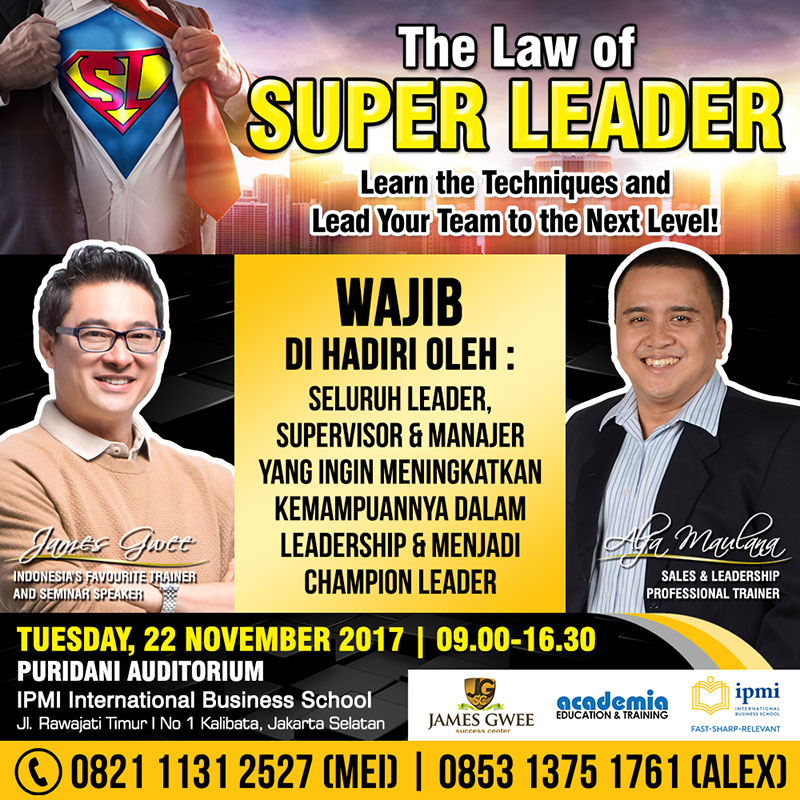 You along with your team will learn:
Analyze thoroughly to understand 4 most important functions as a Manager, until you really understand how you must play a role in the company.
Understand the importance of leadership purpose.
Using TOP-GRADING approach to get 80% of your employees with WINNER MENTALITY in your team, within a very efficient time.
Learn 4 important and crucial stages, to build WINNING TEAMS in your company.
Strategics to put the RIGHT person, in the RIGHT place in the RIGHT condition by applying 6 POWERFUL rules!
4 tips that have been tested its influence to build SOLID TEAMWORK, that will generate EXTRAORDINARY INCREASING Company's performance.
Able to identify, understand, and developing 5 levels of Leadership.
Assesment to know ability, situation, and condition of the current leaders and how to know what ability and knowledge that needs to be improved from the leaders.
Learn, recognize, and able to apply Laws of Teamwork and Irrefutable Laws of Leadership.
Learn, recognize, and able to apply Laws of Bad Apples.
Effective Communication Skills.

INVESTMENT:
1 Person IDR 850.000,0 | 3 People IDR 2.000.000,- | 10 People IDR 5.000.000,-

Date & Time: Wednesday, 22 November 2017 | 09.00 - 16.30
Venue: Puridani Auditorium, IPMI International Business School. Jl. Rawajati Timur I No. 1. Kalibata, Jakarta Selatan.
KINDLY NOTE:
This is only an announcement page.
IPMI International Business School is the partner of James Gwee Success Center and Academia Education & Training in this "The Law of Super Leader" event.
For registration and payment, kindly directly to contact Academia team:
MEI (0821-1131-2527), ALEX (0853-1375-1761).

Download the brochure and registration form here: http://tinyurl.com/SuperLeader