Description
The research team at the Innogen Institute and the British Standards Institution would like to invite you to attend this workshop for the BSI/ESRC PAGIT Project: Proportionate and Adaptive Governance of Innovative Technologies, on Synthetic Biology/Gene editing. The workshop will present an updated version of the PAGIT Framework (see below) and will discuss proposals for implementation of a more proportionate and adaptive approach to governance of syntheric biology/gene editing, based on interviews we have been conducting with key stakeholders.
In considering the most appropriate regulatory precedent for innovative technologies arising from synthetic biology and gene editing, the choice of the EU regulatory systems for GMOs would be seen by many as damaging to the innovative potential of these technologies. This case study is considering future regulatory systems for these innovations, in the context of the Brexit decision and the opportunity to devise a new UK regulatory system covering all stages of the development pipeline. It will apply the PAGIT framework to the potential radical re-design of the UK regulatory system, focusing on where standards could most usefully contribute to making regulatory systems more proportionate and adaptive to the needs of the next generation technologies, synthetic biology and gene editing.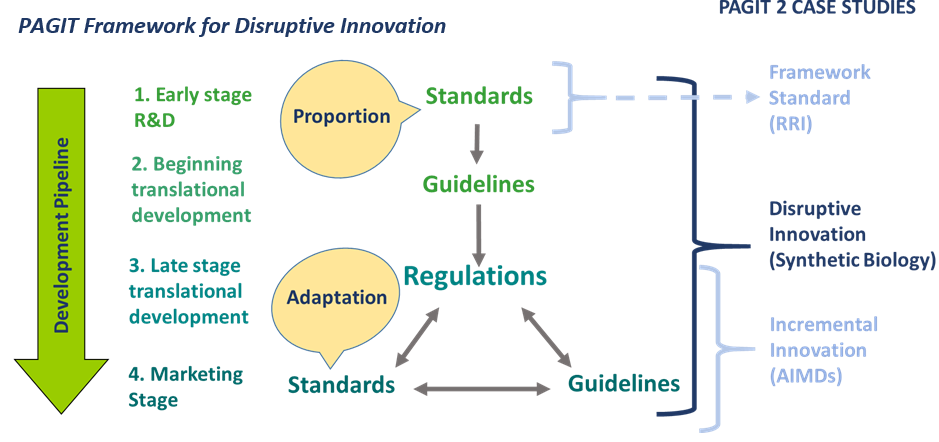 The workshop will build on our telephone interviews with stakeholders and further refine our ideas on implementation of the Framework. The objective will be to identify where and how current GM regulation, across EU and other regulatory jurisdictions (e.g. USA and Canada), could best be adapted to the needs of synthetic biology and gene editing.
Outputs from the workshop will contribute to the final report which will propose:
(i) general guidelines for action by industry and regulators/policy makers; and
(ii) a roadmap for a UK approach to the integration of standards-based and regulatory approaches to deliver a pioneering approach to the governance of disruptive bio-innovation to ensure optimum delivery of societal and economic benefits while preserving safety, quality and efficacy standards.
FAQs
What are my transport/parking options for getting to and from the event?
http://www.cctvenues.co.uk/images/venues/travel-directions/travel-directions-cct-venues-barbican.pdf
How can I contact the organiser with any questions?
Please contact Julia.Eighteen@ed.ac.uk in the first instance.