Description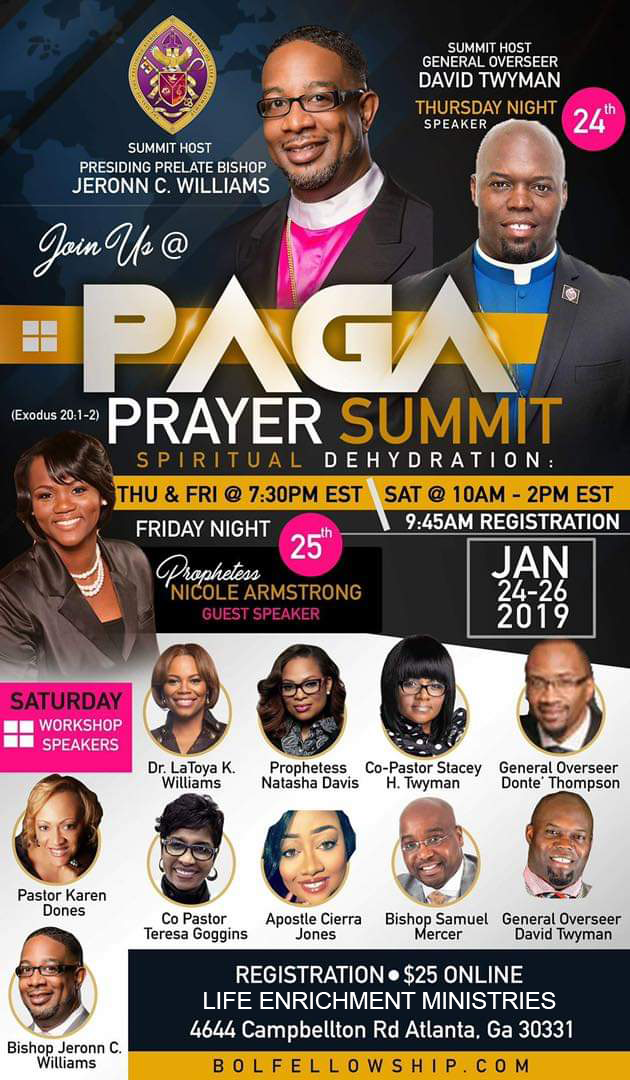 SPIRITUAL DEHYDRATION |

A Bold Call For A Fresh Encounter With God
"Then the children of Israel, the whole congregation, came into the Wilderness of Zin in the first month, and the people stayed in Kadesh; and Miriam died there and was buried there. Now there was no water for the congregation; so they gathered together against Moses and Aaron." (Exodus 20:1-2)
Calling all Intercessors, Pastors, Prophets, Evangelists, Teachers, and Apostles!!!
PM Worship Experiences |FREE
Access to Saturday Seminars |$25.00
__________
Event Schedule
Thursday-Jan-24th
PM Worship Experience @ 7:30pm EST
Friday-Jan-25th
PM Worship Experience @ 7:30pm EST
Saturday-Jan-26th
09:45am -10:00am| Registration Check-In
10:00am - 11:30am| AM Workshop Sessions


Pastor Karen Dones

| The Lifestyle of an Intercessor

Prophetess Natasha Davis

| Understanding Prophetic Intercession

Co-Pastor Stacey H. Twyman

| Transformational Intercession

Dr. LaToya K. Williams

| Destroying Defense Mechanisms through Prayer

Co-Pastor Teresa Goggins

| Spiritual Warfare and Intercession

11:30am - 12:30pm| Lunch
12:30pm - 02:00pm| PM Workshop Sessions

General Overseer Donte' Thompson

| Collaborating Worship and Intercession

Bishop Samuel Mercer

| Decrees Proclamations and Intercession

General Overseer David Twyman

| Why Pastors Need Intercessors

Apostle Cierra Jones

| Understanding Apostolic Intercession

Bishop Jeronn C. Williams

| Apostolic Activation
__________
ABOUT PAGÁ
Paga (Strong's H6293): "To strike upon in prayer."
The purpose of PAGÁ is to empower the Body of Christ through diverse teaching and training."If the Watchman sleep, the enemy takes the city."