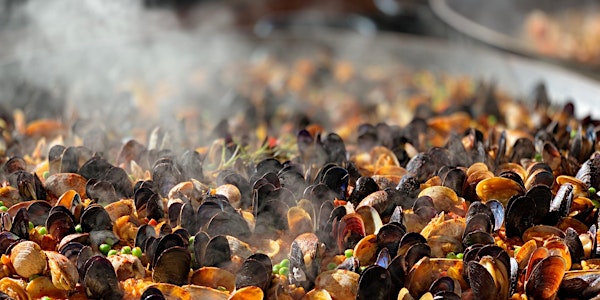 Paella House multi-course dinner
Paella House presents an incredible multi-course meal, with optional wine pairing. Beautiful and delicious paella and so much more!
When and where
Location
117 Yesler Way 117 Yesler Way Seattle, WA 98104
About this event
We are thrilled to present our multi-course dinner event! The evening will begin with an appetizer plate featuring delicious Spanish meats and cheese. Next, comes a course of our exquisite manchego salad. For your entree, you will choose one of three paellas described below: our award-winning paella del mar; paella del campo; or paella de la huerta. The meal will finish with our signature dessert of Rioja-poached pears. Organic pears are poached in our wonderful blend of wine and spices. A reduction sauce and a dollop of cream cap off a truly wonderful dish! (Gluten-free)
Complete this wonderful meal with an optional wine pairing for each course, featuring unique Spanish wines. You will also have an option after the meal to purchase and take home bottles of the wine you've enjoyed throughout the evening.
This special event will be enjoyed at a private club located in historic Pioneer Square.
About us:
Paella House started cooking at local farmers markets and quickly began gaining popularity. We now attend some of the biggest festivals in the state of Washington and specialize in private events such as weddings, company parties and all kinds of social gatherings.
Paella House brings you authentic cuisine from Spain with quality you can trust. We take pride in offering the best ingredients available.
If you have seen us at our public events and have wanted to experience more of our menu, this event is not to be missed!
We are offering a special parking rate of $5.75 for the event. Please see the "add-on" section for further details and a link to reserve your spot.
Should you have any questions that aren't answered on this event page, please reach out to contact@paella.house.
www.paella.house
Select your paella entree at checkout:
Paella del Mar
Seafood Paella - Our award-winning paella! Made using local seafood such as Penn Cove mussels, Manila clams from our local beaches, wild caught prawns and calamari. Our sofrito is made with local organic caramelized onions, garlic, red and green bell peppers, tomatoes and extra virgin olive oil and sweet-smoked paprika from the Spanish province of Cáceres. Gluten-free, Dairy-free.
Paella del Campo
Meat Paella - Prepared with organic chicken, non-spicy chorizo and butifarra sausage from Spain. All cooked using our sofrito base of caramelized onions, garlic, bell peppers, tomatoes, Spanish saffron and extra virgin olive oil. Gluten-free.
Paella de la Huerta
Vegan Paella - Full of flavor, this paella isn't just for vegans. Using only organic, seasonal ingredients such as onions, garlic, bell peppers, giant white beans from Spain, asparagus, carrots, green beans, smoked-sweet paprika, zucchini, mushrooms, peas and tomatoes, rosemary, Spanish saffron and extra virgin olive oil. Gluten-free, Dairy-free.
(paella pictures below depict more than one serving)