Description
Join us for the February PA.E.A.A. Dinner and Meeting!
Come meet the members and feel free to bring new ones! Please RSVP on Eventbrite, Facebook or e-mail ddinnen@hotmail.com
Once on the VA campus, there may be a security check point at the entrance where you may have to show your photo ID (driver's license). If asked, indicate that you are attending the PA EAA meeting in Building 71, Learning Exchange. Once past the check point, continue straight. You will pass building 32 (columns on front) on right. Continue straight and building 71 (outpatient building) will be on your left. Continue straight around building 71 and park in the parking lot (#11 on map but not displayed in lot) behind building 71. Parking lot and entrance to building 71 is NEAR the Blue Water Tower. (Water tower is displayed on map as a blue circle between parking lots 11 and 10.)
Enter door #C of building 71 and the room will be on your left and is indicated on the map below with a blue circle. If you have any difficulty, contact Tauna at 412-822-2071.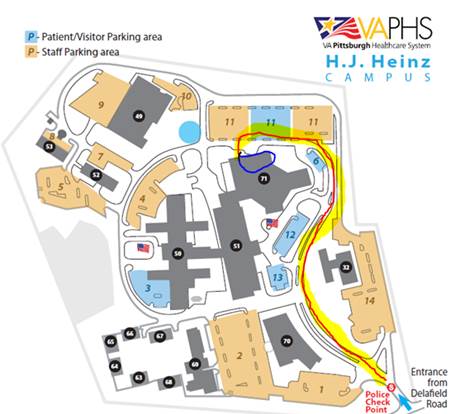 From Harmarville: take Rt. 28 North to the Fox Chapel exit. Make a left at the light. Continue to next light and make a left onto Delafield Rd. Continue to next light and make a left into the VA campus. Continue with once on the VA campus
From Downtown: take Rt. 28 South to the Delafield Rd. exit. At end of exit ramp, turn right on Delafield Rd. Continue straight to traffic light and make a right onto the VA grounds. Additional driving instructions can be found at: http://www.pittsburgh.va.gov/locations/HJ-heinz.asp.
"Providing group discounts for your employees" and connecting Pennsylvania businesses with Pennsylvania employees is what PA.E.A.A. is all about!
By joining PA.E.A.A. for only $95.00 per year, you can receive special discounted offers to theme parks, travel, sporting events, hotels, catering, home repairs, theaters and much more for all your employees, as well as promoting your businesses special discount offer, if applicable.
Included with your $95.00 annual membership, representatives from member companies are invited to attend nonobligatory monthly meetings. Meetings will feature information on upcoming events, discounts, fundraisers for non-profits, door prizes, food, soft beverages and are always free. Guest speakers are welcomed to select meetings and a bi-annual "Meet the Vendors" event is held at Gaetano's Event Center and Catering. All information on future events and offers will also be sent through the monthly newsletter. Again, meeting attendance is optional.
Join Now!
Or try us out for 2 months at no charge!
For more information
Dave Dinnen 412-427-2786 ddinnen@hotmail.com
Anna Gaetano 412-343-6640 agaetano4@verizon.net