| | |
| --- | --- |
| PACT's 30th Anniversary Leadership Luncheon, Friday, Nov. 13th, 11:30am to 1:30pm at the Santa Clara Convention Center! | |
Event Details
  Always a sold out event!
JOIN US FOR PACT'S LEADERSHIP LUNCHEON 
Friday, November 13th, 11:30-1:30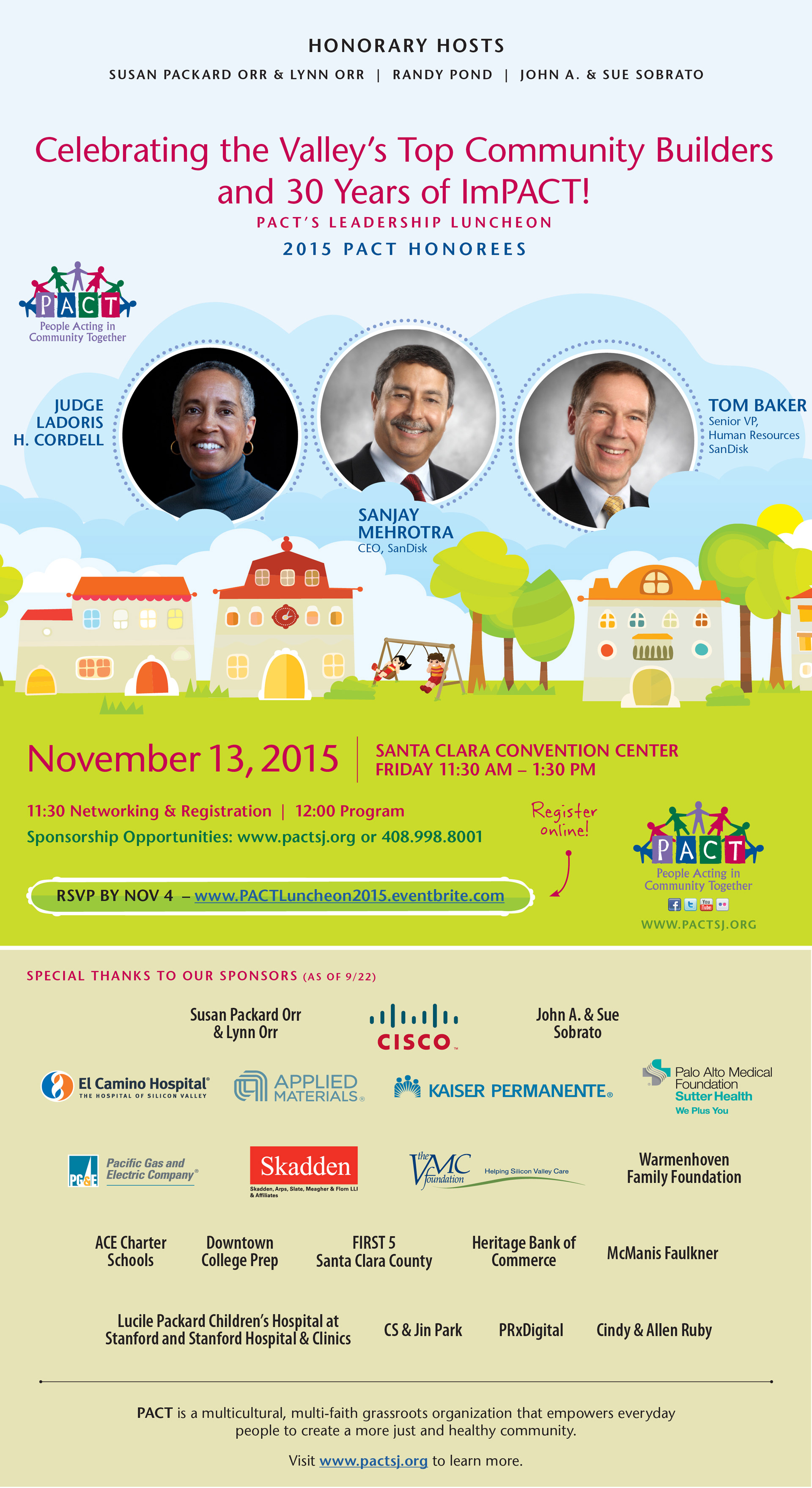 Every year, 600 corporate, business and non-profit leaders, philanthropists, elected officials and grassroots community leaders attend the PACT Luncheon to celebrate outstanding members of the community who have demonstrated civic leadership for the well-being of Silicon Valley.
Have questions about PACT's 30th Anniversary Leadership Luncheon, Friday, Nov. 13th, 11:30am to 1:30pm at the Santa Clara Convention Center!?
Contact PACT
Attendee List
Sort by:

Date

|

First Name

|

Last Name
Organizer
Thank you for sponsoring our fall Leadership Luncheon to celebrate these outstanding honorees who have demonstrated civic leadership for the well-being of our community. 
PACT's Past Honorees:
Gregory Adams * Dolores Alvarado * Tom Baker * Zahra Billoo * Bob Brownstein * Leona Butler * Emmett Carson * Dr. Jose Carrasco * James Carreker * Alcario & Carmen Castellano * Judy Chirco * Hon. LaDoris Cordell * Aart de Geus * Hon. Len Edwards * Reymundo Espinoza * Frederick J. Ferrer * Michael Fister * Mary Ellen & Michael Fox, Sr. * Carl Guardino * Michael Hackworth * Susan Hammer * Jay Harris * Reed Hastings * Nancy Heinen * Peter Hero * Kathleen King * Steve & Michele Kirsch * Fr. Paul Locatelli * Karen & Ronnie Lott *    Sanjay Mehrotra * Jim & Ann McEntee * Mike O'Farrell * Susan Packard Orr * Dr. Robert Pearl * Randy Pond * Karen Rudolph  * Harry Saal * Bob Sillen * The Sobrato Family * Tom Steyer * Kat Taylor * Glen Toney * John Tortora * Jose Antonio Vargas * Hon. John Vasconcellos * Steve Westly * Charmaine & Dan Warmenhoven * Kathy Wheeler * Chris Wilder * Denise & John York *
ABOUT PACT:
For over 30 years, PACT has helped everyday people win extraordinary victories for our community, not by speaking for them, but by teaching them how to speak, act, and engage in the public arena for themselves.
Thousands of PACT-trained, volunteer community leaders have worked together across ethnic, religious, and socio-economic lines to create innovative and effective public policies that have improved the lives of hundreds of thousands of people throughout Santa Clara County.
For example, PACT:
 •  Co-founded the historic Santa Clara County Children's Health Initiative (CHI), which made our county the first in the country to provide access to health insurance to all children.  It is now a model for communities around the state and nation. Nearly 150,000 children have affordable, quality health care through CHI.  
 •  Has initiated and helps to create excellent, new public schools of choice in downtown and East San Jose to close the achievement gap.  PACT's goal is that all children, regardless of socio-economic background, receive a high-quality education with a path for success in college and life
 •  Initiated the City of San Jose's model after-school and anti-gang programs, including more than 200 homework centers, making San Jose one of the most youth-friendly and safest big cities in the country.