Pacific Northwest Docent and Volunteer Association Conference
Description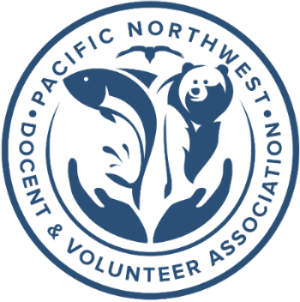 The 2018 Pacific Northwest Docent & Volunteer Association Conference is coming to Newport, OR this September! Co-hosted between the Oregon Coast Aquarium and the Hatfield Marine Science Center, the theme of the 2018 PNDVA Conference is Bridge to Ocean Exploration. We are excited to invite attendees to experience all the adventure that Newport and the Oregon Coast has to offer!
---
About the Hosts

The Hatfield Marine Science Center advances the mission of Oregon State University and its partner agencies though collaboration and innovation. As OSU's campus for research, education, and outreach in marine and coastal sciences, and through its partnerships, HMSC improves scientific understanding of marine systems, coastal processes and resources, and applies this knowledge to social, economic, and environmental issues.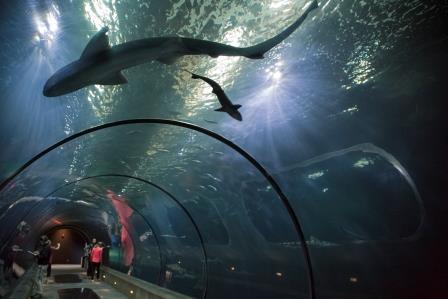 The Oregon Coast Aquarium is a 501(c)3 nonprofit organization dedicated to connecting people to the Oregon Coast and inspiring ocean conservation. The Aquarium is a living classroom for all learning styles and ages. As one of Oregon's top tourist attractions, the Aquarium is a vital educational resource for the state, with over 40,000 students visiting the Aquarium each year. The Aquarium strives to be a center of excellence for ocean literacy and plays an active role in conservation and animal rehabilitation efforts.
---


About the Conference:
The PNDVA Conference is put on for volunteers by volunteers, with the intention of bringing volunteers of zoos, aquariums, and wildlife centers from around the Pacific Northwest together to bond and network with their peers while taking advantage of the fun and unique experiences provided by the host institutions.
For a full schedule of the speaker line-up and conference schedule, please go to the website www.PNDVA.org

Conference Schedule at a Glance:
Thursday, September 27th - Arrival and Registration Packet Pick-up
Registration packets will be available to be picked up at the Hatfield Marine Science Center from 4pm-6pm.
Friday, September 28th - Hatfield Marine Science Center
Attendees will have opportunities to participate in a variety of labs from designing and building mini-ROVs (remotely operated vehicles), guided estuary walks, to even assembling a whale skeleton! And so much more!
Friday evening we will be hosting a fun night down the road at the Rogue Brewery with local legend Mr. Bill and his Travelling Quiz Show. Food and drinks will be available for purchase.
Saturday, September 29th - Oregon Coast Aquarium
On Saturday, attendees will be exploring the aquarium and having their choice of behind-the-scenes tours, native plant walks, talks led by animal care staff, and more!
Later in the afternoon,attendees will have the option of cruising with Marine Discovery Tours. Weather (and waves) depending, we'll explore the waters around Newport, looking for native mega and minifauna.
The conference will culminate Saturday evening at the Aquarium with Keynote Speaker Dr. Bruce Mate.
Sunday, September 30th - Delegate Meeting and Off-Campus Activities
It is impossible to experience all the amazing adventures that the Oregon Coast holds in a weekend and so we are encouraging attendees to go out and explore the local attractions. We encourage attendees to take advantage of various sites either on their way back home or to stick around for a few extra days and enjoy the incredibleness of the Oregon Coast .
---


Registration:
Early registration opens on June 1st 2018 at the cost of $75 per attendee.
After September 3rd, registration fees will be $100.
Registration ends September 16th.
Space is limited to 75 attendees so sign-up early!


---


FAQs
Who is eligible to attend the conference?
If you are a volunteer at any zoo, aquarium, wildlife center, or museum in the Pacific Northwest (we cast a pretty large net), you are a member of the Pacific Northwest Docent and Volunteer Association and we would love to have you join us! Volunteers are welcome to bring a +1 guest, who must also complete the registration form/fee.
What are my transportation/parking options for getting to and from the event?
Attendees will be responsible for their own transportation to and from the event and off-campus activities.
Where should I stay during my time in Newport?

The Central Coast of Oregon is a popular place to visit and there are plenty of options to choose from for lodging. In order to help solve the dilema of lodging choices, here are some that have blocked off rooms for conference attendees.
What is included in my registration fee?
Admission to the Oregon Coast Aquarium & Hatfield Marine Science Center for the duration of the event
2-hour discovery cruise courtesy of Marine Discovery Tours
Lunch provided on Friday & Saturday and a light banquet buffett on Saturday Evening.

Commemorative Water Bottle to use during the weekend and beyond.
What should/shouldn't I bring to the conference?
While we often have lovely weather in September, the Oregon Coast's weather is notoriously fickle. Rain gear is always a wise thing to have on hand, as well as layers to dress in depending on your preference of warmth/coolness.
Hydration is important and so attendees will be provided with a refillable water bottle. Help us cut down on single-use plastics by taking advantage of the plethora of refilling stations around the various sites we'll be frequenting.
Please note, pets will not be allowed to participate in any of the on-campus activities/marine discovery tour, so please plan accordingly.