Description
We are excited to announce our first Pop Up Mini Harp Festival, taking place on March 12, 2017. This is a unique opportunity for students and harpists to have an intimate experience of learning and engaging with other harpists. Attendees will be able to participate in workshops and enjoy live music while sipping on tea. The event will close with a beautiful concert by jazz harpist Motoshi Kosako. The Pop Up will take place in the heart of downtown L.A and transportation will be compensated for the day! We are excited to see you all there. For tickets, click here.

Event Details:
Date:
Sunday, March 12, 2017

Location:
Blank Spaces
529 S. Braodway
Los Angeles, CA 90013

Pricing:

All Day Pass- $65 General Admission/ $50 Student
-Includes access to all workshops, live music and food. $15 will be reimbursed for parking, Uber/Lyft.

Loop Pedal workshop with Lara Somogyi. $25 General Admission/ $18 Student
-$7 will be reimbursed for parking, Uber/Lyft.

Jazz workshop with Motoshi- $35 General Admission/ $28 Student-
-$7 will be reimbursed for parking, Uber/Lyft.

Jazz concert by Motoshi-$35 General Admission/ $23 Student
-$7 will be reimbursed for parking, Uber/Lyft.


Schedule:
1:00 - 2:00 P.M.: 1st workshop: Lara Somogyi will demonstrate looping pedals for beginners.

2:00 - 2:30 P.M.: Tea break

2:30 - 3:00 P.M.: Live music: Mini concert with singer/songwriter Naomi Greene

3:00 - 4:30 P.M.: 2nd Workshop: Jazz harp with Motoshi Kosako

4:30 - 5:00 P.M.: Tea break

5:00 - 6:00 P.M.: Jazz Concert by the amazing Motoshi Kosako

About the Artists:

Lara Somogyi

Lara Somogyi is a Los Angeles based harpist and graduate from the Royal Academy of Music in London. She specializes in popular, improvisatory, and classical music. She is also an active session and recording harpist. Through her work with pop artists such as Guy Chambers, Rufus Wainwright, and Mark Ronson, she developed a passion for modern recording and production which sparked an interest in the creative possibilities of the electroacoustic harp. This led her to the Camac Big Blue Electroacoustic Harp which she is regularly seen playing. We are excited that she will be joining us, and taking the time to teach us about the electric harp and how to use looping pedals.


Motoshi Kosako


Born in Matsuyama City, Japan, Motoshi Kosako started his musical training on the piano and also the guitar. In 1997, Mr. Kosako moved to the United States and soon after he started playing the harp. He was the principal harpist of Stockton Symphony Orchestra in California between 2005-2010 and the featuring soloist for 2009-2010 season. His latest music innovation is improvisation and composition for the harp. In 2007 he won the second place in Lyon & Healy International Jazz & Pop Harp Competition and received the "Best of Sacramento" award from Sacramento Magazine as "Best Jazz Hound in Tie and Tail". Sacramento Magazine says, "Kosako plays with fluid, modern style that evokes Keith Jarrett and Chick Corea."
He performs improvisation and original compositions as solo or in ensembles with top jazz musicians including Grammy award winning reeds player, Paul McCandless, master acoustic bassist, Bill Douglass, innovative electric fret-less bassist, Michael Manring and eminent jazz guitarist, Akio Sasajima. He released 2 classical solo albums in 2002 and 2003, and 8 jazz albums between 2008 and 2015.


Naomi Greene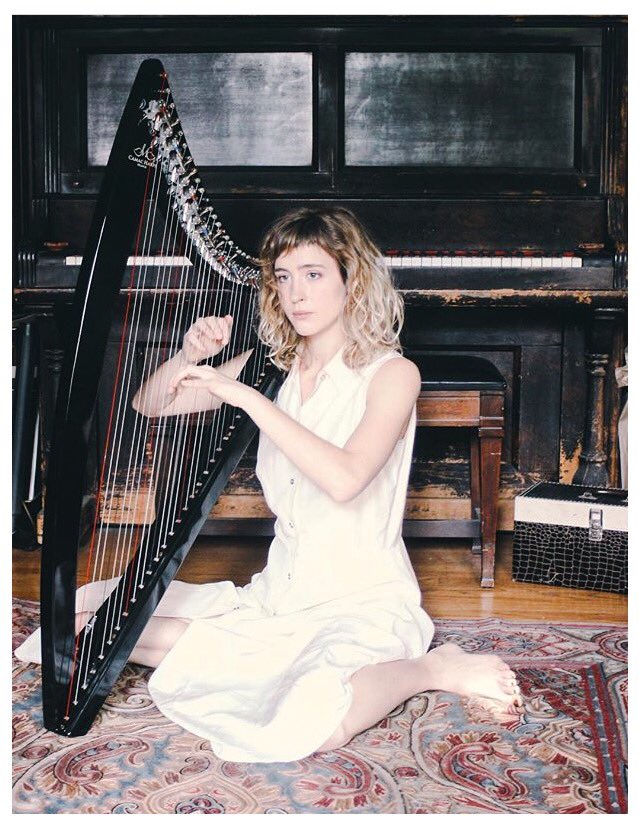 Naomi Greene's versatility makes her music difficult to classify. On the edge of rock, but with mesmerizing melodic richness, her songs are unusual and sometimes experimental, but always with a catchy hook. She writes for harp or guitar and sings poetic lyrics, unaffected and personal, with perplexing directness.

Special guest, Jeremy Gardner, from Roland will also be at the festival to answer any and all of your burning technical questions. This will be a great opportunity to pick the brain of an expert!