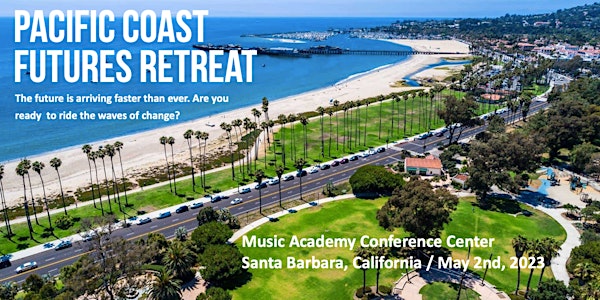 Pacific Coast Futures Retreat
On May 2, 2023, you are invited to ponder how the future is pivoting, and how we can rise to the challenge of accelerating change!
By The Innovation Resource
Date and time
Tuesday, May 2 · 8am - 5pm PDT
Location
Music Academy Conference Center 1070 Fairway Road Santa Barbara, CA 93108
Refund Policy
Contact the organizer to request a refund.
Eventbrite's fee is nonrefundable.
About this event
On May 2nd, 2023, you are cordially invited to ponder how the future is pivoting --and how we can rise to the challenge of accelerating change.
We are living at a pivotal moment in human history. The decisions we make today will affect tomorrow. Yet we are not ready for more changes ahead. A confluence of developing mega-forces (aging population, artificial intelligence, declining birthrate, warming climate, geopolitical shocks) will almost certainly disrupt many millions who are not prepared. Yet these very same tectonic-sized forces will be exploited by those who are prepared to lead change. By those who want to empower their visions, to revive and rejuvenate the organizations they lead, and strengthen their communities into an unprecedented era of prosperity and abundance. This one-day conference is about riding these waves of change –- and discovering the opportunities yet to be.
In the next decade, some of the greatest fortunes in all of history will be created. They will be created by those who understand the requirements of the emerging landscape. By those who develop a new set of navigational skills. By those who are prepared to ride the waves.
In virtually every realm of our lives, the forecast is one of increased volatility and uncertainty: From energy to technology. From the geopolitical environment to national politics. From demographic forces to social media, from artificial intelligence and the changing climate. These forces will influence markets. Drive consumer and social behavior. And challenge us as never before to think out ahead of the curve – and adapt. Most certainly, they will reward and prosper those who have the right mindset and are prepared to meet the challenges of change.
At this powerful one-day gathering of forward-thinkers from the world of business, academia, government, the arts, and the non-profit sector, the focus will be on understanding and mapping the emerging terrain. On mastering the necessary navigational skills that will alert us to threats and unleash the creativity to discover and seize the opportunities.
Futures Retreat is not a sit-and-listen conference. It's not a voyage into techno-fantasyland. No flying cars nor DNA computers here. Nor is this conference a rehash of already known issues. Instead, this invitation-only "think tank" is about creating a bolder vision of tomorrow. For yourself, your family, your shareholders and stakeholders, and greater humanity.
In one perception-altering day, you'll develop a deeper understanding of the disruptive changes coming our way. You will hear from futurists, energy and demographic experts, thought leaders and possibility thinkers. In small groups, we will engage in deep conversations looking at implications, applications, strategies and solutions. You'll discover how today's rapid changes are likely to affect businesses, organizations, schools, and society -- because every aspect of our lives will feel these coming changes.
Agenda
8:00 AM - 8:30 AM
Registration
8:30 AM - 9:30 AM
Welcome and Opening Session
9:30 AM - 10:00 AM
Innovation Exercise
10:00 AM - 10:30 AM
Morning Coffee Break
10:30 AM - 12:00 PM
Maximizing Human Potential
12:00 PM - 1:15 PM
Lunch on the Veranda
1:15 PM - 2:00 PM
How to Seize the Opportunities in Climate Change
2:00 PM - 2:15 PM
Afternoon Break
2:15 PM - 3:30 PM
Driving Net Zero Energy Future Through Innovation
3:45 PM - 4:45 PM
Outsmarting VUCA
About the organizer
Robert B. Tucker is an award-winning global futurist and innovation keynote speaker with a client list that includes over 200 of the Fortune 500 companies. He is a contributing columnist to Forbes online, and has appeared on Channel News Asia, CNBC India, PBS, CBS Radio, and was a featured guest on the CNBC series The Business of Innovation.
President and founder of Innovation Resource Consulting Group based in Santa Barbara, California, Tucker is an internationally-recognized pioneer in the field of strategic innovation.