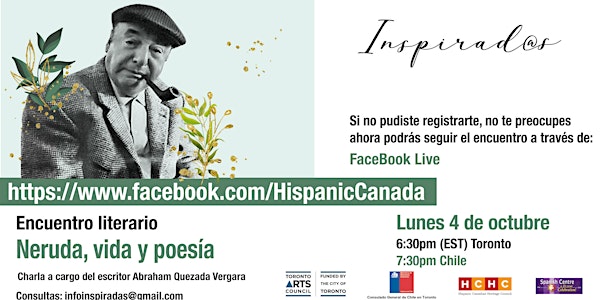 Pablo Neruda, vida y poesía
Pablo Neruda, vida y poesía
About this event
Inspirad@s es una iniciativa que como objetivo difundir, valorizar e incentivar la cultura latinoamericana en Canadá a través de actividades inclusivas relacionadas con el arte y la literatura.
En esta oportunidad presentaremos:
"Pablo Neruda, vida y poesía"
Una selección de fotografías de la vida de Pablo Neruda servirán de marco para hacer un recorrido de los momentos más importantes de la vida y obra de uno de los poetas más importante de nuestra literatura.
Los esperamos el lunes 4 de octubre a las 6:30pm (EST) - Toronto, Canadá - 7:30pm (Chile)
El link de Zoom será enviado unos días antes del evento junto a material de lectura.
Consultas: infoinspiradas@gmail.com
_______________________
Abraham Quezada Vergara, Ph.D (Antofagasta, 1961) Escritor y diplomático de carrera. Profesor de Historia y Geografía en 1986 en Universidad Metropolitana de Ciencias de la Educación - Chile.
Graduado en Diplomacia en la Academia Diplomática de Chile "Andrés Bello" en 1994. Magíster en Relaciones Internacionales (2001) y Ph.D en Estudios Americanos (2013). Docente universitario e investigador en temas de historia contemporánea de Chile.
Especialista en la dimensión biográfica de Pablo Neruda con importantes artículos y libros publicados tanto en medios nacionales como extranjero (ediciones en italiano y en chino), destacándose Pablo Neruda, Epistolario viajero (2004), Correspondencia entre Pablo Neruda y Jorge Edwards (2007), Cartas a Gabriela (2009) y Allende - Neruda, una amistad, una historia (2015). Este último con varias ediciones en español y traducido al italiano por Treccani, una de las editoriales más prestigiosas de Europa. Una publicación británica lo ha considerado como the world´s leading authority on the letters of Pablo Neruda (Cantalao N° 1, London, Septembre, 2013).
Actualmente se encuentra profundizando sus investigaciones en Pablo Neruda y la construcción de imagen internacional de Chile. Aparte de entrevistas para medios nacionales y extranjeros, han destacado sus presentaciones en universidades, centros académicos, así como sus ponencias en ferias del libro en Cuba, Bolivia, EE.U., Ecuador, Perú y Chile.